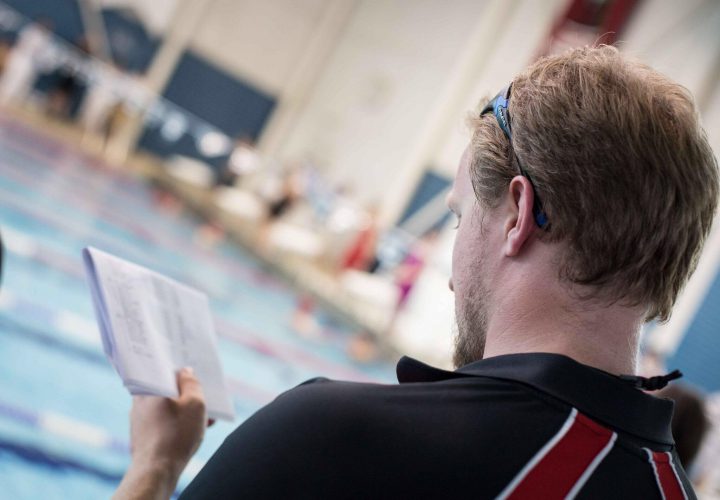 Photo Courtesy: Will Philpot
By Alice Reeves-Turner, Swimming World College Intern.
Will Philpot swam for 20 years before retiring to go into swim coaching. He was part of the relay team that won the Swim South East Team of the Year Award in 2007 for being unbeaten in all competitions (regionally and nationally) for three years. He qualified for two Olympic Trials in 2004 and 2008, as well as the Commonwealth Games Trials in 2006. Philpot won over 10 county gold medals (in three separate counties) and 10 regional gold medals. Philpot has also played water polo for Crawley in County and Regional tournaments. He currently is head coach at Wey Valley Swimming Club and Cranleigh School.
Philpot follows in the footsteps of a family legacy in his coaching career. His grandfather was the founder of the Essex's based club Killerwhales and his father, Ron Philpot, is in the British Swimming Coaches Association Hall of Fame after a triumphant career boasting the following successes:
British Junior Coach of the Year award 1996
First British Coach to have a male swimmer achieve under 50 seconds for the 100m freestyle (long course).
Coached Para Olympian to 3 Bronze Medals at London 2012 Olympics
Member of the Great Britain Swimming Team staff from 1997 – 2002
Head Coach Great Britain Team – San Diego 1997
Head Coach Great Britain Swim Team – Canadian Nationals 1998
Head Coach Great Britain Swim Team – World Cup 1998
Head Coach Great Britain Swim Team – Athens 1998
Swimming World: Your father is in the BSCA Hall of Fame. Does this achievement from him affect what you want to achieve from coaching?
Will Philpot: Yes. I'm very proud of what he has done and I think he is phenomenal as a coach, he achieved a lot of good things and he deserved the recognition. It was a massive achievement for him, he's done amazing things with every club he's been with, showing this achievement is down to him and not the environment he's in. However, that was his achievement not mine. To say it is something to aspire to is absolutely there but equally I'm trying to carve out my own path.
SW: What would you say your greatest achievement is thus far? Both as a swimmer and a coach.
WP: As a swimmer, there are moments that you pick out that should be your greatest achievement, whether it be a top 10 national ranking or being nominated for an award. These are all nice things but my biggest achievement as a swimmer is the fact that it's given me a career. As a swimmer, I made national qualifying times, was in the top 10 in the 1500m freestyle in the UK, and was part of a team who was unbeaten in the 6x50m relay for three years in national league. However, they mean little compared to the career I have gotten out of a sport I love. As a coach, it's being able to give back to a sport I competed in for 22 years.
SW: Your father was also your coach. What would you say the advantages and disadvantages of this were?
WP: It was a real mixed bag, especially as both my parents were coaches. For most swimmers, they have coaching for two to four hours a day and then they go home. I, on the other-hand, got in the car and went home and got coached 24/7. This meant I got extra support within my swimming, however, it was relentless which took its toll over the years. It also did mean at the time I felt left out by the other swimmers as they were worried I would 'report back' to my father.
Although I often felt left out when I was younger, I can say that his coaching background is now a positive. Due to my father being a coach, I have a great network of people and high-profile coaches I can get in touch with to help with my career. As the name carries they are happy to let me into their wealth of knowledge.
SW: You are a third-generation swim coach. Did this encourage you to go into coaching?
WP: My grandfather founded the club Killerwhales in Essexs. It was an idea in his front room driven by his determination to have people take part in learn to swim. He became a national standard coach, coaching both my mum and my aunt to nationals. This passion for swimming is also in my dad who went to Mexico Olympic Trials. It sounds gimmicky but swimming is in my blood. It was one of the few things I felt natural doing. This filtered into coaching.
SW: Why do you coach? What do you gain from doing it?
WP: For me, coaching is doing something I know I can do well. As a swimmer you put so many hours in to the sport and want to see a result from it; whether this be self fulfilment, qualifying time, or an improvement in health. Swimming is a time-heavy sport and you want to see something at the end, for a lot of kids they don't get this.
I know as a coach I can give kids this– they might huff at how hard the set will be but deep down they know it's for their benefit. You have to have a reason to coach and for me it's about the swimmers and making sure they get something out of it. My philosophy is to make sure every swimmer makes there full potential whatever that may be. They should be able to reach what they want and have a coach who helps them achieve that goal. I get a real sense of giving back to the sport.
SW:What do you feel the best qualities a coach can have?
WP: An ability to put an ego aside. Many coaches are unwilling to help up and coming coaches. Fortunately, I am lucky that I get help because of my family name. A lot of coaches, such as Andy Osbourne, who are at their end of their careers will talk to me because they realise it's about the swimmer. If more coaches did this then British swimming as a whole would become a lot stronger. I personally feel this lack of sharing is holding us back.
SW: How did it feel to be selected as a Swim England regional swim coach?
WP: Great. I saw the advert and thought I would throw my hat in. I'm currently part of a small club so thought it would be very difficult to get noticed. However, the name and reputation must have carried, or it might be the fact the club I work for has developed so much and they gave me a shot. It was extremely flattering to be selected and work with the coaches and younger kids. We worked with these children on skills such as starts, turns and finishes on all four strokes which, as a sprint coach, is where my main focus often is. Being selected also allowed networking opportunities, which allowed me to create my own network rather then relying on my father's contacts. It was a great experience and I'm looking forward to being asked again in the future.
SW: You were recently on a program about the Invictus Games and coached for the Invictus Games. How did that  feel and how did that come about?
WP: That was amazing. I had a colleague who knew a producer at the BBC who was looking for a swimming coach. I knew no information other than that but was interested so gave this producer my number. I got a phone call who told me BBC wanted a swim coach who could work on dives and skills with a para swimmer. I had done very little with para swimmers before. I had trained with them and my dad had coached Susie Rodgers, who reached Paralympics in 2012, but hadn't had much direct exposure myself coaching-wise.
I worked with Jack Cummings, a double leg amputee who is veteran from Afghanistan taking part in his first Invictus Games. I had to teach him how to dive which I will admit was daunting at first. To do this I looked into my deep coaching knowledge on how to coach dives and analyse the way he moved to make sure the dive worked. It was an amazing session, I got a lot out of it and I hope he did too. Jack went onto win a bronze medal in the 50m best at the Games. This was amazing to watch, and I'm so proud of him and hope he takes it on further.
SW: You have been swimming since a very young age and brought the sport into your adult life. How would you say the industry has changed?
WP: There's been quite a lot of changes, to the extreme that when I first began there were no racing suits! Looking back, it's been a really weird process to see the improvements in goggles, costumes, hats and kit. Every step of my journey there has been something new technology-wise.
There is also now such a focus the athlete outside the pool. Whilst once a coach would only have interest in their swimmer within the pool, we now look at the swimmer as a whole– things such as psychology, injury prevention and nutrition are examined. There has been a big shift in the last 20 years in the world of swimming and I'm very interested to see what the next big shift will be and whether this shift changes something we use already or brings in something new. All the time the sport is evolving meaning swimmers can only get faster which will be exciting to watch.
To find out more about Will follow him on twitter at @coachphilpot