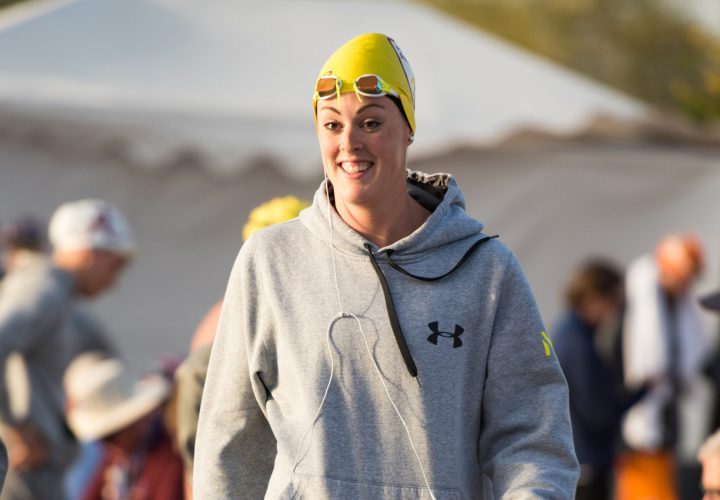 Photo Courtesy: Brooke Wright
Editorial content for the 2018 TYR Pro Swim Series Mesa is sponsored by SwimOutlet.com. Visit SwimOutlet.com for more information on our sponsor. For full Swimming World coverage, check out our event coverage page.
By David Rieder.
Between her second Olympic Games and her third, Allison Schmitt confronted dark demons, a post-Olympic letdown that became depression. She lost some of her charismatic spunk, and her swimming suffered. For two years, she failed to qualify for the No. 1 U.S. national team.
In the spring of 2015, she went public with the issues she was dealing with. "It's okay not to be okay," she said often. She resolved to help others deal with their own mental health issues, making plans to go back to school to get her masters degree in social work.
In the pool, she began to find her form again. She won the 2015 national title in the 200 free—her first such win in three years—and then, in June 2016, she qualified for the Rio Games, finishing fourth in the 200 free and fifth in the 100 free at Olympic Trials. She added two more medals to her collection, a gold and a silver, giving her eight total for her career.
But during the entire process of training for, qualifying for and swimming in Rio, Bob Bowman sensed something different. He had coached Schmitt since 2007, and for all those years, he had seen a true joy in her swimming—a love for the process of pushing herself to be the best and even her interactions with the water. Before Rio, that was gone.
At Olympic Trials, he saw a swimmer "paralyzed by fear." For Schmitt, qualifying was a relief more than anything else.
"She got her medal and went, which was a huge accomplishment considering what she went through in the years before that," Bowman said. "I don't think she ended up loving swimming."
Before and during those Olympics, Schmitt had every intention to be done with the sport for good. She had counted down her practices before the Olympics, and she specifically remembered "my last December 28 practice ever," which happened to be a set of 10×500 free.
For all practical purposes, after she helped the U.S. women's 4×200 free relay team win Olympic gold, she was retired—but she never filed official papers to remove herself from anti-doping tests.
===
Bowman asked several times when Schmitt would make her departure from the sport official. She brushed it off—eventually, she'd get around to it, she said. But as the months dragged on, she still had not filed the paperwork, and swimming began trickling back into her life. Not full-on training, but a solo swim or masters practice at Arizona State, where Bowman coached (with Schmitt's brother Derek as an assistant) and Schmitt was in graduate school.
Then Schmitt asked to train with the Sun Devil team a few days per week to stay in shape, so Bowman got a waiver from the school to allow that. And it escalated.
"She started coming three or four times a week, just on her own, no pressure, so that kind of tipped me off that it was more than just staying in shape," Bowman said.
The Schmitt that was coming to practice was the teenager Bowman invited to join his post-grad group at Club Wolverine a decade earlier—goofy, smiling, telling jokes, chatting with the other swimmers in her lane. Time away had been medicine, and her love of swimming that had seeped away before Rio was alive again.
In the fall, Schmitt's good friend Michael Phelps posted a photo on Instagram suggesting she was serious about making a run at the Tokyo Olympics in 2020. Schmitt brushed it off, "no way," but a few weeks later she found herself in Bowman's office, seriously considering just the proposition Phelps had suggested
Bowman told Schmitt that if she was serious about a return, she needed to be all-in by the start of 2018. There could be no half-in-half-out attitude. Schmitt agreed, and she took on a full training schedule.
"I was like, 'I still got it.' It was rough, it was hard to keep up, but it was fun," she said. "I wasn't making the intervals, getting last. I feel like I'm younger again and enjoying it just like I was when I was up-and-coming."
===
Three months after ramping up her training, Schmitt made plans to return to competition for the first time since the Olympics at the TYR Pro Swim Series meet in Mesa, Arizona. Shortly before the meet, she asked Bowman, 'What's a goal?'
The 27-year-old had no clue how fast she would swim, and her Mesa races would be the starting point. Beginning the meet with the 200 free, the event where she won her only individual Olympic gold in 2012, Schmitt swam a prelims time of 2:00.76. Reacting to that swim, Bowman gave it an "A."
At night, she swam even quicker, touching in 1:59.57 to finish just four tenths behind 2016 Olympic teammate Leah Smith.
"I really had no idea what to expect," Schmitt said. "Coming back and just racing, having fun and doing it for the joy of it was the ultimate goal, and that's what I did. Having a good race like that was definitely a highlight, and it was a great starting point."
Most importantly, Schmitt thoroughly enjoyed herself. Before coming back, she feared that most of the people she swam with on the U.S. national team had all retired, but she swam in a heat with four of her Olympic teammates from Rio: Smith, ASU training partner Cierra Runge and former Georgia teammates Hali Flickinger and Melanie Margalis.
She smiled before the race when she waved to the crowd and after she touched the wall. She laughed and joked when she visited the media tent. While there, she admitted that she stores her medals under her bed, and she also revealed the real reason she held off on signing her retirement papers.
"It was for health insurance," she said. "I was 26 and off my parents' health insurance, so I still needed that USOC health insurance."
Why did she laugh her way through the interview? Because that was part of the process of a swim meet, the process that wore on her in the years before the last Olympics and made her believe she was done with the sport. Now, it felt pure and fresh.
"Having the 18 months off swimming completely, it's definitely a new fresh perspective," Schmitt said. "I was able to see what life was like without swimming, and I'm very lucky to be able to come back and compete without injury. I'm excited about that and excited to see what happens in the future."
Whenever a swimmer of Schmitt's caliber returns to the sport, the word "Olympics" pops up, and sure, that's something on Schmitt's mind, the Tokyo Games in four years. If she were to make the team, she would join a select group of American women who have qualified for four Olympic Games—Jill Sterkel, Dara Torres, Jenny Thompson and Amanda Beard.
But Schmitt insisted she has to think about her swimming one day at a time—a cliché, but for her, accurate. After her buildup to Rio, a process she was constantly ready to end, she knows she must enjoy this one. That's why she came back, because she realized that with all she has on her plate—her school work and her desire to help others dealing with mental health issues—she still wanted to swim.
Thursday night in Mesa, at her first swim meet almost two years, Allison Schmitt laughed and joked like she used to. Already, the comeback was worth it.
Video Interview with Allison Schmitt: