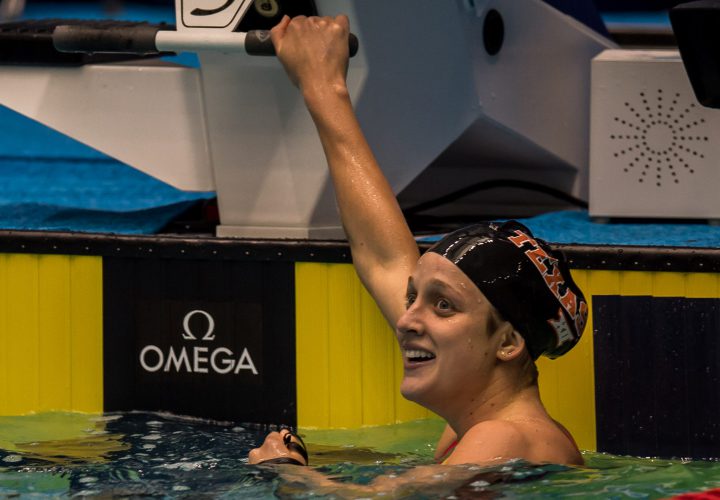 Photo Courtesy: Peter H. Bick
Editorial content for the 2017 USA Swimming Nationals is sponsored by TritonWear. Visit TritonWear.com for more information on our sponsor. For full Swimming World coverage, check event coverage page.
By David Rieder.
Madisyn Cox was staring at her best shot to make the U.S. World Championships team. She had never swum at an Olympics or a long course World Champs meet before, but now she was the No. 2 qualifier for the women's 200 IM final at U.S. Nationals.
But Ella Eastin was gunning for the 200 IM, too, and there figured to be just one spot available on the Worlds team behind pre-race favorite Melanie Margalis. Like Cox, Eastin had never broken through and qualified for a senior U.S. national team—even though for a few glorious moments two days earlier, Eastin thought she had.
In the 400 IM final at Nationals, Eastin clobbered her lifetime best on her way to finishing second. She thought she was going to Budapest. But moments later, the letters "DQ" appeared on the scoreboard next to her name. Eastin has been disqualified for illegally coming off her final turn on her back.
Eastin's difficult week had been well-documented and highly public. Cox, meanwhile, had struggled in both the 200 breast and 400 IM, but little did most people know all that the 22-year-old had been through over the previous eight days.
It all started the night of June 23, less than 48 hours before Cox was scheduled to fly to Indianapolis. Still at home in Austin, Texas, she got sick, really sick. She didn't go to practice the next morning. Forget about her preparation for the meet—missing that one practice was difficult enough.
"That Saturday morning practice was supposed to be our last practice ever with Tasija Karosas," Cox said. Karosas, Cox's senior co-captain on the Texas women's team, was preparing to leave for the Maccabiah Games in Israel, slated to be the last meet of her career.
"That Saturday morning was supposed to be our last practice together, and I didn't make it to practice."
There was nothing Cox could do. She kept throwing up. She couldn't eat. She could hardly drink water. Her sister came over to pack all of Cox's gear for the meet, since Cox was still scheduled to leave the next day.
But even with so much on the line at Nationals—a spot on the World Championship team, not to mention a shot at securing National Team stipend in her first year as a pro swimmer— Cox seriously considered whether it would be better to not even go. She called Carol Capitani, her coach at Texas.
"'I don't even know if I can go to this meet,'" Cox told Carol Capitani, the head women's coach at Texas. "That's how bad it was."
But she traveled to Indy, suffering through what she calls "the worst flying experience I've ever had," and as soon as the plane landed, Capitani took Cox to the hospital, where doctors ran tests and gave her IV fluids to rehydrate her body. The next day, less than 48 hours before she was scheduled for her first race, the 200 breast, Cox was back in the pool.
"I didn't do much because I was so tired," she recalled. "I was overheating in the water. Felt terrible."
It would still be several days before Cox, typically superstitious about eating the exact same meal each day at a swim meet, could even eat full meals. She didn't eat any vegetables until Friday night, a full week after she started to get sick.
All the while, the swim meet was going on. Cox first swam on the second day in the 200 breast, and she finished 11th in prelims in 2:28.08, more than two seconds slower than a time she had posted three weeks earlier at the Arena Pro Swim Series meet in Santa Clara, Calif.
A day later, Cox was to swim the 400 IM, an event in which she had posted the fastest in-season time of anyone entered, but given her physical state, Capitani wanted Cox to scratch and focus on recovering. She had the 200 IM, scheduled for two days later, in mind.
Cox considered that plan but realized she couldn't go through with it.
"I remember just thinking, 'If I can finish a 400 IM right now, just that will give me confidence,'" Cox said. "That was my mentality going into it. I knew I didn't have the strength and the nutrition I needed to have the race that I know I could have, but I thought, 'If I can mentally get through this and do this race, it will give me confidence for the 200 IM.'"
So she swam. It was not especially pretty—Cox squeezed into the final in eighth, posting a sluggish time of 4:44.63, but she improved her time to 4:40.39 on her way to a fifth-place finish in the final.
That was still more than a second slower than her season-best time from Santa Clara (4:39.07), but Cox still finished the night feeling confident. After the race, she ate a full dinner for the first time—although she opted for chicken and rice, not her usual spaghetti and meatballs that she figured had contributed to her getting sick in the first place.
The 200 IM, scheduled for the meet's final day, would be Cox's last chance to make the World Championships team. Physically, she was fine by that point, but she still didn't feel fully comfortable in the water, and that made her nervous.
"I didn't know if I was going to have enough energy to swim or finish my race or what it was going to be like," she said. "But I've swum the 200 IM so many times, and it's like muscle memory to me. Once I dove in, all those nerves went away, and I just swam and raced the way I knew how to."
As it turned out, Cox swam better in the 200 IM than she ever had before. She qualified second out of prelims in 2:10.53, her lifetime best by a half-second. In the final, Cox was third behind Margalis and Eastin at the halfway point when she made her move.
"On the breaststroke, I was feeling good," Cox said. Eddie (Reese, Texas men's coach) and Carol had talked to me before the race about lengthening out the breaststroke, using my legs a lot so I had my arms for the freestyle. Going into the freestyle, I was like, 'Let's do this.' I had energy, and I was ready to go."
Her last two splits turned out to be faster than anybody else in the field. By the 150-meter mark, Cox had moved into second place, well ahead of Eastin and only four tenths behind Margalis. On the freestyle leg, Cox was closing in.
With 25 meters to go, it was clear that Cox was going to finish in the top two. But she wasn't just holding off Eastin—she was running down Margalis. She would run out of room, finishing in 2:09.69, to Margalis' 2:09.57, but it didn't matter.
In the span of a day, Cox had chopped a second and a half off her best time. She was the eighth woman in U.S. history to go under 2:10. Most importantly, she was going to Worlds.
It was the best swim of her life, the big breakthrough moment she'd been waiting for, yet all Cox could think about was the woman who finished third: Eastin. The two had grown close during their time training and competing together at the Short Course World Championships the previous December.
Even in the aftermath of her own triumph, Cox felt deeply for her friend, who had just been dealt a second crushing blow in the span of three days.
"I was happy, definitely happy with the race. Still, my heart goes out to Ella. She's a great competitor. I definitely love her as a friend, a competitor, all that. More than anything, I felt for her, I felt that heartbreak for her," Cox said.
For as tough a week as Eastin dealt with emotionally, Cox pushed her body through as much physical distress. If that illness had felled her attempt to qualify for Worlds after the superb, consistent season she had put together, that, too, would have been crushing.
But somehow, Cox persevered through all the physical challenges and kept her composure and her confidence. And when it was crunch time, she delivered a performance more impressive than most watching even realized.
Less than two hours after securing her spot in Budapest, Madisyn Cox walked across the pool deck at the IUPUI Natatorium wearing a Team USA jacket. The moment was "surreal" and "humbling," an honor she won't soon forget.