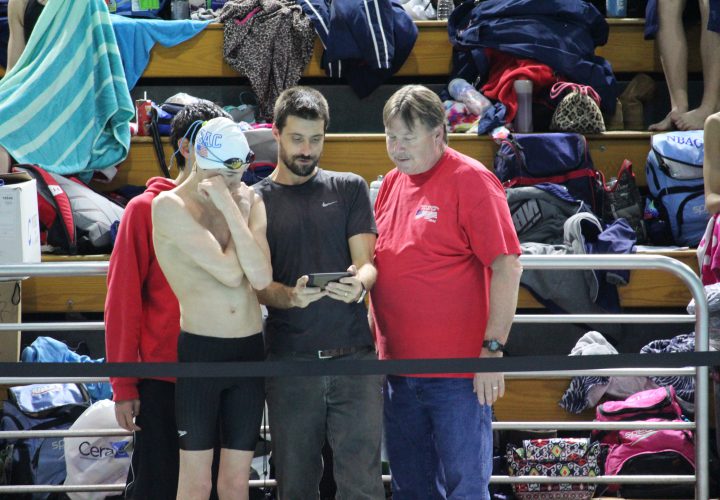 Photo Courtesy: Isaiah Lucas
Commentary by Eamonn Keenan, Swimming World College Intern.
Imagine that you're a 10-year-old swimmer and have just made your first state cut. You've been swimming for about three years now and have continued to drop time at each competition. You go to the state meet and swim one or two races – you don't make finals, but you do manage to improve on your seed time.
After the season is over, your coach has a meeting with you and your parents. Your coach tells you that you could be really good and suggests that you move up into the next group: the 11-12 group that's focused on state meet performance. Because you love the feeling of being good at something, you accept without hesitation.
Instead of attending four practices a week, you now have to complete five in addition to a basic dryland twice a week. Workouts become more challenging, but you do everything that the coach asks of you, albeit never going above and beyond the call of duty. You don't have many friends in the group, but competition breaks the ice – you find a group of people of similar speed and race each other in practice.
At your last state meet as a 12 year old, you final in every event you swim. The swimmers in your practice group start to regard you as one of the "fast kids," and your coach and parents are even more ecstatic than you are for yourself. After this meet, your coach has another meeting with you and your family, further emphasizing that you have a future in this sport and should take the next step to training even more seriously.
Now, you're training six or seven days a week, and the practices have become grueling. You soon begin to dread going to practice not only because of the physical demands, but also because you've come to realize how consuming of an obligation swimming has become.
The kids in your group race each other and socialize during workout, but racing has become monotonous and the socialization less positive. The majority of the time when kids talk about practice, they're talking about how hard the main set is and how they can't wait until it's over.
Although practice has become a chore, you still go for two reasons: because your parents tell you to, and because you still want to race in the meets. People have been telling you that you're good for so long that you feel some sort of itching need to prove it in this new age group. You still do everything the coach asks of you in practice, but that isn't enough to maintain the same trend of improvement. By the time you're 14, you finally qualify for state, but don't make it back for finals in anything.
As your age group career has come to a close, the next step is high school swimming – an even greater time commitment. Now, you question whether it's worthwhile for you to continue swimming.
What went wrong?
In this hypothetical timeline, many factors may have contributed to the questioning of investment in the sport. This narrative, however, was constructed to show how the correlation between an athlete's competitiveness and the likelihood of that individual to invest in the sport long-term can sometimes be positive but also negative.
Whereas competition can be a great way for an age grouper to get into the sport, it isn't necessarily a sustainable incentive. Competition can't substitute for a genuine personal interest in the sport. That being said, a strong competitive drive is crucial to enjoyment and success in racing at swim meets.
Competition, it seems, has its niche in the sport of swimming. But how can a coach, parent or swimmer facilitate this? Is it even a controllable factor?
Origins of the Dilemma
Parents are often attracted to swimming as a sport for their children for a multitude of reasons: the health benefits, low-risk of injury, character-building – none of which a 10 and under age group can firmly grasp. No child is going to conduct independent research on which sport is the most beneficial. Kids just want to do whatever sport their friends do or what they see on TV.
As long as a kid has a friend on the team or faint dreams of Olympic glory, trying out the sport isn't typically the hardest part. Sticking with it, however, usually is. It is often up to the parents to set the foundation for their child's continued investment. 
Mark Kurtz, former senior coach at NOVA of Virginia Aquatics, said: "Unless mom or dad are forcing them, every swimmer can be motivated to swim better or faster. Our job is to help each swimmer be as good as he or she wants to be. That means figuring out their motivation and helping them reach their goal."
In other words, Coach Kurtz is suggesting that swimmers need to have a reason for swimming that is independent from external influences, like their parents.
So why would an eight year old want to go to swim practice? The social aspect is really important. Practice is a time that you get to be with your friends and meet people from other schools.
At some point, however, two hours of strenuous exercise probably doesn't seem like the ideal hangout spot. Although the element of social interaction can be really important, the significance of competition is often paramount.
Of course, individual motivations will vary – e.g. those swimming just for the enjoyment and fitness versus those trying to attain elite status within the sport – but swimming is by nature a competitive sport. This competition not only takes place in the form of racing others in practice and meets but also as competition with yourself through improving your times and overcoming challenging workouts.
How to Find Balance Within the Spectrum of Competitiveness
Now we return to the issue of how to balance competition in age group swimming. Competition is a double-edged sword. The Youth Sports Research Council at Rutgers University cites that winning increases confidence, motivation and esprit de corps in young athletes. On the other hand, Heather Maher, former head age group coach at Lakeside Aquatic Club, argued: "I'm all for healthy competition, but when you're judging success based on how you do in relation to someone else, it's a potential disaster because you have no control over others. Coaches need to drive home that point from the beginning."
Given the individual discrepancy among swimmers' motivations, there is no universal solution for how all age groupers should be coached or parented. Rather, coaches and parents should have a dialogue with the young swimmer to find out what motivates them to swim and what goals they have for themselves in the sport.
A swimmer who is in the sport for the thrill of racing at meets may need help creating fun opportunities to race in practice in order to make workouts more enjoyable for them.
For a different swimmer who doesn't care about making age group state and actually finds that the stress of competing is uncomfortable, he or she may benefit from focusing on the process of racing, such as strategy and technique, rather than the outcome.

Kurtz's comment seems to imply that there's a formula to motivate every swimmer who is interested in the sport to invest long-term. Swimming, however, isn't necessarily for every kid, and that's something that parents have to respond to as well.

This is a tough battle for any parent – to see your kid completely unmotivated to swim in spite of the health benefits or their talents. This is why parent-swimmer-coach meetings are so crucial. If there is no discernible motivation to swim, perhaps it's not because the child has no competitive spirit, but rather that swimming isn't the right platform to access it.
Competitive sports provide ample benefits to the young athletes, some of which are heightened with long-term investment. A primary goal of any youth sport should be to sustain participation over a long period of time. Having an honest conversation with each individual athlete about their goals will help coaches and parents facilitate the right level of competition or motivation in order to foster continual independent interest.
All commentaries are the opinion of the author and do not necessarily reflect the views of Swimming World Magazine nor its staff.