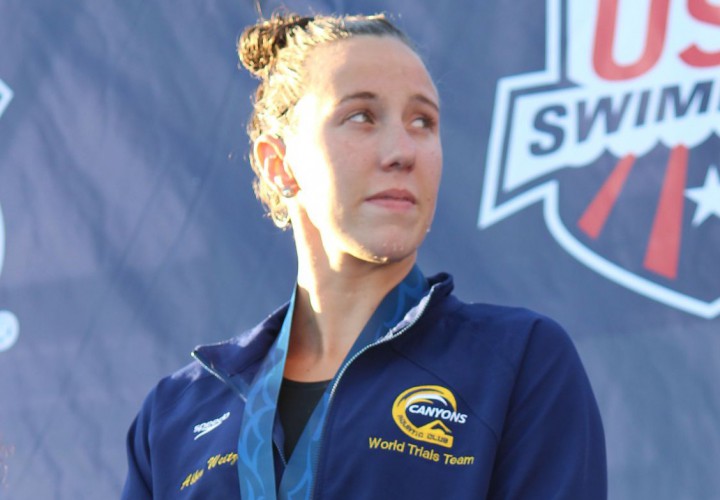 FEDERAL WAY – Abbey Weitzeil couldn't have asked for a better conclusion to two weeks of racing, claiming her first American record in an individual event at the Speedo Winter Junior Nationals with a 46.29.
Race Video Courtesy USA Swimming
Swimming leadoff for Canyons Aquatic Club's 400 free relay, Weitzeil took down Simone Manuel's four-week-old record of 46.62 from the Art Adamson Invitational. The high school senior slashed more than a second off her lifetime best, which had been a 47.59 from last March's American Short Course Championships.
Weitzeil turned at 22.29 at 50 yards, which is .21 faster than Manuel's split in her American record swim. Weitzeil came home .12 faster than Manuel as well.
Weitzeil: 22.29/24.00 – 46.29
Manuel: 22.50/24.12 – 46.62
This has been a banner month for Weitzeil, who was part of a world record-setting 200 mixed freestyle relay at the short course world championships in Doha. Her anchor leg of 23.25 helped Team USA win the event and post a 1:28.57.
Weitzeil now turns her focus to the national high school record books, where she already owns the records in the 50 and 100 freestyles from this past May with times of 21.98 and 47.82.
She is coached by Coley Stickels who recently returned from the World Short Course Championships in Qatar last month as a one of the USA Swimming's National Team Coaches.   Stickels found a new home with the little-known Canyons Aquatic Club after resigning from the Phoenix Swim Club after a falling out with its board of directors.