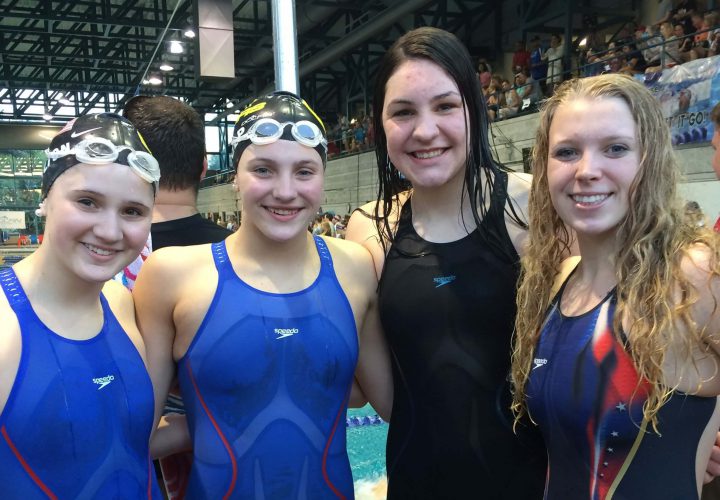 Photo Courtesy: Diana Pimer
The Virginia Gators struck relay gold once again, ending their weekend at the 2017 Dolfin ISCA Championship Cup with a fourth National Age Group relay record to their name!
The foursome of Olivia Bray, Emma Muzzy, Whitney Hamilton, and Caroline Kulp rounded off their weekend by taking down the 15-16 age NAG record in the 400 free relay with a final 3:19.52. The previous record was set at a 3:20.84 by Longhorn Aquatics' Mary Beck, Jessica Rodriguez, Samantha Tucker, and Allyson Sweeney in 2007.
Comparative Splits:
Longhorn Aquatics, 2007 – 50.32/50.19/49.70/50.63 = 3:20.84
Virginia Gators, 2017 – 49.95/49.33/50.18/50.06 = 3:19.52
In addition to the 400 free relay NAG, the same quad took down the 200 free relay, 200 medley relay, and 400 medley relay NAG records.
To catch up on all of the action at the 2017 Dolfin ISCA Championship Cup visit our landing page here. 
All results can be found on Meet Mobile – 2017 Dolfin ISCA Championship Cup