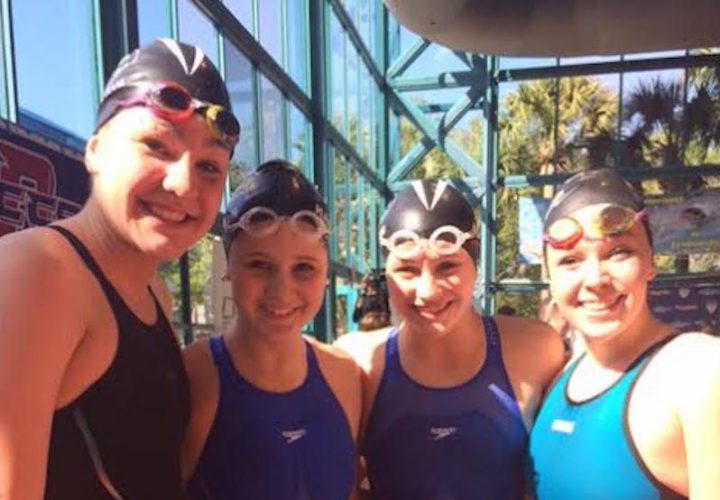 Photo Courtesy: Diana Pimer
The 2017 ISCA Dolfin Jr. National Cup is off and running once again and the Virginia Gators are leaving their mark. The meet is being held in the Long Center Pool at the Doyle Aquatic Center in Clearwater, Florida. The meet will take place from March 21-March 25 and will be conducted in a 16 & Under/Open format. Full results are available on Meet Mobile: 2017 Dolfin ISCA Junior Championship Cup.
The Virginia Gator women are fighting for the team title, and every swim counts. The 15-16 team of Emma Muzzy, Olivia Bray, Whittney Hamilton and Caroline Kulp are definitely doing their fair share this weekend to contribute as tonight marked their third NAG relay record of the week. Earlier in the meet, the team broke the 200 medley and 200 freestyle relay National Age Group Records.
Tonight, the team switched up their order, showing true Virginia Gator versatility and dominance, and put together a 3:36.53 to beat the previous SwimMAC record of 3:37.93 set in 2013. The women swam the following splits:
Bray – 52.02

Muzzy – 1:01.91

Hamilton – 53.03

Kulp – 49.57
The previous record was held by Kathleen Baker, Caitlin Casazza, Elsa Welshofer and Nora McCullagh with the following splits:
Baker – 52.52

Casazza- 1:02.78

Welshofer – 53.48

McCullagh – 49.14
The SwimMAC Girls claimed their record in a time trial at the 2013 NC Tarheel State Meet. Despite a faster freestyler, their efforts were broken once again tonight by a strong up-and-coming group of young Gators.