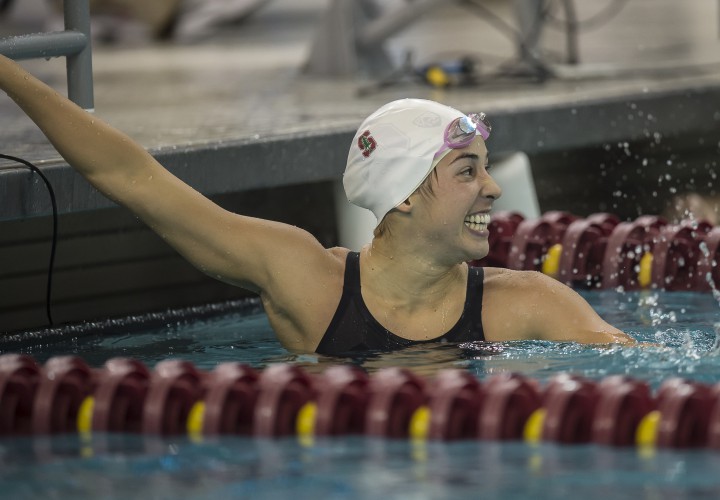 NCAA Championship editorial coverage is proudly sponsored by Competitor Swim. Visit CompetitorSwim.com for more information on our sponsor. For all the latest coverage, check out our event coverage page.
MINNEAPOLIS, Minnesota, March 20. IN the second straight exciting finale, Stanford's Maya DiRado had too much in the tank as she powered past Georgia's Melanie Margalis for the 200-yard IM victory at the NCAA Division I Women's Championships.
DiRado threw down a 1:52.50 to give Stanford its eighth victory in the event's history, moving up to fourth all time as she cut a second off her lifetime best. Her tine tonight stands sixth all time on the performances list as DiRado joins Susie Rapp (1986), Janel Jorgensen (1990), Summer Sanders (1991, 1992), Jenny Thompson (1995), and Julia Smit (2009, 2010).
Georgia's Margalis posted a 1:52.64 to better her fifth-ranked status from her 1:52.87 that had been her best. She finished just .14 behind DiRado, but that's not the closest finish ever in the event. California's Caitlin Leverenz touched out USC's Katinka Hosszu by .03, 1:51.77 to 1:51.80) in the 2012 championships.
California's Celina Li (1:53.85) and Elizabeth Pelton (1:54.80) finished third and fourth overall for big points for the Golden Bears.
USC's Stina Gardell (1:55.11), Stanford's Felicia Lee (1:56.14), Notre Dame's Emma Reaney (1:56.15) and Michigan's Marnie Oldershaw (1:56.88) also vied for the title.
USC's Jasmine Tosky topped the consolation heat with a 1:56.37, while Virginia's Kaitlyn Jones placed just behind with a 1:56.49. Louisville's Tanja Kylliainen (1:56.79) and San Diego State's Mikaela Macklin (1:56.95) also broke 1:57 to be in the to four of the B final.
California's Caroline Piehl (1:57.40), USC's Meghan Hawthorne (1:57.50), Minnesota's Tori Simenec (1:57.71) and Texas' Madisyn Cox (1:57.86) also competed in the consolation heat.