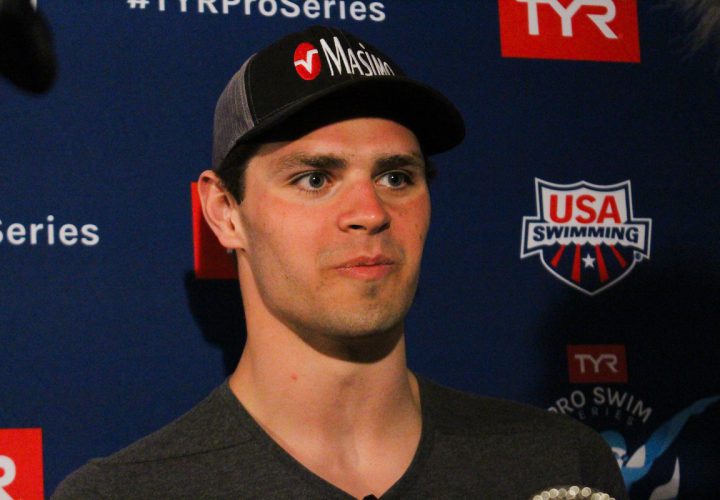 Photo Courtesy: Taylor Brien
Editorial content for the 2018 TYR Pro Swim Series Mesa is sponsored by SwimOutlet.com. Visit SwimOutlet.com for more information on our sponsor. For full Swimming World coverage, check out our event coverage page.
Michael Andrew powered to a swift 50 fly win against competition including Giles Smith, Tim Phillips, and Pace Clark at the TYR Pro Swim Series in Mesa, Arizona yesterday. His time of 23.38 ranks him among top ten in the world so far this year. He also put up admirable times in the 50 freestyle shootout, with a 22.25 to nab the first seed and then fading slightly after swimming three successive races to a 23.70.
When speaking with Swimming World, he addresses the shootout format of racing here at Mesa, in which instead of swimmers having one final race and then months to get ready for their next full-out race, they have minutes. Swimming three 50's back-to-back against stiff competition is a tough thing for any swimmer, but Andrew feels more prepared due to his race pace training background.
Andrew couldn't recall the last time he's gone a 23.70 in a 50 free, and credits the time to the previous five 50's he had swum just before. He mentions how "it all started to fall apart" after about 30 meters of the race, due to such a difficult lineup of events. Looking forward to swimming at a similarly set-up meet in a few weeks, the Kentucky Derby, Andrew is looking to maximize his effort and recovery between each race.
Watch more video interviews from the TYR Pro Swim Series Mesa here.