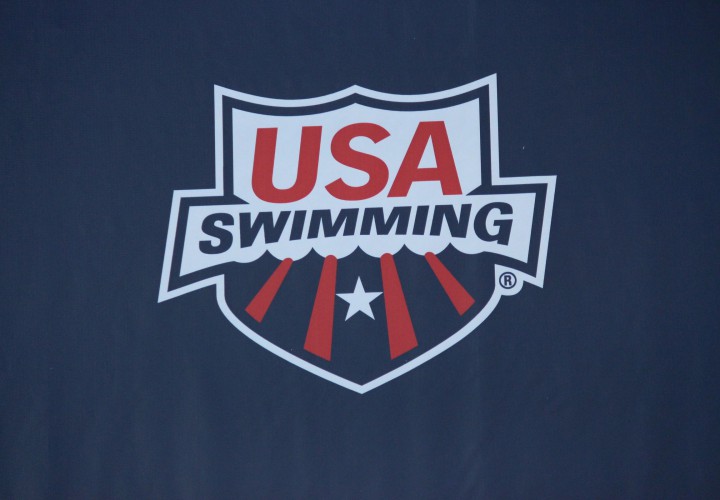 COLORADO SPRINGS, Colorado, August 13.  TEAM USA is going to be a scary squad to deal with at the Junior Pan Pacific Championships being held later this month in Maui, August 27-31.  USA Swimming just released the full roster.
Not only is the Red, White and Blue roster filled with top-flight talent at every event, there are some big-time names on the team. We would be remiss to not mention the most popular swimmer on the team, 15-year-old pro Michael Andrew.  Andrew, who won his first significant title with a junior national win in the 100 back a week ago, made his way to his first international team squad.
Andrew drew a huge amount of attention with his unorthodox competition schedule from the ages of 10 through 14, when nearly every single time he swum – and he swum almost every weekend – he set a national age group record.  That excitement has begun to wane a bit now that he's battling against the 15-16 age division.  Without the million-watt focus on breaking a national age group record, Andrew can settle back into a bit more normal of a progression as a Junior National Teamer.
Meanwhile, the King of the Junior Nationals, Townley Haas of NOVA of Virginia, is slated in two of the four events he won at juniors – the 100 and 200-meter freestyles.
Four swimmers from Nation's Capital Swim Club made the squad as Cassidy Bayer, Isabella Rongione, James Jones and Andrew Seliskar are all headed to Maui.  We are also sure NBAC swimmer Sierra Schmidt will bring her behind-the-blocks dancing skills with her as she acts as the Energizer Bunny for the team.
Women's Roster
Name Event(s)* Club Coach
Claire Adams 100 BK Carmel Swim Club Chris Plumb
Emily Allen 200 FR North Mecklenburg Aquatics Steve Billings
Cassidy Bayer 100 FL Nation's Capital Swim Club Jeff King
Amy Bilquist 100 FR Carmel Swim Club Chris Plumb
Jorie Caneta 100 BR Roadrunner Aquatic Graydon Tedder
Lindsey Clary 10K Ohio State University Bill Dorenkott
Katie Drabot 200 FR Ouzakee Aquatics Steve Keller
Ella Eastin 200 IM SoCal Aquatics Steve Pickell
Danielle Galyer 200 BK Y-Spartaquatics Swim Club Peter Wright
Courtney Harnish 400/800 FR York YMCA Michael Brooks
Madison Homovich 800 FR North Carolina Aquatic Club Kathy McKee
Lilly King 100 BR Newburgh Sea Creatures Aaron Opell
Regan Kology 10K Somerset YMCA Peter Barry
Emily Kopas 200 BR Swim Fort Lauderdale Dave Gibson
Kara Kopcso 200 FL Tiger Aquatics Swimming Dave Geyer
Katrina Konopka 50 FR Y-Spartaquatics Swim Club Peter Wright
Hannah Kukurugya 200 FL Crown Point Swim Club John Krick
Stanzi Moseley 50/100 FR Roadrunner Aquatic Graydon Tedder
Isabella Rongione 10K Nation's Capital Swim Club Bruce Gemmell
Sierra Schmidt 800 FR North Baltimore Aquatic Club Bob Bowman
Leah Stevens 400 IM Lakeside Swim Team Mike DeBoor
Hannah Weiss 100 FL King Aquatic Club Ash Milad
Kim Williams 200 IM Bellevue Aquatic Club Andrew Pym
Men's Roster
Name Event(s)* Club Coach
Michael Andrew 100 BK Indie Swimming Peter Andrew
Aiden Burns 1500 FR Santa Clara Swim Club John Bitter
Brendan Casey 10K Team Santa Monica Dave Kelsheimer
Liam Egan 400/1500 FR Crimson Aquatics Kyle Schack
Alex Evdokimov 100 BR Coral Springs Swim Club Bruno Darzi
Connor Green 200 BK BlueFish Swim Club Chuck Batchelor
Sean Grieshop 200 IM Nitro Swimming Tim O'Brien
Townley Haas 100/200 FR NOVA of Virginia Aquatics Geoff Brown
Connor Hoppe 100 BR Clovis Swim Club John McGough
Logan Houck 10K Sandpipers of Nevada Ron Aitken
James Jones 50 FR Nation's Capital Swim Club John Flanagan
Nick Norman 1500 FR Mission Viejo Nadadores Bill Rose
Curtis Ogren 400 IM Palo Alto Stanford Aquatics Tony Batis
Corey Okubo 200 FL Aquazot Swim Club Brian Pajer
Todd Owen 200 BR Cardinal Aquatic Arthur Albiero
Blake Pieroni 100/200 FR Indiana University Swim Team Ray Looze
Paul Powers 50 FR SwimMAC Carolina Dave Marsh
Andrew Seliskar 200 FL; 200/400 IM Nation's Capital Swim Club John Flanagan
Grant Shoults 400 FR Mission Viejo Nadadores Bill Rose
Cody Taylor 200 BR Donner Swim Club Jim Sheridan
Alex Valente 100 FL Buenaventura Swim Club Jason York
Chris Yeager 10K First Colony Swim Team Allison Beebe
Ethan Young 100 BK Carpet Capital Aquatics Jason Meszaros
Coaching Staff
Name Club Position
Sergio Lopez Bolles School Sharks Women's Head Coach
John Morse Nashville Aquatic Club Men's Head Coach
Michael Brooks York YMCA Assistant Coach
Geoff Brown NOVA of Virginia Aquatics Assistant Coach
Jaime Lewis Gator Swim Club Assistant Coach
Chris Plumb Carmel Swim Club Assistant Coach
Paul Stafford Unattached Assistant Coach
Jason Turcotte Dynamo Swim Club Assistant Coach
*Qualified for the Junior Pan Pacific Championships in events listed but may swim any events