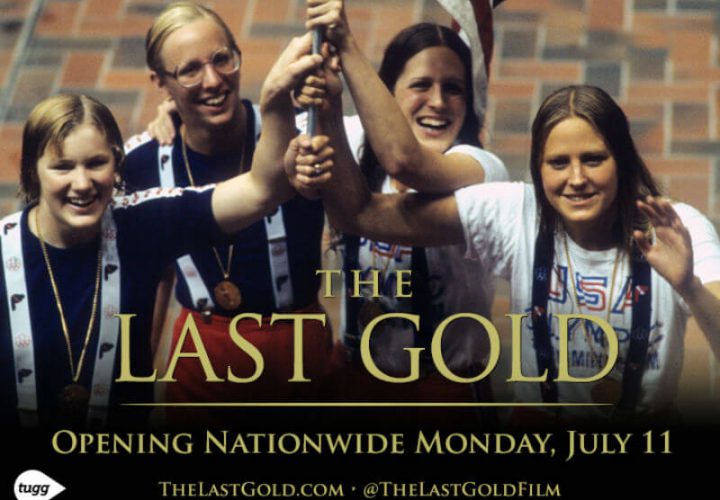 Photo Courtesy: USA Swimming
USA Swimming has announced a partnership with Tugg, Inc. to provide teams and individuals with increased opportunities to view "The Last Gold," a feature-length documentary on the 1976 women's Olympic team and how they rallied against the East Germans to win gold. Tugg allows individuals and swim teams to register to host a screening or to attend one of the already scheduled screenings currently available in 34 states.
Official Trailer:
Official Press Release:
COLORADO SPRINGS, Colo. – USA Swimming announced today that it is partnering with Tugg, Inc. ("Tugg") to release "The Last Gold," a feature-length film on one of the greatest untold stories in Olympic history, nationwide on Monday, July 11. Tugg is an event platform that helps anyone set up personalized screenings in theaters and community venues across the country.

Through Tugg, individuals and swim teams register to host a screening or attend a scheduled screening of "The Last Gold" at a local venue. Once the necessary amount of people commit to attending, the event will be confirmed, and Tugg will reserve the theater, manage ticketing and ensure delivery of the film. Tugg works with theaters in all 50 states such as AMC Theatres, Alamo Drafthouse, Carmike Cinemas, and Studio Movie Grill and has a theatrical library of over 1,800 films. Events can also be hosted at schools, recreational facilities, and other community centers.

To purchase tickets or to host a screening, visit: https://www.tugg.com/titles/the-last-gold. Currently screenings are scheduled for 136 cities in 34 states.

"'The Last Gold' is a way to honor the women of this 1976 team and serve as an inspiration," said Chuck Wielgus, Executive Director of USA Swimming and Executive Producer of the film. "Launching the film in partnership with Tugg ensures the largest national reach for the film, and also a way to involve the swimming community and teams to bring it to their area."

Considered one of the greatest untold stories in Olympic history, "The Last Gold" details the heroic efforts of the women's 1976 U.S. Olympic swim team as it competed against the systematically-doped East Germans. After an entire competition of disappointing results, winning no races and facing critical media that heaped on additional pressure, the U.S. women rallied together to do as a team what they could not do individually – win gold.

Directed by 15-time Emmy winner Brian T. Brown and narrated by Emmy Award-winning actress Julianna Margulies, "The Last Gold" will have its World Premiere during the LA Film Festival on June 6 in advance of its theater debut on July 11.

Click Here For More Information About Shirley Babashoff, DDR, and "The Last Gold,"

About USA Swimming

As the National Governing Body for the sport of swimming in the United States, USA Swimming is a 400,000-member service organization that promotes the culture of swimming by creating opportunities for swimmers and coaches of all backgrounds to participate and advance in the sport through clubs, events and education. Our membership is comprised of swimmers from the age group level to the Olympic Team, as well as coaches and volunteers. USA Swimming is responsible for selecting and training teams for international competition including the Olympic Games, and strives to serve the sport through its core objectives: Build the base, Promote the sport, Achieve competitive success. For more information, visit www.usaswimming.org.

About Tugg, Inc.

Tugg, Inc. ("Tugg") is a platform that enables individuals, content owners, and brands to turn their passion for movies into action by choosing the films that play in their local theaters and community venues. These individually curated events showcase Tugg's growing library of over 1,800 studio and independent films. Users choose the film, date, time, and location for their screening, and then spread the word to their immediate and online community. For additional information visit http://www.tugg.com.