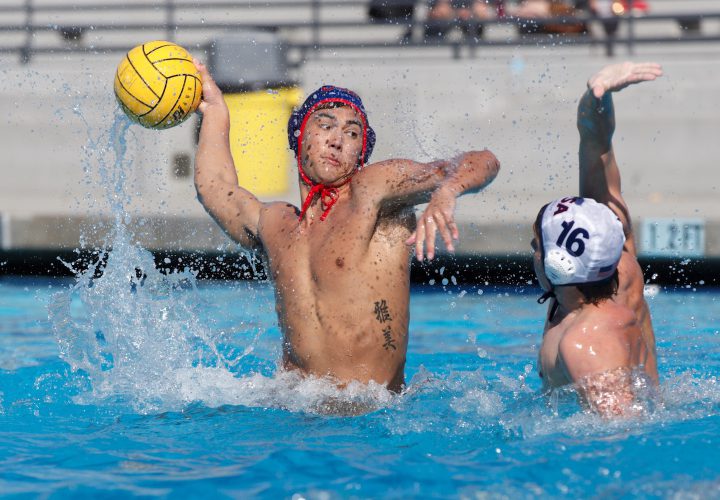 Photo Courtesy: Catharyn Hayne
Budapest, Hungary – June 23 – The USA Men's Water Polo National Team took seventh place at the FINA World League Super Final with a 9-3 win over Kazakhstan. Alex Bowen (Santee, CA/Stanford/NYAC) scored two goals to lead the offense with McQuin Baron (North Tustin, CA/USC/NYAC) and Alex Wolf (Huntington Beach, CA/UCLA/Bruin) combined for six saves in net.
Click here to watch a replay of the USA-Kazakhstan match. For more information on the FINA World League Super Final, click here.
Team USA jumped out to a 4-0 lead in the first quarter capped by a Max Irving (Long Beach, CA/UCLA/LA Premier) goal with :46 left in the period. Kazakhstan broke through with a goal in the second quarter and kept Team USA off the board to trail 4-1 at intermission.
The United States offense ramped back up in the third outscoring Kazakhstan 3-1 to go in front 7-2. In the fourth Team USA tacked on two more goals from Johnny Hooper (Los Angeles, CA/California/LA Premier) and Marko Vavic (Rancho Palos Verdes, CA/USC/Trojan) to take a 9-3 victory.
Team USA went 3/10 on power plays and 1/2 on penalties while Kazkhstan was 1/5 on the advantage and 1/1 on penalties. The United States finished play at the FINA World League Super Final with a record of 4-2 earning wins over Spain, Croatia and Kazakhstan (2x).
Next up for Team USA is a trip to Germany where they will compete in a Four Nations Tournament from June 29-July 1.
Scoring
USA – 9 (4,0,3,2) A. Bowen 2, A. Roelse 1, A. Obert 1, M. Irving 1, H. Daube 1, B. Hallock 1, J. Hooper 1, M. Vavic 1
KAZ – 3 (0,1,1,1) R. Ukumanov 1, A. Shmider 1, A. Godoyanyuk 1
Saves – USA – M. Baron 4, A. Wolf 2 – KAZ – V. Shlemoy 4
6×5 – USA 3/10 – KAZ – 1/5
Penalties – USA 1/2 – KAZ – 1/1
The above press release was posted by Swimming World in conjunction with USA Water Polo. For press releases and advertising inquiries please contact Advertising@SwimmingWorld.com.