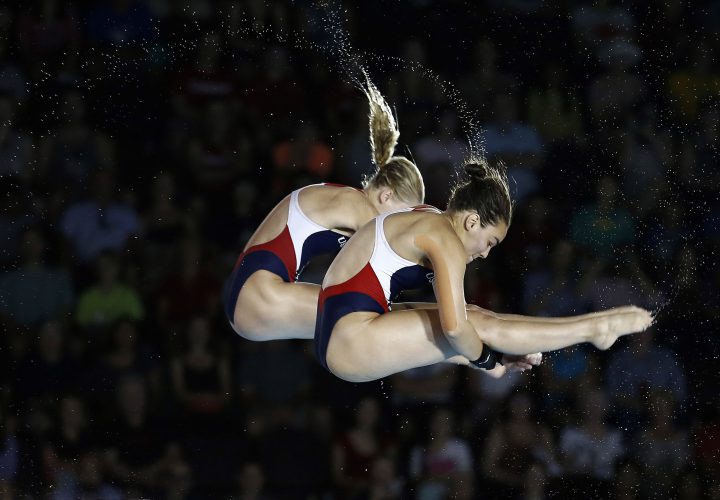 Photo Courtesy: Rob Schumacher/USA Today Sports Images
By Erin Keaveny, Swimming World College Intern
It's a meet where the stakes are high, competition is fierce, and every athlete is fighting for the same goal. Divers are chasing their Olympic dreams this week in Indianapolis at USA Diving's 2016 Olympic Team Trials. Events started on Saturday, June 18 and will continue until Sunday, June 26.
So far, the prelim and semifinal events have occurred for women's synchronized platform, men's synchronized platform and three meter. Athletes will be moving into the individual and final events as the week progresses.
On the women's side, after semifinals platform synchro team Jessica Parrattoo and Amy Cozad will move into finals with a 41.28 point lead. They took the lead with three dives scoring around 70 points: their front three and a half pike, inward three and a half tuck, and back two and a half with one and a half twists pike.
Chasing them, Anna James and Katrina Young hold their lead over Samantha Bromberg and Delaney Schnell by 15.36 points. In finals, the women will have one more chance to compete, and add points to their scores. The women's synchronized platform finals are scheduled for Wednesday, June 22 at 9 p.m.
On the men's synchronized platform, Steele Johnson and reigning Olympic platform gold medalist David Boudia are holding the rest of the field off with an enormous 124.98 point lead. In the semifinals, their inward three and a half tuck scored over 80 points, and their reverse three and a half tuck scored over 90.
Ryan Hawkins and Toby Stanley are holding the second place spot, followed by Max Showalter and Zachary Cooper. They will compete once more for the spot on the 2016 Olympic Team on Thursday, June 23 at 7 p.m.
Samuel Dorman and Michael Hixon lead the field in men's synchronized three meter. They are 56.52 points ahead of the second place team, Tory Dumais and Kristian Ipsen. The Dormna-Hixon team's highest scoring dives in semifinals included their reverse one and a half with three and a half twists, and their front two and a half with two twists in pike, both scoring over 80 points.
The schedule of events can be seen here, and the full list of results here.