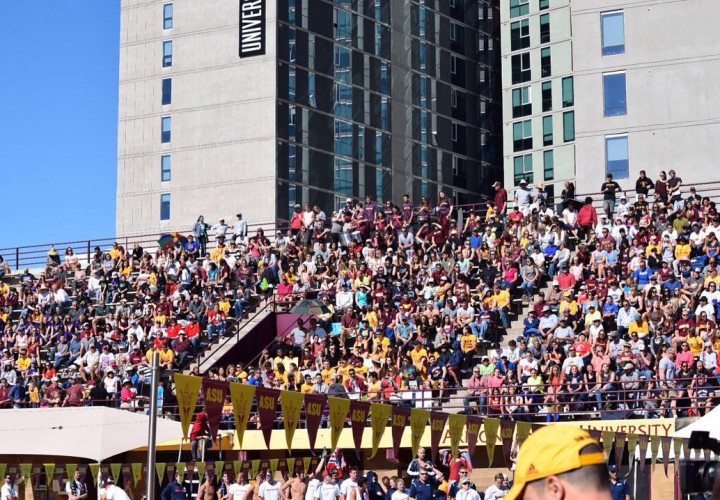 Photo Courtesy: Erin Marsteller
By Sarah Lloyd, Swimming World College Intern
In a heavily contested rivalry meet, the unranked men of Arizona State upset the No. 17 Arizona men with a final score of 168-132. The Sun Devil women, however, did not fare quite as well–they fell to the Wildcat women in a final score of 208-88. The meet also featured exhibition swims between Michael Phelps and Matt Grevers, among others, for a little bit of Olympic hype and excitement.
Men's Meet
The men's meet kicked off with an Arizona State victory in the 200 medley relay. The team of Richard Bohus, Christian Lorenz, Tadas Duskinas, and Patrick Park clocked a 1:25.65, a full second ahead of the Arizona team of Chatham Dobbs, Andrew Sovero, Chad Indensohn, and JP Beach (1:26.92). A couple of Wildcats then took the top two spots in the 1000 free and finished just four tenths apart from each other. The sophomore Chris Wieser grabbed first with a 9:01.60, while junior Ty Fowler followed closely behind with a 9:02.00. The Arizona State junior Juan Tolosa was third with a 9:05.35. The Sun Devils fired back at the Wildcats with a 1-2 finish of their own in the 200 free when the junior Barkley Perry finished with a 1:36.06 and classmate Thomaz Martins clocked a 1:36.66. Arizona freshman Parks Jones was third (1:37.20).
Arizona State had another 1-2 finish when senior Bohus grabbed first in the 100 back (46.74) and junior Reid Elliot was second (47.43). Chatham Dobbs of Arizona was third with a 47.48. ASU's Lorenz grabbed first in the 100 breast (53.18) and was followed by Arizona's junior Gage Crosby (54.80) and Sun Devil freshman Danny Comforti was third (55.01). Arizona sophomore Patrick Park took the 200 fly with a time of 1:43.32, two tenths ahead of Arizona's sophomore Justin Wright (1:43.52). The Wildcat sophomore Moose Skjaerpe was third with a 1:47.11. Bohus added another victory to his personal repertoire when he won the 50 free (19.83). Arizona's junior Renny Richmond was second (19.85), while Duskinas was third (19.97).
Bohus became a three event winner with the 100 free, which he won with a 43.09. Duskinas was second with a 44.06, while Richmond rounded out the top three with a 44.07. Perry then kept Arizona State's momentum going with a win in the 200 back (1:42.50). He was followed by a pair of Wildcats for second and third–the junior Thane Maudslien was a 1:44.15 and the freshman Matt Lujan was a 1:47.07. Arizona State then swept the 200 breast, led by Lorenz (1:54.10) and completed by Comforti (1:57.97) and senior Juan Jose Garcia Mesa (1:58.21). Arizona fired back with a 1-2 finish in the 500 free–Wieser was first (4:23.12) and sophomore Nick Hogsed was second (4:23.38). ASU's Tolosa was third (4:24.62).
ASU's Park added a second win of the day with a 46.89 in the 100 fly. Richmond was second (47.89) and Skjaerpe was third (47.98). Wildcats Nick Thorne and Grant Sanders then went 1-2 in the 400 IM with 3:51.61 and 3:53.56, respectively. Arizona State's Kyle Sockwell was third (3:54.94). An ASU team of Park, Martins, Duskinas, and Perry closed the meet with a win in the 200 free relay (1:19.18).
The meet fell in the Sun Devils' favor 168-132.
Women's Meet
The women's meet got started with an Arizona victory in the 200 medley relay. A team of Annie Ochitwa, Emma Schoettmer, Mackenzie Rumrill, and Taylor Schick touched with a time of 1:38.06. The Arizona State team of Ingibjorg Jonsdottir, Sara Borendame, Katrina Kanopka, and Ashley Sutherland were third with a time of 1:40.06. A couple of Wildcats continued the momentum with a 1-2 finish in the 1000 free. Senior Bonnie Brandon was first (9:45.55) and freshman Emma McCarthy was second (9:57.27). ASU senior Anna Olasz was third (9:57.48). Senior Taylor Schick kept the momentum going for the Wildcats with a win in the 200 free (1:46.33). ASU's junior Katarina Simonovic was second with a 1:46.42 and Arizona's sophomore Cameron McHugh touched third with a time of 1:47.67.
The top two spots in the 100 back were taken by Arizona's Kanopka (53.38) and freshman Taylor Garcia (53.61), while Arizona State's Jonsdottir was third with a 54.25. An Arizona sweep of the 100 breast followed, led by the senior Schoettmer (1:00.52) and completed by Borendame (1:01.47) and sophomore Alexandra Martelle (1:02.51). Arizona's freshman Mik Ranslem was the only woman to post a sub-2:00 200 fly with her 1:59.68. Second went to Arizona State's freshman Marlies Ross (2:00.05) and Wildcat freshman Daniela Georges was third (2:00.60). The 50 free went to Arizona's Ochitwa (22.40). She was followed by Sun Devil junior Alysha Bush (22.76) and Arizona freshman Paige Kremer (22.92).
Kanopka and Schick then took first and second for The Wildcats in the 100 free with 49.13 and 49.54, respectively. Arizona State's Bush was third by just one one-hundredth of a second (49.55). Sun Devil senior Jennifer Morgan then grabbed first in the 200 back (1:56.68). She was followed by McHugh (1:56.84) and Garcia (1:58.50). Schoettmer won a second individual event with a 2:08.74 in the 200 breast. Arizona State's Ross was second (2:11.79) and Arizona's Borendame grabbed third (2:13.56). Brandon also joined the multi-event winners with a 4:46.36 in the 500. Freshman teammate Sara Shimomura was second with a 4:49.56, while the Sun Devil Simonovic was third with a 4:51.27.
Ochitwa took the 100 fly with a 51.78, followed by teammate Rumrill (53.90) and Arizona State senior Marina Spadoni (55.22). ASU's Ross was first in the 400 IM (4:11.72) and was followed by a pair of Wildcats–Georges was a 4:16.47, while freshman Karli Thuen was a 4:20.45. The Arizona team of Kanopka, Brandon, Ochitwa, and Schick closed the meet with a win in the 200 free (1:29.35).
The final score for the women's meet was 208-88 in the Arizona Wildcat's favor.
Full results: 2016 Arizona vs Arizona State – Results