U.S. Nationals: Ryan Held Blazes World's Third-Fastest 50 Free; Caeleb Dressel 22nd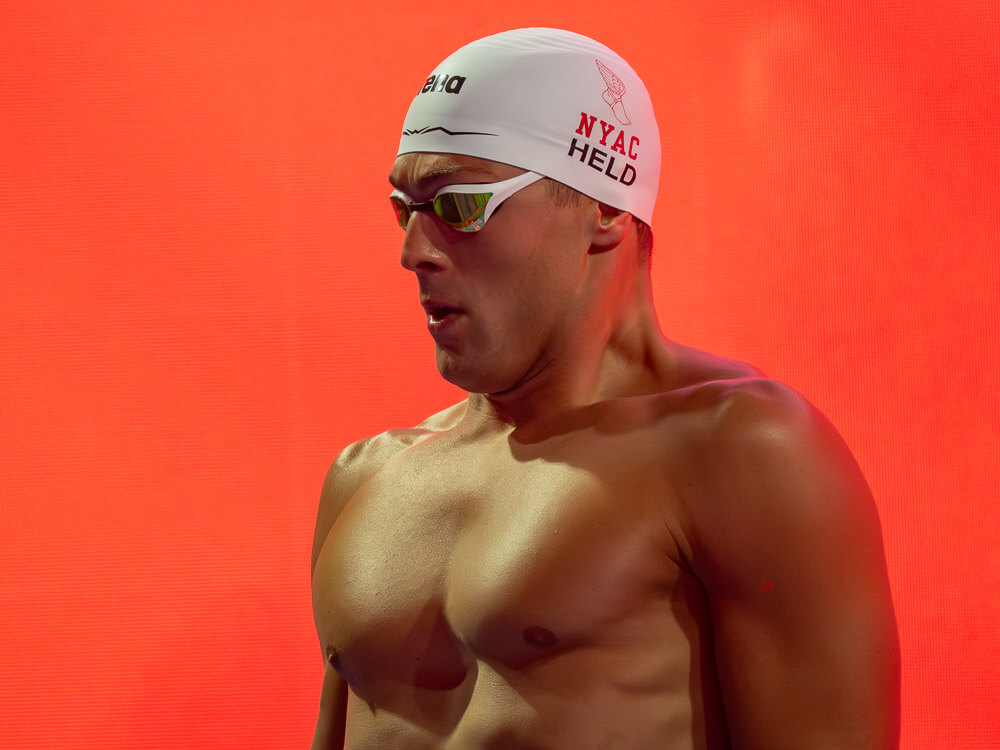 Ryan Held -- Photo Courtesy: Peter H. Bick
Left Sidebar
U.S. Nationals: Ryan Held Blazes World's Third-Fastest 50 Free; Caeleb Dressel 22nd
Although he has developed a reputation for strong international relay swims over the years, Ryan Held has never raced an individual event at a major international long course meet. That could change in the very last A-final of U.S. Nationals as Held will enter the men's 50 freestyle final as the No. 1 seed after a blazing morning effort.
Held placed first in heat six in 21.65, only three hundredths off his lifetime best of 21.62. Held is now the third-fastest swimmer in the world this year behind only Australia's Cameron McEvoy and France's Florent Manaudou. Held placed fifth in the 100 free earlier in the meet, likely securing his position in Fukuoka, but a top-two finish in the 50 free would officially secure it.
His challengers in the final will include three others who broke 22 in prelims: Cal's Jack Alexy, who grabbed the win in the 100 free on night one, took second in 21.83, lowering his best time by a quarter-second. Michael Andrew, who won silver at last year's Worlds in the event, was third in 21.87, with Texas Ford's Matt King fourth in 21.98. King is also on the Worlds team for the 400 free relay, but Andrew is also on the roster bubble for Worlds.
It has been a rough meet for Andrew, who did not qualify for finals in the 100 breaststroke, where he ranks third all-time, or the 100 butterfly, where he was a World Championships finalist last year. He won the 50 fly Wednesday evening, but winners of 50-meter races will only qualify for Worlds if all other potential qualifiers, including relay alternates, have been fit under the 26-swimmer roster limit for both women and men. Andrew is the only 50-meter winner this week who has not already qualified for Worlds. But the 50 free shares selection criteria with other events, with the top two swimmers sure to earn spots.
Arizona State's Jonny Kulow finished fifth in 22.03, followed by Notre Dame's Chris Guiliano (22.08), Carmel's Drew Kibler (22.12) and Wolfpack's David Curtiss (22.13). Two of those swimmers, Guiliano and Kibler, are already qualified for Worlds.
Caeleb Dressel, the Olympic champion and world-record holder, ended up tied for 22nd in 22.72. In his comeback to the high-level racing after a long absence, Dressel was a finalist in both sprint butterfly races, placing as high as third in the 50 fly, but he struggled more in freestyle. He qualified to swim the C-final at night.