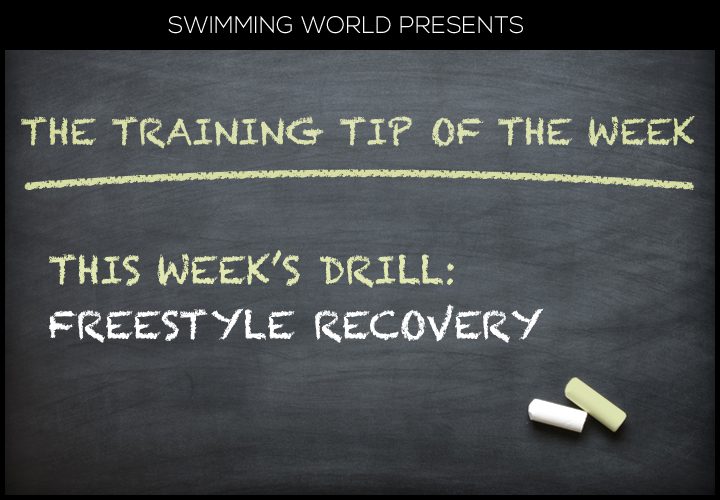 Welcome to the "Training Tip of the Week." Swimming World will be bringing you a topic that we'll explore every month with drills and concepts for you to implement with your team on a regular basis. While certain weeks may be more appropriate for specific levels of swimming (club, high school, college, or masters), Training Tips of the Month are meant to be flexible for your needs and inclusive for all levels of swimming.
This month's training tip is centered around Distance Per Stroke (DPS). This is a term that is thrown around a lot in swimming, and for good reason. The greater your distance per stroke, the more efficient you are moving through the water, which ultimately makes for faster swimming.
This week, we are going to focus on the last key element of distance per stroke: the freestyle recovery. You can read other week's tip related to distance per stroke, front end extension, high elbow catch, and the freestyle finish by clicking here, here, and here.
While the recovery may seem an odd focus when thinking about distance per stroke, it is essential for setting yourself up correctly for your next stroke. You want a recovery that is relaxed and allows you to bring your arm forward with minimal effort without overreaching or disrupting your body line.
Developing a High Elbow…
A relaxed high elbow recovery is a hallmark of an efficient freestyle. Keeping your arm close to your body and bent at the elbow makes the arm easier to bring back to the front and helps control the placement of your hand. Zipper Drill is a classic drill to reinforce a relaxed high elbow recovery.
While getting a high elbow itself is relatively simple, maintaining it with a proper body line over time can be challenging. Drills such as Three Point Recovery that check with swimmers in with their body position and line while manipulating their arm outside of the water are great ways to make sure the recovery isn't disrupting other elements of the stroke.  
A Relaxed Hand And Fingertips First…
A high elbow recovery is meant to let you bring your arm back to the front with minimal effort and to place your hand in the optimal position for setting up your next catch.
A simple drill for thinking about a relaxed hand entry is Fingertip Drag. While your hand won't actually leave the water with this drill, it can help combat overreaching and putting too much effort in the entry of the stroke. Try variations on fingertip drag (dragging the wrist, knuckles, fingertips, and then nothing at all) to "tune in" to the recovery.
All swimming and dryland training and instruction should be performed under the supervision of a qualified coach or instructor, and in circumstances that ensure the safety of participants.