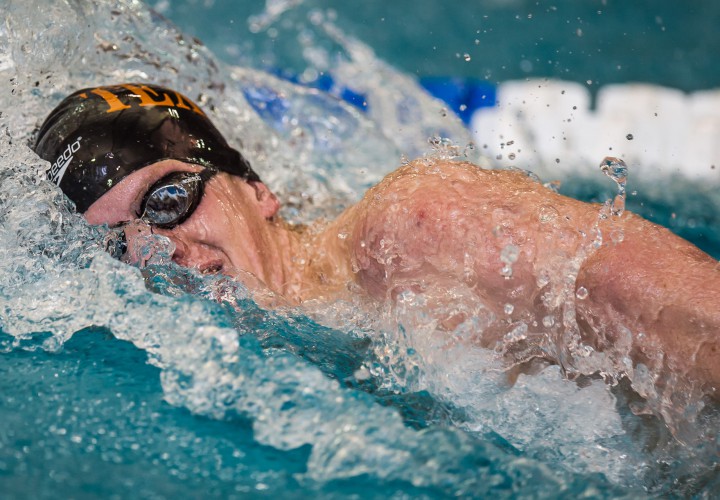 Photo Courtesy: Peter H. Bick
NCAA DI Championship Editorial Coverage is proudly sponsored by Adidas. Visit All-American Swim for more information on our sponsor. For all the latest coverage, check out our event coverage page.
By David Rieder
Anyone who visited the McAuley Aquatic Center this past weekend hoping to watch some fast swimming got exactly what they were looking for. A U.S. Open record – the fastest time ever – was recorded in eight of the 13 individual events contested at the men's NCAA championships, twice in the 100 back.
With five different athletes accounting for those records, picking the swimmer of the meet was such an arduous task for the coaches Saturday night that for the first time ever, there was a three-way tie in the voting for the award between former Bolles teammates Caeleb Dressel, Ryan Murphy and Joseph Schooling.
On the outside looking in were a pair of Texas Longhorns. Will Licon broke Kevin Cordes' American record on his way to victory in the 200 breast and recorded the second-fastest time ever in winning the 200 IM. He also finished second in the 400 IM to boot. Then there's Townley Haas, the freshman out of Richmond, Va., who went from depth contributor to headliner in the span of just over 90 seconds.
Haas opened the meet as the second-leg swimmer on Texas' 800 free relay on Wednesday night and split a 1:30.52, the fastest ever – more than 2.5 seconds faster than what had been his lifetime best flat start – helping to lead the Longhorns to the win in U.S. Open record-time. On Thursday Haas picked up his first NCAA title in his first individual NCAA race with a 4:09.00 triumph in the 500 free.
A day later, though, Haas simply exploded, demolishing the field in the 200 free in an effort that in a meet full of record-breaking performances was second to none. Haas clocked 1:30.46, shattering Ricky Berens' American record of 1:31.31 and also Simon Burnett's U.S. Open record of 1:31.20 – set in the very same pool a decade previously.
"[That] means his 500 wasn't very good," said Texas coach Eddie Reese after the race. "If you go 1:30, shouldn't you go out in 1:34?"
Haas replied, "Well I wasn't 1:30 at the time."
Georgia's Matias Koski finished as runner-up in the 200, coming in just over a second behind Haas. Koski clocked 1:31.54, moving him to fifth on the all-time list, but Haas made Koski look pedestrian with his effort.
"It was pretty crazy," said Koski after the race. "It was pretty cool to look up and see that I had a pretty good swim, but then to see that he went 1:30, almost a full second faster was pretty cool just to say that you swam next to him in that heat."
Georgia head coach Jack Bauerle was similarly impressed, noting that he and his coaching peers appreciated seeing fast swimming from anyone, including this Texas freshman.
"I was thinking this: we recruited him, and I wish we had him," said Bauerle. "That's exactly what I was thinking. Then I thought I was pretty happy for him."
But the widest eyes on deck after Haas' race – aside from Haas' Texas teammates and coaches – belonged to Frank Busch. The U.S. National Team director got to watch a teenager that he hopes can be a staple in the middle distance freestyle for the stars and stripes for a long time.
"It's one of the best swims I've ever seen," said Busch on the 1:30.46.
Busch, who a decade ago coached Burnett to the previous U.S. Open record during their days with the Arizona Wildcats, thought it extremely appropriate that the record went down in the very same pool.
"Georgia Tech is a special place," said Busch. "Records are made to be broken, and for a young guy like that to break a record that's been in existence for ten years now, it's pretty special."
Busch admitted that as soon as he saw the time, he began to wonder how the performance might translate to long course with Olympic Trials just three months down the line, but Reese expressed optimism that his charge would do fine in the big pool.
"Well did you see the turns?" said Reese. "Michael McBroom texted me and said, 'What's he gonna do when he learns to turn?' He's turning a lot better than he has in the past, but that is not one of his strengths. So as good as he has [swum], this summer long course it's gonna be better for him."
"And there are a lot of people around the country that decided they were gonna practice a lot harder tomorrow morning because of what he did tonight."