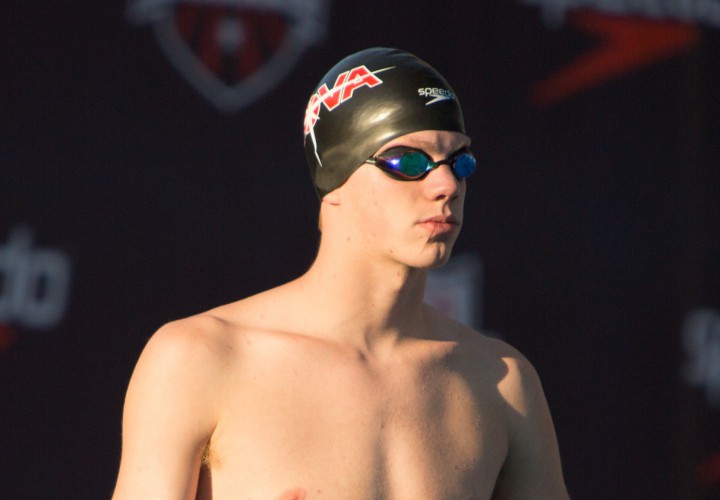 Editorial coverage for U.S. Junior Nationals proudly sponsored by Q Swimwear!
IRVINE, California, August 3. ONE more meet record fell, while NOVA of Virginia's Townley Haas clinched a fourth title during the last night of action.
Scheduled Events
Women's 200 IM
Men's 200 IM
Women's 1500 free
Women's 50 free
Men's 50 free
Men's 800 free
Women's 400 medley relay
Men's 400 medley relay
Women's 200 IM
Bellevue's Kim Williams swept the IMs this week with a sizzling 2:14.58 in the 200-meter event after winning the 400 IM on day two.  That's a big time personal best for Williams, clearing the 2:16.08 she clocked at last year's meet.  Meanwhile, Central Bucks' Allie Szekely ripped through the finale with a second-place effort of 2:15.98.  Iowa Flyers' Ruby Martin, 14, entered the top 10 all time in the 13-14 age division with a third-place time of 2:16.73.  She's one to watch out for in the future.
Liz Zeiger hit the wall fourth in 2:17.07 with JCC's Lauren Barber claiming fifth in 2:17.19.  Lakeside's Leah Stevens (2:17.90), Livonia's Miranda Tucker (2:18.07) and NBAC's Heidi Miller (2:19.55) also vied for the junior national title.
Y-Sparta's Savanna Faulconer had too much in her freestyle for the rest of the field as she stormed home to win the B final in 2:17.51.  That's her first time under 2:18, blasting her 2:18.39 best from last summer's YMCA summer nationals.  Bolles' McKenna Debever checked in with a second-place 2:18.30, while SwimMAC's Maija Roses took third in 2:18.57 after almost making the A final from heat 4 this morning.
Condors' Carly Cummings raced her way to a 2:18.03 in a tightly-contest C final for the win.  That swim cut more than a second from her lifetime best of 2:19.74 from this morning, and put her just ahead of NBAC's Mary Pelton.  Pelton, the youngster sister of American record holder Elizabeth, took second in 2:18.25.  That's just off her best of 2:18.03 from last summer's senior nationals.  Rays' Sydney Lofquist touched third in 2:19.02.
Men's 200 IM
Stanford-commit, PASA's Curtis Ogren, cruised to victory in the event with a time of 2:01.95.  That's his first time under 2:02, coming into the night with a 2:02.64 best from prelims.  A year ago, he went 2:03.45 here at juniors before entering his senior year of recruitment.  Cascade's Abrahm Devine chased down second in 2:02.74, his best by a long shot under a 2:04.49 from this morning.  Michael Andrew, the 15-year-old pro, took third in 2:03.53.  That ranks him sixth all time in the 15-16 age division as he broke 2:04 for the first time.
Tualatin's Patrick Mulcare (2:03.71), Crimson's Anthony Marcantonio (2:04.15), CyFair's Austin Van Overdam (2:04.90), Alex Lebed (2:05.01) and Rockwall's Jared Butler (2:05.07) also competed in the finale.
Marlins of Raleigh's Justin Ress celebrated his birthday in style with a 2:03.97 to win the B final tonight.  He dropped plenty of time from his best of 2:05.66 from sectionals last month.  HEAT's Ross Palazzo hit the wall second in a time of 2:04.52 with Duke's Koya Osada earning third in 2:04.73.
YMCA Hub Fins' Sam Stewart powered his way to a C final triumph with a time of 2:04.89.  That's more than a second off his previous best of 2:06.03 from the Charlotte stop of the Arena Grand Prix, and entering this year he had topped out with a 2:09.49. That's a great year of swimming.  Greenwood Memorial's Ryan Harty turned in a second-place time of 2:05.49 with Badgers' Patrick Conaton taking third in 2:06.20.
Women's 1500 free
Sierra Schmidt claimed her third title of the meet, winning the 400, 800 and 1500 freestyle, by way of a 16:24.09 tonight in the metric mile.  That's nearly 10 seconds better than her previous time of 16:32.90 from last year's juniors.  That put 16-year-old Schmidt 16th in the 15-16 age division.  North Carolina's Madison Homovich, 14, moved to 11th in the 13-14 age division with a sizzling time of 16:32.95.  She cut a huge amount from her 16:46.03 best from June.  SwimFlorida's Kendall Brent rounded out the top three in 16:33.87.
Frisco's Gabrielle Kopenski, another 14 year old, was fearless as she was several seconds under meet-record pace throughout the first half of the race before settling down to take fourth overall in 16:33.93.  Egg Harbor's Amanda Nunan took fifth in 16:36.77 from the early heats, while Nashville's Elizabeth Stinson also made the top eight from the early heats with a 16:38.21 for sixth.
Pleasanton's Moriah Simonds (16:42.83) and Cougar's Cailley Silbert (16:43.58) finished seventh and eighth to also made the podium.
Women's 50 free
It wasn't the 25.00 17-18 national age group record that Abbey Weitzeil posted in a time trial yesterday for the fastest 50 of the meet, but Carmel's Amy Bilquist scorched the A final of the splash-and-dash with a 25.28.  That made the 16 year old fourth all time in the 15-16 age division, and just missed Missy Franklin's 25.23 meet record from 2009.  Weitzeil's time doesn't count as it wasn't in standard competition.
Lakeside's Lauren Pitzer, 15, raced her way to second with a sizzling time of 25.68, while Carmel's Veronica Burchill touched third in 25.71 in what was an exciting finale.
Y-Sparta's Katrina Konopka (25.75), Greensboro's Natalie Labonge (25.82), Bolles' Kasey Schmidt (25.89), Roadrunner's Stanzi Moseley (26.01) and City of Mobile's Ashton Ellzey (26.33) put up the rest of the times in the championship heat.
Pine Crest's Marta Ciesla blazed her way to a 25.83 in the B final, while NCAP's Janet Hu finished second in 25.91.  Schroeder's Alexandra Meyers also cleared 26 seconds with a third-place time of 25.98
San Clemente's Kaitlyn Albertoli won the C final in 26.07, while Zionsville's Alex Cleveland took second in 26.10.  Dynamo's Caitlin Cooper earned third in 26.17.
Men's 50 free
Bolles' Caeleb Dressel definitely brought some speed tonight with a 22.36 to win the splash-and-dash title by more than half-a-second.  It wasn't the hoped-for meet record of 22.13 set by Vlad Morozov in 2010, but it showed some signs of things to come next week at senior nationals here in Irvine.  NCAP's James Jones moved to third in the 15-16 age division all time with a second-place 23.04.  Dressel holds that record with a 22.39 from 2013.  Peddie's Patrick Park closed out the top three in 23.07.
Tennessee's Josh Romany hit the wall fourth in 23.08 with Canyons' Cole Cogswell cruising to fifth in 23.13.  Nitro's Tate Jackson (23.18), Marlins of Raleigh's Scott Johnson (23.26) and Michael Andrew (23.27) also battled for the junior national title tonight.
Lifetime's Connor Stirling picked up the B final title in 23.24 with Ohio State's Matt McHugh touching second in 23.26.  Terrapins' Justin Lynch snared third in the consolation heat with a 23.34.
Saint Andrew's Gage Kohner claimed the C final in 23.26 with Scottsdale's Joseph Starkweather finishing a close second in 23.39.  Denver's JP Beach took third in 23.54.
Men's 800 free
NOVA of Virginia's Townley Haas has been unstoppable this week as he claimed his fourth junior national title of the meet tonight.  He raced his way to an 8:01.82, just off Chad La Tourette's meet record of 8:01.75 from 2006. Haas dropped a monster amount of time, down from an 8:13.08 personal best from a year ago.  He added this title to his wins in the 100 free, 200 free and 400 free to easily prove himself as one of the top junior freestylers in the country.
Haas flirted with the meet records in each of his swims, according to this awesome tweet from USA Swimming's stats department:
Townley Haas swam just above the 200-400-800 Freestyle #SpeedoJrNats meet records by a combined 0.20 seconds.

— USA Swimming Stats (@USASwimStats) August 4, 2014
Nitro's Sean Grieshop, 15, finished second in 8:03.14 to move to eighth all time in the 15-16 age division. Coming into today, he has only recorded a pair of 800-meter freestyle swims competitively with an 8:12.23 as his previous best. Pacific's Grant Schenk earned third-place honors with a time of 8:06.03.  Parkland's Sam Magnan, who won the 1500 free on night one out of an early seeded heat, took fourth tonight with an 8:06.04 out of the afternoon heats as well.
SwimAtlanta's Cody Bekemeyer (8:06.86), Wilton Y's Ian Rainey (8:07.20), Santa Clara's Michael Messner (8:07.28) and Marlins of Raleigh's Adam Linker (8:09.72) grabbed the rest of the top eight spots in the timed final swim.
Women's 400 Medley Relay
SwimMAC's Stephanie Nelson (1:04.01), Maija Roses (1:09.80) , Caitlin Casazza (1:00.22) and Nora McCullagh (56.70) won the timed final event in 4:10.73. Y-Sparta's Danielle Galyer (1:02.84), Savanna Faulconer (1:12.48), Meredith Whisenhunt (1:00.88) and Katrina Konopka (55.77) placed second in 4:11.97. Carmel picked up third as Claire Adams (1:02.76), Alex Clarke (1:15.78), Veronica Burchill (59.69) and Amy Bilquist (55.30) raced to a 4:13.53.
KING (4:13.92), PASA (4:14.25), Santa Clara (4:15.47), Swim MAC B (4:15.57) and Cypress Fairbanks (4:15.67) claimed the rest of the podium spots.
Men's 400 medley relay
Palo Alto Stanford's Willy Lee (58.01), Curtis Ogren (1:03.63), Andrew Liang (53.61) and Albert Gwo (50.61) took down the meet record with a time of 3:45.86.  That swim lowered the previous mark of 3:46.23 by NCAP last summer.  PASA just missed the 15-18 national age group record of 3:45.49 set by SwimMAC's John Manchester, Daniel Le, Matthew Josa and Kyle Darmody in 2013.
Terrapins' Brandon James (57.43), Stanley Wu (1:04.92), Justin Lynch (53.01) and Michal Zyla (51.58) picked up second-place honors in 3:46.94, while IUST's Ian Finnerty (58.07), Brandon Colonis (1:04.72), Max Irwin (54.44) and Blake Pieroni (49.93) placed third in 3:47.16.
NCAP (3:47.21), Dynamo (3:47.68), Canyons (3:49.18), Dayton Raiders (3:49.99) and Bolles (3:50.09) made up the rest of the championship eight.
Final Team Scores
Combined
1. Palo Alto Stanford – 305
2. Carmel – 290
3. SwimMAC – 187
4. Y-Spartaquatics – 180
5. Aquazot – 164
Men
1. Palo Alto Stanford – 191
2. Nitro – 129
3. Indiana University – 126
4. Tennessee – 116
5. SwimAtlanta – 114
Women
1. Carmel – 290
2. Y-Spartaquatics – 180
3. SwimMAC – 154
4. North Baltimore – 137
5. Palo Alto Stanford – 114
Awards