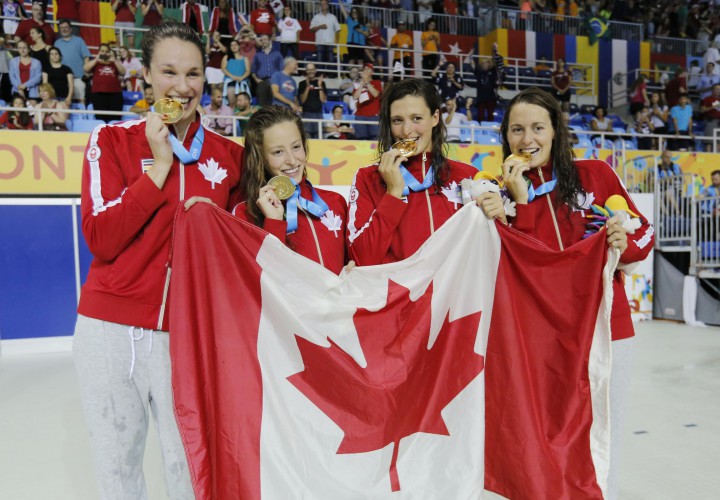 Photo Courtesy: Erich Schlegel/USA Today Sports Images
By Matt Grillo, Swimming World College Intern
When the members of Team Canada wrapped up 2013 World Championships, they knew there was a long Olympic quadrennial ahead of them. What they didn't know was that there were going to be major changes in the Swimming Canada system.
A young squad took to Barcelona in 2013 and won an impressive four medals, but the team lacked depth. Fast forward two years and that drastically changed.
"We had 16 finalists, which is actually the most finalists at a World Championships [for Canada] since 1986," John Atkinson, the high performance director at Swimming Canada, said.
One major change which has led to drastic improvements for Team Canada has been the increased difficulty for selection to the national team. The old selection standards in Canada had the winner of each event earning a spot on the national team. However, Atkinson has changed that and the selection procedure is largely based off of world rankings.
The qualifying times for this year's world championship team were faster in a majority of events than the FINA A standards for next year's Rio games. These tough selection standards have pushed the Canadian athletes all year long and instilled a belief that they could become legitimate forces on the world scene.
"Any swimmer who made the world championship team, went to the World Championships knowing that if they performed, they could progress from the heats. That was one of the measures that we have a team that is focused on performance at the World Championships," Atkinson said.
There were many events that saw drastic improvements from the Canadians this summer. The men's 4×100 free relay were able to make the final at a major international championship for the first time since Beijing 2008.
Chantal Van Landeghem has put Canadian women's sprint freestyle on the world stage by placing fifth in the 50 free and helping a strong 4×100 free relay team comprised of herself, Sandrine Mainville, Michelle Williams and Katerine Savard, to a fifth place finish and new Canadian record.
Santo Condorelli has been following in Brent Hayden's footsteps by becoming a serious threat in the 100 free. He's somebody to watch because of his significant improvement over the last season. Condorelli dropped approximately 1.5 seconds in the 100 free and (similar to Hayden) he has been leading off Canada's 4×100 free relay with some great speed.
The women's 200 backstroke final at the World Championships had two Canadians in the final with Dominique Bouchard and Hilary Caldwell. Additionally, the Canadian women's I.M. had a bronze medalist in the 400 I.M. in Emily Overholt and a finalist in the 200 I.M. with Sydney Pickrem. The latter two swimmers are both still teenagers who are on the path to significant improvements.
Not to be outdone by the pool swimmers, Richard Weinberger has already punched his ticket to Rio with an eighth place finish in the 10 km at the World Championships. Weinberger is a seasoned veteran in the event and after his bronze medal performance in London, he will have as good of a shot for gold in Rio as anyone else in the field.
"I think there were certain areas where our team took really big strides and performed better at the Pan Am games than we have done in certain events and certain areas for a long time," Atkinson said.
Although Canada equalled their medal count from the 2013 World Championships (aided by Ryan Cochrane's two medals), there were eight swims where Canada missed the podium by narrow margins. Some examples of Canada's many swims that were slightly off earning some hardware were: Condorelli placing fourth by .07 in the 100 free, Van Landeghem was .08 from a medal in the 50 free, and Savard was .21 from reaching the podium in the 100 fly.
"[I'm] going to visit all those athletes with their coaches and talk to them about their needs, their requirements and how they are going to close the gap," Atkinson said.
In order to do that Atkinson will be traveling throughout September and October to visit each of what Swimming Canada considers a "talented athlete." In this case, a talented athlete is someone who is making finals and looking to progress towards the podium.
While visiting the athlete, Atkinson will perform a gap analysis with the swimmer and their coach in order to see where they are losing time compared to the world's best swimmers. This will then allow the swimmer and coach to work on their weaknesses in order to improve for Rio.
However, Canada isn't going to be stopping there.
Atkinson will be looking for enhanced relay opportunities for men's and women's 4×100 free and medley relays once the team for Rio is selected. They will be going on a tour where the athletes will have the opportunity to train, race, and take part in relays in the lead up to Rio.
The goal of these initiatives is very clear, according to Atkinson.
"We have to look at those athletes and say, 'What will make the difference to shave those hundredths off and improve more, so that you're in a position to progress to the podium next year at the Olympic Games?'"