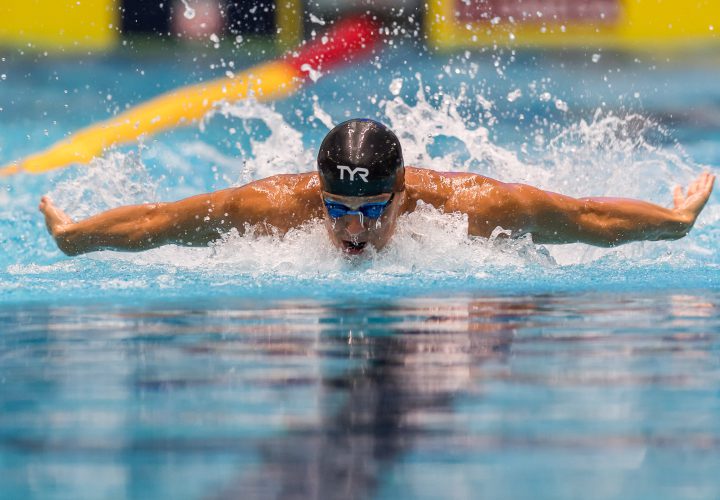 Photo Courtesy: Peter H. Bick
Tom Shields did not make the U.S. World Championships team, but he took one more shot at his signature 100 fly for this season at the Los Angeles Invitational Sunday.
Shields won the event in 52.00, about a half-second slower than the 51.55 he posted at U.S. Nationals last month. UC Santa Barbara's Kevin Mendoza took second in 53.85, and Trojan's Sean Lee was third in 54.72.
Jade Hannah, a 15-year-old from Island Swim Club in Canada, won the women's 100 fly in 1:00.24, while her teammate Sarah Darcel tied with La Mirada's Catherine Sanchez at 1:00.59.
UBC Dolphins' Ingrid Wilm won the women's 100 back in 1:02.07, while Hannah, competing in back-to-back women's races, was second in 1:02.36. Irvine Novaquatics' Ayla Spitz took third in 1:02.66.
UC Santa Barbara's Billy Mullis won the men's 100 back in 55.97, taking down Rockwood's Jack Dolan (56.51) and Rose Bowl's Douglas Nogueira (56.91).
Island's Faith Knelson took first in the women's 100 breast in 1:08.45, almost a second ahead of Buenaventura's Ali Harrison (1:09.36). Third went to Lake Oswego's Hillary Metcalfe in 1:10.71. USC's Mario Koenigsperger won the men's 100 breast in 1:02.88, with Warren Mayer (1:03.66) and Henry Wu (1:05.20) completing the top three.
Boise State's Emma Chard touched out Mission Viejo's Ella Ristic to win the women's 200 free, 2:02.18 to 2:02.22. UCSC's Danica Ludlow was just behind in 2:02.45.
Aces' Griffin Eiber took first in the men's 200 IM in 2:04.93, followed by UBC Dolphins' Luke Reilly (2:05.83) and Rose Bowl's Douglas Nogueira (2:06.49).
New Zealand's Hayley McIntosh picked up a five-second victory in the women's 1500 free, finishing in 1703.48. Santa Clara's Sandra Soe was second in 17:08.31, and Juli Arzave took third in 17:13.79.
Mission Viejo's Noah Brune won the men's distance event, the 800 free, with a final time of 8:13.74. Ben Olszewski came in second at 8:18.34, and North Texas Nadadores' Chris Lindley finished third (8:21.64).
The UBC Dolphins swept the 400 medley relays. Ingrid Wilm, Ellie Maradyn, Stefanie Serka and Paige Bergen combined to win the women's relay in 4:18.40, and their teammates Dan Gerlach, Ryder McGinnis, Colin Eriks and Reilly picked up first in the men's event in 3:56.48.
All results can be found on Meet Mobile – 2017 CA Los Angeles Invite (1)