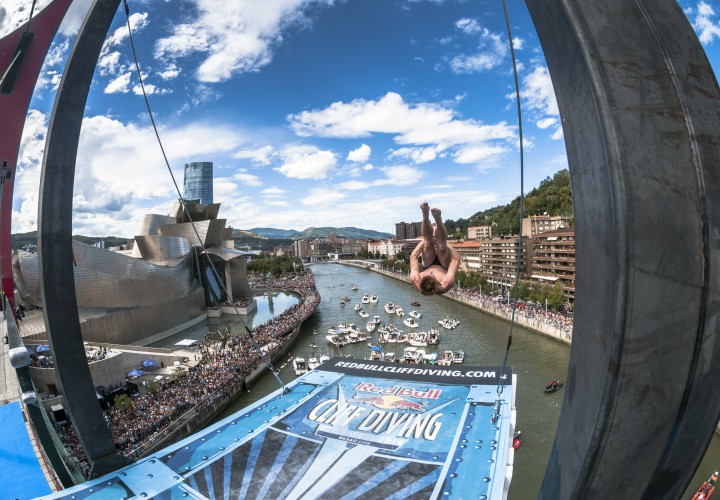 Photo Courtesy: Alberto Lessmann/Red Bull Content Pool
By Danielle Repper, Swimming World College Intern
Divers all around the world have experience diving both indoors and outdoors. We typically train in one environment and have our preferences, and all for good reasons! But let's compare, shall we?
The Great Outdoors
Ah, there is nothing like the great outdoors! What could be better than the sun in your face and a breeze through your hair? As fabulous as that may be, it's not all sunshine and glory.
PROS:
A beautiful sun-kissed, golden-brown tan, all year round. Enough said.
The experience of mother nature's four seasons!
The opportunity to breathe fresh air versus chlorine fumes.
You are constantly connected and in the loop with the outside world! You can hear and see what is going on outside of the pool, whether it's your school's soccer team or the band rehearsing their halftime show performance.
CONS:
I never said your beautiful sun-kissed, golden-brown tan would be even! But who doesn't love a good tan line? I mean there is nothing sexier than sporting a bikini on the beach, when your stomach is practically translucent! Accept that it's permanent. Either embrace it, or break out the one-piece at the beach and own it!
Hopelessly attempting to dry yourself off with your pocket-size piece of cloth, in the midst of a downpour. It's all fun and games until coach makes you do ops in the rain! And if you happened to shave your legs before a rainy practice (ladies, I'm talking to you), I wish you the best of luck. May I suggest you get in the habit of checking the weather prior to practice?
The treacherous obstacle courses of bees on the board, check mate!
You've never learned so much about the power of wind in your entire life, until you've tried to gain your balance on the board for 10 minutes, wobbling like a plate of Jell-O.
Playing lava on the pool deck to avoid burning the soles of your feet because it can get scorching hot in the summer!
There can be a lot of ambient noise. There is nothing quite like standing on 10 meter when a police chopper flies right over your head, you can't help but turn your focus.
The Familiar Indoors
Indoor diving can be very different from outdoor diving for a number of reasons. As far as conditions go, the environment for a diver in an indoor pool is fairly predictable.
PROS:
You can always predict the weather and the temperature of the pool. Rain, shine, wind or snow, you will have practice.
The pigment of your skin color will match your entire body. It will be pasty, but hey, you won't have crazy tan lines! All you have to worry about is buying out the store's sunscreen when you travel to an outdoor facility so you don't cook like a lobster!
You never have to worry about bees or gnats on the board, or flying in your face.
You are not distracted by outside noise, such as sirens, traffic or band practice!
CONS:
The light coming through the window is your only prayer for some Vitamin D! If you were an outdoor diver who switched to an indoor diving facility, there's no shame in weeping over your lost tan, we understand.
The pungent smell of chlorine from the second you walk into the door until you leave! It is impossible to escape the smell of chlorine in an indoor pool. It seeps into your skin and clothes– you just exude chlorine wherever you go!
If there is a swim meet going on, you can forget about asking for a call out of your dive– you won't hear it through the noise of all the frantic hooting and hollering from the swimming at the other end of the pool!
The lighting in indoor pools can either be too dark or too light and usually with fluorescent lights, and we all know how we feel about fluorescent lighting!
Divers who have experience diving both indoors and outdoors know it takes a little time to adjust to the new pool. One of the biggest areas of concern is spotting. Outdoors, you may have a certain branch on a particular tree you like to look at. Unfortunately, you can't chop that tree down and bring it with you wherever you go! Rather you must to find something else that works for you in the same spot while training in an indoor pool.
When traveling to a pool opposite of what you're used to training in, give yourself time to adjust to the different conditions. Don't let the environment change your performance and don't let it get in your head. Do your best to work with the conditions you are in!