Throwback Thursday: Misty Hyman and Her Epic Olympic Upset (Video)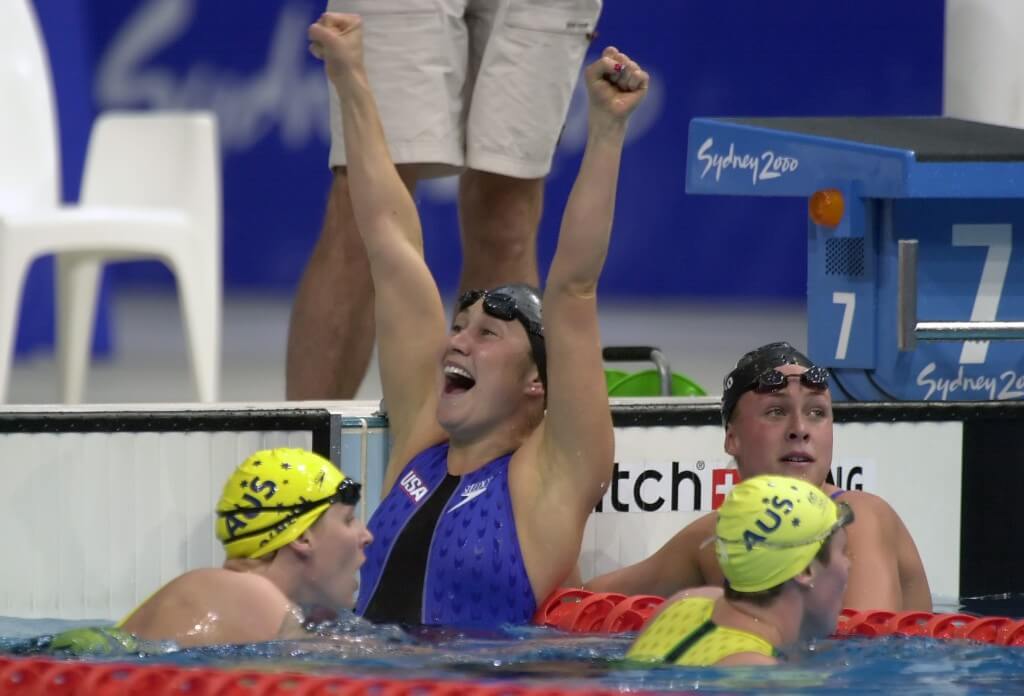 Photo Courtesy: Epoch Times
Editorial content for the 2021 Tokyo Olympic Games coverage is sponsored by GMX7.
See full event coverage. Follow GMX7 on Instagram at @GMX7training #gmx7


Left Sidebar
Throwback Thursday: Misty Hyman and Her Epic Olympic Upset (Video)
Twenty-three years later, we take a look at Misty Hyman's epic upset of Susie O'Neill in the final of the 200-meter butterfly at the 2000 Olympic Games in Sydney.
Rare are the Olympic events that are considered locks. While favorites emerge, they are far from invincible, history providing the proof.
Before he won seven gold medals at the 1972 Munich Games, Mark Spitz was the world-record holder in the 200-meter butterfly but flamed out at the 1968 Olympics in Mexico City, finishing last in the event and nearly eight seconds off his global standard.
In 1976, the East German women had won all but one event on the schedule at the Montreal Games, only to lose the final event, the 400 freestyle relay, to the United States.
Even Michael Phelps, the greatest Olympian in history with 28 medals, was not immune to an upset. At the 2012 Games in London, Phelps was caught at the finish in his best event, the 200 butterfly, and relegated to the silver medal by South African Chad Le Clos.
At the 2000 Games in Sydney, the women's 200 butterfly was viewed as a slam-dunk event. Competing in her homeland and as the reigning Olympic champion, world-record holder Susie O'Neill appeared unbeatable. Earlier that year, at the Australian Olympic Trials, O'Neill took down the 18-year-old world record in the 200 fly, formerly held by United States star Mary T. Meagher. The American was given the nickname Madame Butterfly during her heyday, and O'Neill picked up the moniker herself.
Not in the title-contending conversation was American Misty Hyman. Although she was a regular fixture on Team USA, Hyman didn't have nearly the portfolio of O'Neill. Nor had she had any success in head-to-head battles. At the 1998 World Championships, O'Neill roared to the gold medal, finishing more than two seconds clear of Hyman in the bronze position. Meanwhile, at the 1999 Pan Pacific Championships, O'Neill earned another gold medal, with Hyman again taking bronze. This time, the margin between the women was nearly four seconds.
There was no way Misty Hyman could capture gold in Sydney. A minor medal? Sure, that was doable.
What unfolded between O'Neill and Hyman at the Pan Pacific Championships was both a daunting and motivating experience. Known for her early speed, Hyman was within striking distance at the midway point, but was blown away over the last two laps, including O'Neill going two seconds quicker in the last 50 meters. The loss served as a mental blow to Hyman, who emerged from the race questioning her ability to reverse the outcome. But Misty Hyman's coach Richard Quick believed in his protégé, and immediately after that race at Pan Pacs, he began a confidence-building campaign in Hyman.
"I grabbed her as she got out of the pool," Quick said. "She was in tears and she was upset. I put my arm around her and as we were walking to the warm-down pool, I said, 'Misty, you are the only person in the world who can beat Susie O'Neill. All you have to do is learn to swim the last length. You know how to do everything else. I said there's no magic to that. You just have to believe you can do it. You're the only one who can do it. And I believe that. I know that. In 35 years of coaching, I know what I see. But it doesn't make any difference what I believe, if you don't believe.'"
From that point, Hyman adopted a change in attitude, her previous self-doubt replaced by growing confidence.
On the road to Sydney, Hyman had the luxury of flying below the radar. In part, O'Neill's presence on the international scene was overwhelming, leaving her longshot challengers in the shadows. More, the Stanford training group of which Hyman was a part was dominated by Jenny Thompson and Dara Torres. With Thompson searching for the first individual gold medal of her Olympic career and Torres in the middle of a comeback at 33 years old, their storylines were prominent. And when Quick had to separate Thompson and Torres into separate training times, due to an unhealthy intensity between the women, Hyman became that much more of an afterthought.
It was a scenario that Hyman preferred, her personality on the quiet side. As the media focused on Thompson and Torres, Hyman simply focused on her work and maximizing her ability. Part of the process featured an emphasis on the fish kick, a maneuver that enabled Hyman to take advantage of her underwater skills. For several years, Hyman displayed superb underwaters, gaining ground on her opposition by using seven or eight dolphin kicks off each wall. The difference for Hyman, though, was that she performed the kicks while on her side.
For several years, Hyman used her "fish kick" for considerable distances. But in 1998, FINA, the international governing body of the sport, deemed that swimmers had to surface by the 15-meter mark off starts and turns. While the decision negated some of Hyman's advantage, she still had enough room to gain an edge.
"I was 13 when I started staying under water longer than is typical," Misty Hyman said. "I found I could be faster under water than at the surface. I wasn't six-feet tall, so I needed to find something that would give me an advantage. I found the fish kick was something I could use effectively."
Although Hyman represented the Stars and Stripes in international competition in the three years after the 1996 Olympics, nothing was assured when she arrived at the 2000 United States Olympic Trials in Indianapolis. Four years earlier, Thompson failed to qualify in a single individual event, despite being the favorite in three events, and a contender in a fourth. But Hyman successfully negotiated the land mines that are typical at Trials, winning the 200 butterfly in 2:09.27, with Kaitlin Sandeno placing second in 2:09.54. It was off to Sydney, with a month to figure out an answer for O'Neill.
If there was any concern for O'Neill, it was not about her physical talent. Rather, it was about the pressure of competing at home, with an entire country expecting a title and world record. Australia is a swimming-crazed country that places its premier athletes in the sport on a pedestal, similar to NBA and NFL stars in the United States. With the country serving as the host of the Olympic Games for the first time since Melbourne hosted in 1956, O'Neill was viewed as someone who would allow the home nation to break into a major celebration.
"I was really nervous for the whole Olympics," said O'Neill, who won eight Olympic medals in her three Olympiads. "I'm a nervous competitor but that was the worst I've ever felt. Maybe I was too arrogant. Maybe I'd lost too much energy from not sleeping night after night. Not in my wildest dreams did I think (Hyman) was a legitimate competitor to me."
The 200 butterfly was held in the middle of the eight-day program and through the prelims and semifinals, O'Neill was right where she wanted to be. She cruised through the heats and advanced to the final with the fastest semifinal performance. The same night as the semifinals, O'Neill took gold in the 200 freestyle, the secondary event on her schedule. If O'Neill was performing at that level outside of her prime discipline, what could she do in her best event? The expectations were high.
To her credit, Hyman remained steady in the prelims and semifinals. She didn't preoccupy herself with O'Neill's efforts, but instead focused solely on her races. In each of the first two rounds, Hyman went sub-2:08 and entered the final as the fourth seed, behind O'Neill, Australian Petria Thomas and Poland's Otylia Jedrzejczak. If Hyman could produce one more consistent showing, perhaps she would reach the podium.
When the final started, the script was unsurprising. Although slow off the blocks on the start, Hyman powered through her streamline, using her fish kick to surface with the front of the field. Thomas had the lead at the first turn, but when Hyman surfaced for her second lap, she was in front of Thomas, with O'Neill in third. Hyman turned at the midway point in the lead, Thomas and O'Neill still in second and third. It was at this point where the Aussies were expected to make their moves, but Hyman stayed strong on the third length and turned for the final lap in front, O'Neill a half-length back and looking for a late charge. That surge never came to fruition as Hyman, rebelling against her past, fought off her typical late struggles and touched the wall for the Olympic title in 2:05.88, just .07 off O'Neill's world record. O'Neill followed for the silver medal in 2:06.58, with Thomas claiming bronze in 2:07.12.
Misty Hyman's time was a personal best by 1.99 seconds, a huge drop, and that career-defining swim could not have arrived at a better moment. The post-race emotions were emblematic of the upset that occurred. O'Neill wore a shocked look, in disbelief that her crowning moment was stolen away by an American who she didn't deem to be a legitimate challenger. For Hyman, her victory took a few seconds to register, at which time, she uttered, "Oh, my God." Watching with the rest of Team USA, Quick shot through the stands, looking for someone to embrace.
The best reactions, though, came from Sandeno, who placed sixth while racing next to Hyman. On several occasions, Sandeno took Hyman's face in her hands and shook it, before hugging her teammate. As the crowd cheered the major upset, a tribute to Australia's appreciation of the sport, Sandeno took Hyman's arm and raised it in the air, like a referee recognizing a winning boxer. Eventually, O'Neill swam over and congratulated Hyman, a gesture which was not easy given the pain the Aussie felt.
"I remember when the race finished just feeling numb and going, 'what do I do now?'" O'Neill said. "In my head, I was telling myself to be a good sport and I was thinking, 'why is everyone cheering? We're in Australia and they just seemed to be cheering.'"
After losses to O'Neill in back-to-back editions of the Pan Pacific Championships and the World Championships, Hyman didn't just give her foe a battle, she pulled off an upset that didn't seem manageable. It was a triumph that was 13 months in the making, Quick having planted a confidence seed in his pupil that blossomed into true belief, albeit with a few bumps along the way.
"I questioned everything," Hyman said. "Maybe I'm too old. Maybe I need a new kick. Maybe I've lost my passion. But a true champion really knows how to manage those doubts. I was so in the moment. I was just flowing in it. I knew I was doing well. I knew if I just stayed with my rhythm, that would carry me through. (Winning) happened so many times in my mind. I was surprised it was real."
The medals ceremony was as endearing as the post-race celebration, as Hyman teared up and covered her heart with her hand as the Star Spangled Banner played. At one point, she looked to the sky to compose herself and further enjoy the moment.
While O'Neill retired two months after the Games, Hyman stayed in the sport and advanced to the final of the 200 butterfly at the 2004 Olympic Trials. But an eighth-place finish ended any hope of defending her Olympic crown. Nonetheless, her career was magical, Hyman having risen to the occasion on the biggest of stages. Historically, Hyman's triumph is considered one of the biggest upsets in Olympic swimming history, rating alongside Duncan Armstrong's win in the 200 freestyle in 1988 in Seoul and Jon Sieben's upset of Michael Gross in the 200 butterfly in 1984 in Los Angeles.
"When I walked out onto the deck, I was at peace with myself," Misty Hyman said. "I was enjoying the moment and had a level of comfort that I hadn't felt at other international meets. When I got on the blocks, I was racing for the gold."
She got what she wanted.