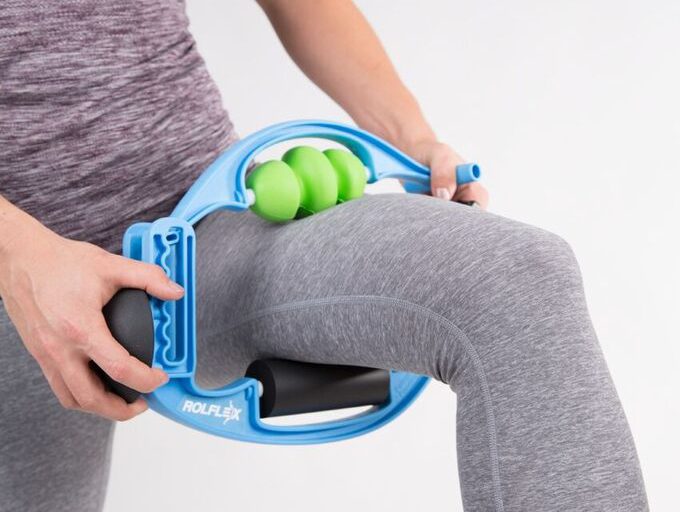 By Annie Grevers, Staff Writer. 
Foam rolling. Swimmers have a love-hate relationship with the recovery method. The 18-inch pillar of firm foam, often referred to as "the poor man's massage therapist" is commonly used by athletes to break up tight fascia, or muscle fibers. It can be a highly effective (and painful) recovery method.
The roller itself is bulkier and far less compactable than a swimmer's parka…but if it has become a vital part of your warm-up/recovery routine, you're going to find a way to pack it.
Enter the Rolflex. The foam roller reinvented. Not only is this thing easy to travel with because of its sleek design, but it offers an opportunity to roll out two muscle groups at once. In my swimming days I depended on a foam roller to lengthen my larger muscle groups (IT band, hamstring, lats, calves) and a tennis ball to get the hidden knots (beneath/between scapulas, interior of knees). The Rolflex eliminates the need for a tennis ball, because it can target the broad muscles and the hard-to-reach areas.
Here are the pros and cons of the Rolflex in my humble swimmer opinion:
PROS 
Portability. This is the No. 1 perk for competitive athletes because there's never been a creative way to condense a foam roller. Foam rollers are not heavy, but they take up a quarter of a good-sized piece of luggage and half of your swim bag. The Rolflex easily fits into a swim bag and weighs just one pound.
Your forearms (and other areas a foam roller cannot release) will thank you. Perhaps the most neglected area on a swimmer's body is his or her forearms. If you're catching properly, there is a lot of water gripped with your forearms during every stroke. Swimmers can glide the Rolflex over their rock-hard forearms to ease them out of their eternally-flexed state. Other hard-to-roll zones which can be rubbed out with the Rolflex include: the elbows, knees, feet, wrists, and hands.
Instructional videos. If you receive the device in the mail and you look at it with bewilderment (as I did), you can hop to the Rolflex YouTube channel and watch very brief, descriptive videos on how to use the recovery tool to target pretty much any part of your body.
CONS
You can't just lay on it and use your body weight as applied pressure, which – let's be honest – is sometimes all you have energy to do post-swim practice. You need to use your hands to knead away the knots with the Rolflex. It's not hard manual labor, but it is a little effort on your part. But Terry Cross, the inventor of the device, designed the Rolflex to be a tool which allows the user to "amplify pressure using the power of leverage". So although hands are required, this con has a hidden pro– there's much more control over where and how much pressure is applied.
Overall, the Rolflex's pros far outweigh the cons. This brilliant recovery tool makes a lot of sense for the on-the-go, perpetually-sore competitive swimmer.
All commentaries are the opinion of the author and do not necessarily reflect the views of Swimming World Magazine nor its staff.