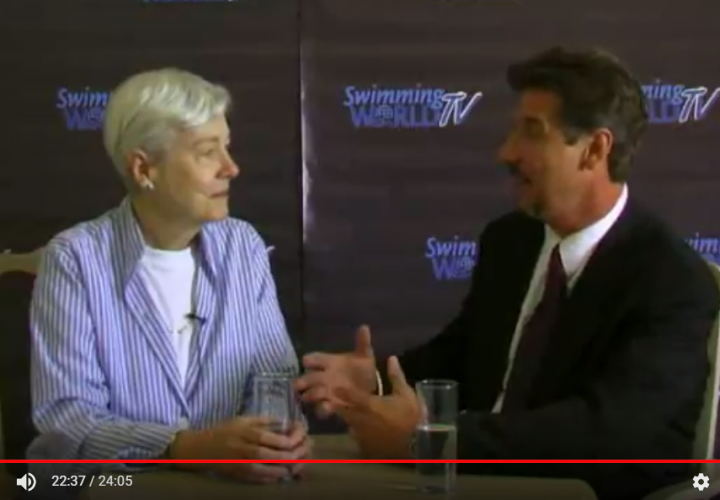 While cleaning up the SwimmingWorld.tv servers and archives, we ran across this exclusive interview with Mary Freeman Kelly Spitzer.  She was a coaching pioneer in the late 50s and 60s.  She gave up her spot to become the first Women Olympic Swim Coach for the United States.  Listen to her reasons.   ThiS special segment of the Ready Room, taped back in 2008, features an interview with 1952 Olympian.
Freeman is a rare story in the sport of swimming, as she had a very short career in the sport, winning a national title in 1951, then competing in the 1952 Games in Helsinki, then retiring from the sport at the ripe old age of 18!
But Freeman did not leave the sport for good. She became a renowned coach in the 1960s by establishing one of the first all women swim teams in the country called the Vesper Boat Club out of Philadelphia, Pennsylvania.
The Vesper Boat Club won the 1961 National Championships over Santa Clara and later sent 5 women on to represent the United States in the Olympic Games.
She would have been the first woman to be an Olympic Swimming Coach for the United States back in 1964. In her short coaching career, she inspired many women including over a dozen of her own swimmers to go into coaching.
Watch this compelling interview, where Freeman talks about her transition from successful swimmer to successful coach and inductee into the American Swimming Coaches Hall of Fame.
Enjoy this rare interview conducted by a young Brent Rutemiller…