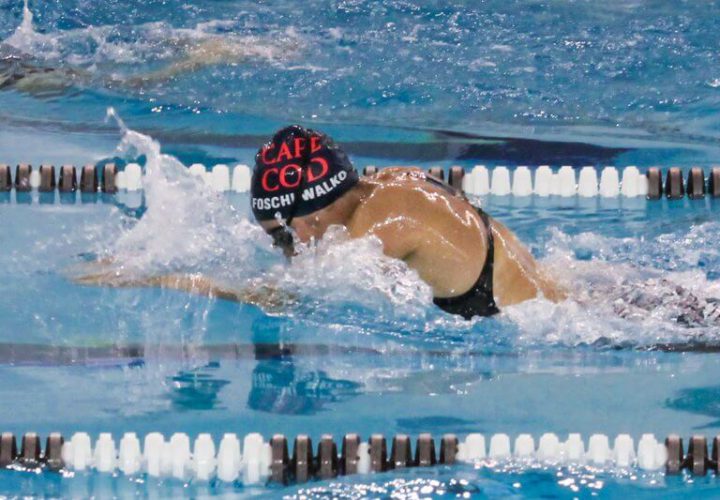 Photo Courtesy: College Swimming
Speedo Sectional Series is proudly sponsored by Speedo. Visit SpeedoUsa.com for more information on our sponsor.
Competition concluded this evening in Buffalo for the 2017 Speedo Sectionals series.
The FISH capped off a quick weekend of long-course swimming with some top relay performances and wins in the distance events of the evening, but Cape Cod Swim Club's depth landed them the win in overall team scores, with a point total of 1176.5. The FISH was close behind with 1129.5, while Cougar Aquatic Team finished third overall with 878 points. Host team Star Swimming slid into fourth place, with a total of 716 points.
The FISH women topped the 200-meter medley relay, as Madelyn Donohoe, Flavia Carcani, Nicole Fye, and Grace Cutrell combined for a winning time of 1:50.03. Close behind was Madeline King, Palma Foschi Walko, Bridget Birmingham, and Michelle Guo of Cape Cod Swim Club, stopping the clock in 1:50.38. Third place went to the host team, Star Swimming, and their A-squad of Erin Tesluk, Gabrielle Studebaker, Kya Pawli, and Macrae Haluszczak in 1:52.89.
Cougar Aquatic Team's men grabbed a handful of points in the relay, finishing first as Joseph Scerbo, Zachary Valenzuela, Owen Breslin, and Evan Custance combined for a time of 1:38.66. Peddie Aquatic Club's team of Nathan Stern, Andrew Garcia, David Nicholson, and Rc Ike touched in 1:38.99, good for second place. Graham Lindner, Zachariah Reid, Matthew Clark, and Theodore Turrall finished in third place for Loyola Blakefield Aquatics, with a time of 1:41.59.
The FISH's Donohoe blew away the field in the women's 800-meter freestyle to start out the night of individual competition. The only woman to finish under 9:00.00, her time of 8:59.52 was almost 13 ahead of the second-place finisher Guo, who touched in 9:12.67. Third place went to Guo's teammate Emma Metzger with her time of 9:17.74.
Mason Greenblatt garnered another first-place finish for The FISH in the men's 1500-meter freestyle, dominating the event in a time of 16:39.03. In an excitingly close race for second place, 14-year-old Jack Januario of Executive Swim Club claimed runner-up honors with his mark of 16:51.32, only 0.03 ahead of third-place Abel Sapirstein of Cardinal and Gold Swim Club (16:51.35).
Donohoe continued her winning streak, touching in a first-place time of 2:16.10 in the women's 200-meter backstroke. Second place went to Olivia Sapio of Town Wreckers Swim Team in 2:18.76. The two frontrunners were far ahead of the field, as Virginia state record holder Fye of The FISH placed third with a time of 2:24.68.
Cape Cod Swim Club took home first-place honors with Joseph Perry's win in the men's 200 backstroke, as he stopped the clock in 2:09.38. Ike of Peddie was second with a 2:11.64, and Christian Vendetti of Cape Cod Swim Club's time of 2:12.09 was good for third place.
Donohoe turned around to win yet another event for The FISH, this time the women's 100-meter freestyle, touching in 58.40. Her teammate Fye grabbed the silver with her time of 58.83, and Guo of Cape Cod Swim Club finished third in 59.26.
Brandon Amthor of Sharks and Eagles Swim Team broke The FISH and Cape Cod Swim Club's winning streak with his win in the men's 100 freestyle, sprinting to a first-place time of 52.85. Second-place went to Andres Solivan Rivera of University of Puerto Rico Mayaguez in 53.20. Stern placed third for Peddie with his mark of 53.45.
Sapio won the women's 200-meter IM in 2:22.44. Walko notched second-place points for Cape Cod Swim Club with her time of 2:24.57, and Alexandra McDaid of Peddie placed third with a time of 2:27.32.
Cougar Aquatic Team went 1-2 in the men's 200-meter IM, with Scerbo placing first in 2:10.45, and Valenzuela taking second in 2:11.73. Amthor stepped up for bronze in 2:14.80.
The FISH women stepped up yet again in a relay event, putting up a valiant effort for the team title with their performance in the women's 400-meter medley relay. Donohoe, Wolff, Fye, and Cutrell combined for a winning time of 4:27.63. Peddie's A-squad of Layne Peterson, McDaid, Skye Howes, and Brynn Peterson overtook Cape Cod Swim Club for second place, stopping the clock in 4:30.76. King, Walko, Molly Sykes, and Guo finished third with their time of 4:33.35.
University of Puerto Rico Mayaguez's sprint squad took home another title in the men's event, as Alex Hernandez Medina, Juan Arellano Uribe, Solivan Rivera, and Sebastian Rivera Rivera touched in 4:00.23. Valenzuela, Scerbo, Justin Kidchob, and Custance garnered Cougar Aquatic Team some crucial points with their second-place mark of 4:03.93, and Clifton Park Halfmoon Piranhas finished third in 4:06.26 (Neil Horne, Tanner Damico, Nicholas Salzone, and Clayton Bennice).
Donohoe's strong performance almost helped The FISH make an incredible comeback, but Cape Cod Swim Club's range and depth of talent and early-meet performances sealed the deal for their overall team win.