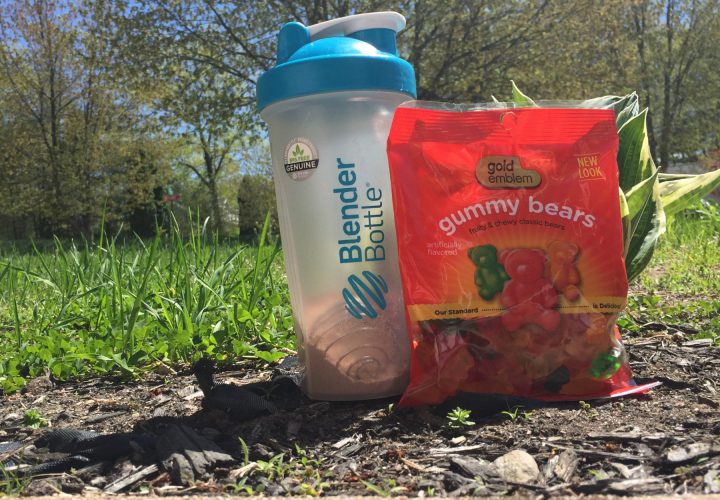 Photo Courtesy: Brie Harnden
By Brie Harnden, Swimming World College Intern.
It's no secret that eating healthy is important for athletes. Though Michael Phelps' 10,000-calories-a-day diet may have been exaggerated, it is understood that swimmers and other endurance athletes require large amounts of nutrients to sustain themselves through strenuous workouts.
It is crucial for athletes to follow a nutritious diet, and the period after working out is especially important for recovery. What you eat – and when – makes all the difference.
Why Gummy Bears?
Swimming is exhausting. At the end of practice, the fibers of the muscles have endured miniature tears – which is good, because that's how you get stronger. These micro-traumas alert your body that you need nutrients, particularly amino acids, to repair them.
Amino acids trigger protein synthesis, a necessary and automatic process of muscle repair after exercise. Every time the muscle is "torn" and repaired, it gets a little thicker and larger, eventually building in size and strength. Beginning to repair these muscles uses energy as well, so getting out of the pool or weight room is not the end of your energy exertion.
This is where the gummy bears enter the scene. Gummy bears and other high-glycemic carbohydrates with dextrose or maltodextrin provide a quick source of sugar to help start replenishing what's been lost. Because your body is still using energy, the sugar is used immediately and doesn't get stored as fat.
Unfortunately, a handful of sweets alone is not the key to fueling your body. Glycogen stores are depleted after a tough workout, so those carbohydrates are certainly necessary. However, they should be paired with a quality protein source such as whey powder, chicken, turkey, fish, beans, or tofu.
The sooner you eat those gummy bears, the sooner your body can utilize the protein paired with it to repair muscle micro tears. The carb-protein combination replenishes depleted energy stores, promotes the recovery process and is part of a balanced diet that swimmers need to feel healthy and strong.
When You Should Fuel
It is widely agreed by dieticians, doctors and exercise physiologists that eating after a workout is important; however, debate exists regarding the "window of opportunity." Essentially, there have been studies suggesting that a post-workout window, lasting anywhere between 45 minutes and two hours, is the most important time to eat after working out.
Anything later than this time frame is seen as detrimental to nutrient absorption and the recovery process as a whole. A wide variety of factors including fitness level, workout length and difficulty, and amount of food consumed creates a wide range in this window, which raises questions about whether the window even exists.
Luckily, most swimmers are so hungry that eating within an hour or so of practice is not an issue. Studies have more conclusively shown a drop in benefits and nutrition absorption a few hours after practice, so as a general rule of thumb, it's better to eat sooner rather than later.
How Much To Eat
According to the Academy of Nutrition and Dietetics, 0.5 to 0.7 grams of carbohydrates should be consumed for every pound of body weight. For someone who is 150 pounds, this adds up to about 75 grams. This should be coupled with 20 to 40 grams of protein.
Mixing It Up
Being encouraged to eat something sweet after practice can help combat those late-night sugar cravings. On top of the physical health benefits, you get your daily sugar fix!
Don't have much of a sweet tooth? Some of the more popular gummy bear brands may not be best for you. Luckily, there are plenty of other options! Black Forest Organic and YumEarth organic provide the same quick sugar with different tastes and textures than Haribo or Albanese, more widely known because of their exotic flavors and extreme chew.
Gummy worms can get the job done too. Ultimately, it's up to each athlete to determine which combinations of sugar and protein work best for them.
Treat Your Engine Right
If you were driving a BMW, you would not fuel it with regular gasoline. You would spend a little extra money and fill your tank with premium fuel, which optimizes the power and fuel efficiency of the vehicle.
Swimmers are just like luxury cars. Some athletes have bad habits, eating only what's quick and satiating without thinking about the consequences it could have on their bodies.
If we all spent a little extra time and effort planning what, how much, and when we eat, perhaps we would get the maximum power and efficiency output in return. We all want to swim fast and feel great!
All nutritional research was conducted by the author and does not necessarily reflect the views of Swimming World Magazine nor its staff.