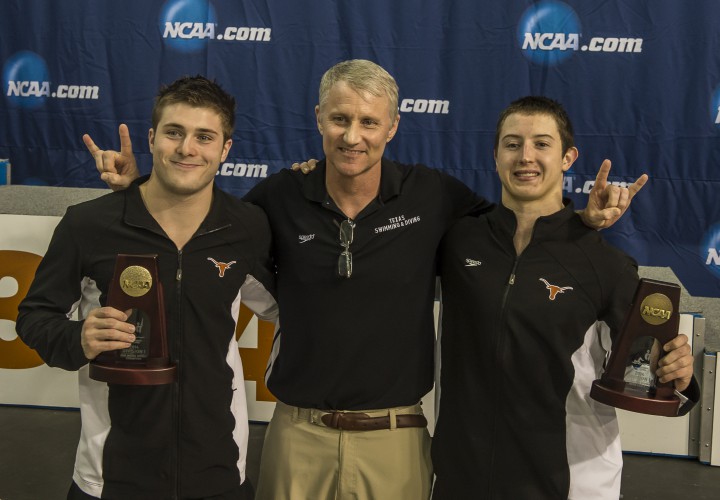 NCAA Championship editorial coverage is proudly sponsored by Competitor Swim. Visit CompetitorSwim.com for more information on our sponsor. For all the latest coverage, check out our event coverage page. Also, make sure to check out our Facebook photo gallery for the latest images from the meet in Austin.
AUSTIN, Texas, March 28. TEXAS' super freshman diver Michael Hixon followed up his one-meter win with a springboard diving sweep as he topped the three-meter this evening at the NCAA Division I Men's Championships.
Hixon won the event with 457.20 points, smashing the rest of the field. That's Texas' ninth three-meter diving title, tying them with Michigan for second all time. Ohio State owns the top tally with 28 program wins.
"We had a great prelims this morning and we kept the finals going," Hixon said. "Those 20 points will help. Any points will help here. It's going to be tight. Cal is swimming unbelievable. That crowd is unbelievable. Having my boys right there, right beside the 3-meter, that was unbelievable. I kind of went a little crazy after my last dive, probably a little bit too much. I just tried to get them going.  It was an unbelievable atmosphere out there."
Arizona State's Riley McCormick finished second with 412.40 points, while Tennessee's Mauricio Robles Rodriguez snared third with 406.65 points.
Two-time defending champion Kristian Ipsen of Stanford wound up falling to fourth this year with 394.90 points, while Miami's Zachary Nees took fifth with 386.00 points.
Indiana's Darian Schmidt (379.35), Virginia's JB Kolod (376.85) and Purdue's Layne Rogers (353.85) also battled in the six-round finale.
Missouri's Clark Thomas won the consolation finale earlier on with 418.60 points. Arizona's Rafael Quintero took second with 414.90 points.
Auburn's John Santeiu (411.60), Virginia Tech's Ryan Hawkins (408.40), Harvard's Michael Mosca (392.65), Purdue's Jamie Bissett (386.40), Indiana's Emad Abdelatif (326.35) and North Carolina's Jack Nyquist (304.85) also competed in the B final earlier this afternoon.
The big story of diving prelims, however, is that defending Diver of the Year Nick McCrory of Duke pulled out of the three-meter competition after a few rounds due to undisclosed reasons. He could potentially miss the tower competition as well.
"Nick withdrew today due to precautionary reasons," Duke spokesperson Leslie Gaber told Swimming World. "He's going to be re-evaluated tomorrow before platform prelims."
Team Standings
1. Texas 290.5
2. California 286.5
3. Florida 245
4. Michigan 195
5. Georgia 182
6. Arizona 129.5
7. USC 100
8. Auburn 97
9. Florida State 96
10. Stanford 85