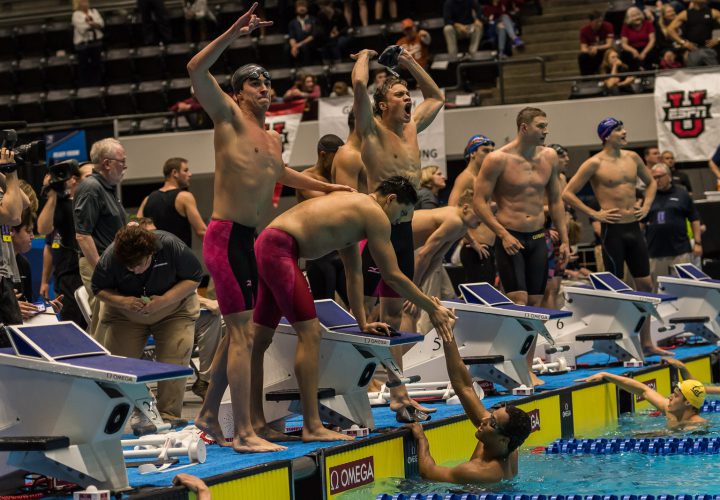 Photo Courtesy: Peter Bick
NCAA DI editorial coverage is proudly sponsored by Adidas. Visit adidasswimming.com for more information on our sponsor. For all the latest coverage, check out our event coverage page.

CLICK HERE FOR LIVE RESULTS
Just in case there was any doubt or who the best team in the pool was at the 2017 NCAA Men's Division I Swimming and Diving Championships, Texas capped off their third straight team title with an NCAA and US Open Record in the 400 free relay. Brett Ringgold (42.06), Jack Conger (41.30), Townley Haas (41.01) and Joseph Schooling (41.02) swam the fastest 400 free relay ever with a 2:45.39. That smashed Auburn's 2:46.03 from the 2009 NCAA Championships with Jakub Andkjaer, Gideon Louw, Kohlton Norys and Matt Targett on that relay.
Florida gave Texas all they could handle through three legs as Caeleb Dressel (40.48), Jan Switkowski (41.50), Maxime Rooney (42.13) and Mark Szaranek (42.10) finished second at 2:46.21. Southern California was third at 2:47.33. California, Stanford, Arizona State, NC State and Indiana also swam in the A-final.
Dressel (40.48), Haas (41.01), Schooling (41.02) and Southern Cal's Dylan Carter (41.10) had the fastest splits across the board.
Texas now has nine NCAA titles in the 400 free relay. The 2017 team joins the teams from 2012, 2001, 1994, 1991, 1990, 1989, 1988 and 1981 to win the 400 free relay for the Longhorns.
Schooling and Conger talked to the media after the meet and you can hear their interview below.
 Event 21  Men 400 Yard Freestyle Relay
==================================================================================
         NCAA: N 2:46.03  2/21/2009 Auburn
                          J Andkjaer, G Louw, K Norys, M Targett
 Championship: C 2:46.56  3/17/2007 Auburn
                          J Andkjaer, C Cielo, M Targett, B Lundquist
     American: A 2:47.02  3/28/2009 Texas
                          J Feigen, R Berens, P Jameson, D Walters
   U. S. Open: O 2:46.03  2/21/2009 Auburn
                          J Andkjaer, G Louw, K Norys, M Targett
         Pool: P 2:47.78  3/25/2017 Texas
                          J Nichols, B Ringgold, T Jackson, F Haas
    School                              Prelims     Finals Points 
==================================================================================
                            === Championship Final ===                            
 
  1 Texas                               2:47.78    2:45.39N  40  
     1) Ringgold, Brett JR            2) r:0.03 Conger, Jack SR       
     3) r:0.35 Haas, Townley SO       4) r:0.27 Schooling, Joseph JR  
    r:+0.69  19.95        42.06 (42.06)
        1:01.38 (19.32)     1:23.36 (41.30)
        1:42.95 (19.59)     2:04.37 (41.01)
        2:23.57 (19.20)     2:45.39 (41.02)
  2 Florida                             2:47.90    2:46.21C  34  
     1) Dressel, Caeleb JR            2) r:0.27 Switkowski, Jan JR    
     3) r:0.30 Rooney, Maxime FR      4) r:0.37 Szaranek, Mark JR     
    r:+0.61  19.27        40.48 (40.48)
        1:00.24 (19.76)     1:21.98 (41.50)
        1:41.96 (19.98)     2:04.11 (42.13)
        2:24.22 (20.11)     2:46.21 (42.10)
  3 Southern Cali                       2:48.17    2:47.33P  32  
     1) Condorelli, Santo JR          2) r:0.34 Tribuntsov, Ralf JR   
     3) r:0.21 Carter, Dylan JR       4) r:0.25 Malone, Reed SR       
    r:+0.62  19.39        41.87 (41.87)
        1:01.49 (19.62)     1:23.67 (41.80)
        1:43.01 (19.34)     2:04.77 (41.10)
        2:25.02 (20.25)     2:47.33 (42.56)
  4 California                          2:49.58    2:48.49   30  
     1) Lynch, Justin JR              2) r:0.11 Murphy, Ryan SR       
     3) r:0.18 Seliskar, Andrew SO    4) r:0.31 Jensen, Michael FR    
    r:+0.63  20.09        42.71 (42.71)
        1:01.96 (19.25)     1:24.44 (41.73)
        1:43.78 (19.34)     2:06.56 (42.12)
        2:26.19 (19.63)     2:48.49 (41.93)
  5 Stanford                            2:49.26    2:48.80   28  
     1) Perry, Sam JR                 2) r:0.19 Liang, Andrew JR      
     3) r:0.21 DeVine, Abrahm SO      4) r:0.09 Kremer, Tom SR        
    r:+0.61  19.75        41.77 (41.77)
        1:02.04 (20.27)     1:24.72 (42.95)
        1:45.02 (20.30)     2:07.20 (42.48)
        2:26.95 (19.75)     2:48.80 (41.60)
  6 ASU                                 2:49.64    2:49.00   26  
     1) Craig, Cameron FR             2) r:0.34 Porter, Andrew JR     
     3) r:0.30 Duskinas, Tadas SR     4) r:0.23 Bohus, Richard SR     
    r:+0.65  20.39        42.29 (42.29)
        1:02.29 (20.00)     1:25.12 (42.83)
        1:44.87 (19.75)     2:07.20 (42.08)
        2:27.08 (19.88)     2:49.00 (41.80)
  7 NC State                            2:49.34    2:49.09   24  
     1) Held, Ryan JR                 2) r:0.17 Ress, Justin SO       
     3) r:0.34 Bonk, Joe SR           4) r:0.33 Dahl, Soeren SR       
    r:+0.62  19.59        41.36 (41.36)
        1:00.80 (19.44)     1:23.40 (42.04)
        1:43.58 (20.18)     2:06.53 (43.13)
        2:26.59 (20.06)     2:49.09 (42.56)
  8 Indiana                             2:49.62    2:49.53   22  
     1) Samy, Mohamed SO              2) r:0.20 Pieroni, Blake JR     
     3) r:0.26 Khalafalla, Ali JR     4) r:0.29 Lorentz, Sam SR       
    r:+0.72  20.23        42.97 (42.97)
        1:02.61 (19.64)     1:24.88 (41.91)
        1:44.40 (19.52)     2:06.65 (41.77)
        2:27.04 (20.39)     2:49.53 (42.88)
                      Men - Team Rankings - Through Event 21                      
 
  1. Texas                             542   2. California                        349
  3. Florida                         294.5   4. NC State                        272.5
  5. Stanford                          242   6. Southern Cali                     237
  7. Indiana                         229.5   8. Univ of Georgia                   183
  9. Missouri                        179.5  10. Alabama                         153.5
 11. Louisville                      143.5  12. Auburn                          127.5
 13. Purdue                          106.5  14. Arizona State                     100
 15. South Carolina                     99  16. Texas A&M                          87
 17. Michigan                           82  18. Wisconsin                          63
 19. Ohio St                          58.5  20. Tennessee                          55
 21. University of Miami                51  22. Virginia Tech                      48
 23. Minnesota                          43  24. Arizona                          36.5
 25. Notre Dame                         29  26. Lsu                                28
 27. Harvard                            24  28. Penn St                            23
 28. Northwestern                       23  30. Denver                             19
 31. Florida State                      16  32. Duke                               12
 33. George Washington                   9  34. Pittsburgh                          8
 35. Cornell                             7  36. UNC                                 6
 37. Kentucky                            4  38. University of Wyoming               3
 39. Hawaii                              2  39. Penn                                2
 39. Missouri State                      2  42. Towson                              1
 42. Yale                                1