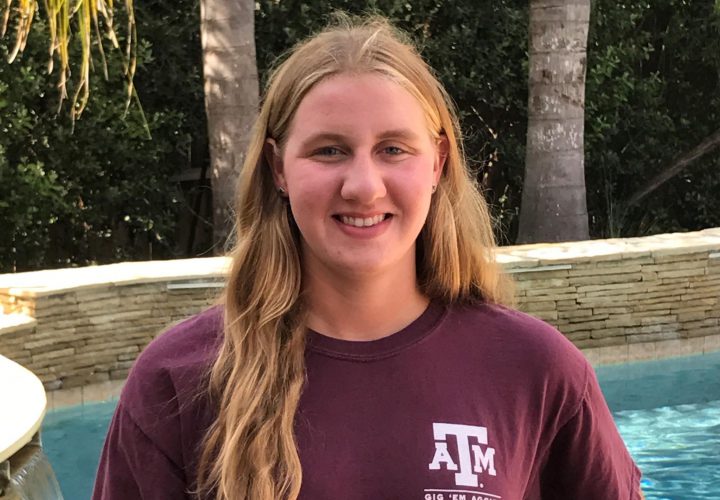 Photo Courtesy: Gilbert Legaspi
Agon is the proud sponsor of all high school coverage (recruiting, results, state championships, etc.) on SwimmingWorld.com. For more information about Agon, visit their website AgonSwim.com.
To report a college commitment, email HS@swimmingworld.com. Join Swimming World's Watch List
NEW COMMIT: Texas A&M has received a verbal commitment from an in-state talent: Kylie Powers. Powers is from Houston where she swims for Swim Houston Aquatic Center. A USA Swimming Scholastic All-American, Powers is one of the top breaststrokers in the Class of 2018.
Her best times include:
50 Breast 28.86
100 Breast 1:00.65
200 Breast 2:12.58
At NCSA Junior Nationals in March Powers was a finalist in all three breaststroke events, finishing as high as second (1:00.65) in the 100. At the 2017 SEC Championships Powers' best time would have put her tenth in the 100 breaststroke. The Aggies had three swimmers in the A final, though all of them will have graduated by Powers' move to College Station. In the 200 breaststroke her best time would make her a C fianlist. The Aggies finished an impressive 1-2-3-5-6-9-18 in that event.
She told Swimming World,
"I'm excited to announce my verbal commitment to swim for and continue my education at Texas A & M University! Coach Steve and Coach Tanica made me feel like family during the recruiting process, and I am looking forward to being a part of their deep breaststroke tradition. I know with their guidance I will achieve my goals in and out of the pool. Thank you to my family, friends, coaches and teammates for their support throughout the journey. I couldn't have done it without you! #Gig' em!"