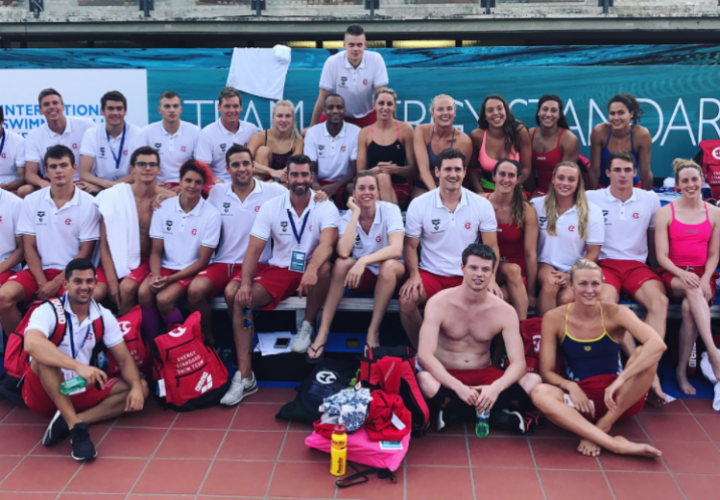 Photo Courtesy: Instagram @energystandard
The first-ever Energy for Swim – Champions for Charity continued today with swift swims all around. The USA, Australia, Italy, and Energy Standard continued to fight for their charities, but at the end of the two-day meet it was Team Energy Standard taking home the team trophy. They successfully raised a total of 26,000 Euros for their charity Tabletochki.
The charities on the table were as follows:
Individual events could earn as many as 9 points, with the second through eighth place finishers eligible for 7, 6, 5, 4, 3, 2, 1 respectively. Relays can earn a max of 18 points and a minimum of 10. Day two of competition saw a total of 16 individual events and one mixed relay event on the schedule.
The team standings ended with Team Energy on top (453), followed by Teams USA (401), Italy (315), and Australia (284).
Women's 400 IM
Hannah Miley secured the first win of the day for Team Energy with a top showing of 4:38.10 in the women's 400 IM. She was followed into the wall by the American duo of Madisyn Cox (4:39.57) and Bethany Galat (4:41.53).
Men's 400 IM
Chase Kalisz of the USA continues to be the man of the hour when it comes to the individual medleys. Kalisz and fellow American Josh Prenot finished 1-2 with times of 4:09.67 and 4:18.58 to earn some top points for the USA.
Women's 100 Free
The race for first was between Team Energy's Femke Heemskerk and Australia's Cate Campbell in the 100 free. Heemskerk held off the previous world record holder with a 53.45 to 53.56 victory.
Men's 100 Free
Chad le Clos demonstrated his sprint capabilities in finals of the men's 100 free. The South African, representing Team Energy, held off the USA's Nathan Adrian to bring home top points with a 48.38. Adrian took second with a 48.69, followed by Australia's Kyle Chalmers. Today's race marked Chalmers' international return after opting out of the World Championships and pursuing heart surgery.
Women's 100 Back
Australia's Emily Seebohm continued to display her backstroke dominance with a top showing of 59.02 in the 100-meter race. Seebohm's victory concludes a sweep of all three backstroke races. USA's Olivia Smoliga picked up second with a 1:00.26, followed by Team Energy's Georgia Davies' 1:00.32.
Men's 100 Back
Russian teen Kliment Kolesnikov flexed his backstroke prowess in the men's 100 meter race, finishing ahead of Olympic gold medalist Ryan Murphy and the former world champion Mitch Larkin. Kolesnikov touched in a time of 53.35 to establish a new World Junior Record.
Women's 50 Breast
Ruta Meilutyte delivered the top time in the women's 50 breast at a 30.59 to continue Team Energy's swift wins.
Men's 50 Breast
Cameron van der Burgh, also of Team Energy, followed up Meilutyte's win with one of his own, clocking a time of 26.88 for the top points.
Women's 50 Fly
Unsurprisingly, it was Sarah Sjostrom delivering the top time in the women's 50 fly. She stopped the clock at a time of 25.79 for the full nine points.
Men's 50 Fly
Ben Proud stepped up and posted a 23.33 for the win in the men's 50 fly. Proud concluded a Team Energy victory sweep of the stroke 50s for day two.
Mixed 400 Free Relay
The mixed 400 free relay was won by Team Energy's Sergei Shevtsov, Ivan Girev, Michelle Coleman, and Sarah Sjostrom. The foursome posted a combined time of 3:26.06 for first, followed by Autsralia's second place finish of 3:27.23. Italy and the USA finished third and fourth.
Women's 400 Free
Leah Smith of the USA dominated the women's 400 free, finishing more than five seconds ahead of Italy's Simona Quadarella with a time of 4:04.58. Quadarella and teammate Alice Mizzau collected second and tihrd with times of 4:09.74 and 4:12.87.
Men's 400 Free
Gabriele Detti continued to be the Italian man to watch as he delivered a top showing in the men's 400 free. Detti turned in a 3:44.40, followed closely by Team Energy's Mykhaylo Romanchuk's 3:45.48. Zane Grothi of the USA picked up third with a 3:49.10.
Women's 100 Fly
Sarah Sjostrom continued to fly ahead of the competition with a top showing in the 100 fly. Sjostrom produced a 57.56 for a smooth win over Italians Elena Di Lido (58.14) and Ilaria Bianchi (59.17)
Men's 100 Fly
Chad le Clos collected his second win of the night with a top showing of 51.45 in the 100 fly. Italy's Piero Codia and the USA's Tim Phillips were second and third with times of 51.56 and 51.60.
Women's 200 Breast
Ruta Meilutyte jumped to an early lead in the women's 200 breast, but the sprinter was later chased down by the USA's Bethany Galat. Galat delivered a 2:25.27 for the first place points, while Canada's Mary-Sophie Harvey (2:25.37) and Meilutyte (2:25.62) earned some big points for Team Energy.
Harvey's time doubles as a Canadian Age Group Record for the 15-17 age group, while Meilutyte's downs a long-lived Lithuanian National Record of 2:28.13, set during the shiny suits era.
Men's 200 Breast
Josh Prenot of the USA refused to let the disappointment of not qualifying for the World Championships get to him, as he powered to a top showing in finals of the men's 200 breast. Prenot delivered a 2:09.36 to earn top points for the USA, followed by Italy's Luca Pizzini (2:10.90) and the USA's Kevin Cordes (2:12.12).
Women's 50 Free – Skins
The meet concluded in a different format, with the sprinters participating in knock-out rounds of 50s. The preliminary heat featured a total of eight swimmers, however only Sarah Sjostrom (25.12), Cate Campbell (24.84), Madison Kennedy (25.17), and Brittany Elmslie (25.22) continued to the semi-final round.
The semi-final round saw Campbell (25.29) and Sjostrom (24.93) as the top two going into the final heat, where the official winner would be determined. Sjostrom dashed to a quick, but tiring, 25.39 to claim yet another victory over Campbell's 26.30.
Men's 50 Free – Skins
The men's splash and dashes belonged to the USA's Nathan Adrian as he thundered to first in all three rounds of the men's 50 free. The first round saw Adrian (22.42), Luca Dotto (22.54), Tony Ervin (22.70), and Sergii Shevtsov (22.74) continue on. In the semi-final round, Adrian and Dotto powered to times of 22.84 and 23.36 to qualify for the final round, but it was all Adrian in finals as he delivered a 23.15 over Dotto's 24.28.