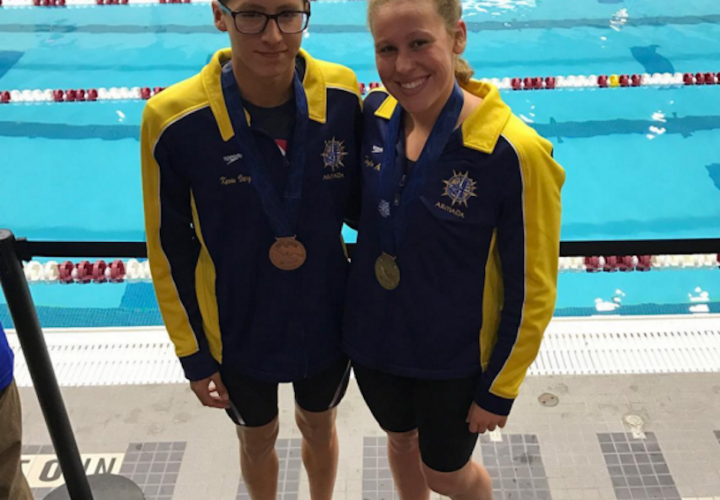 Photo Courtesy: Taylor Ault (@taylor_ault_) Instagram
Call it home pool advantage. La Mirada Armada's Taylor Ault and Kevin Vargas showed up to swim on the second night of Speedo Sectionals in La Mirada, California. Ault took the 200 freestyle while Vargas fought tooth-and-nail for the 100 backstroke.
In the women's 200 freestyle, Ault was the top seed, and she surged to an easy victory. The University of Florida commit swam a relaxed first fifty meters but then held a consistent 30-second pace for each of the other legs of the race, ultimately landing her with an impressive 2:01.04. Ault was closely followed by Aquazot Swim Club's Katie Glavinovich, in 2:02.07. Unattached swimmer Jennifer Campbell rounded out the top three with a strong back half of the race for a 2:03.73.
The men's race proved to be a more open field. Michael Lincoln  from Palo Alto Stanford ran away with the gold in a 1:50.87, complete with textbook splits of 54.38 and 56.49. Behind Lincoln, Michael Tenney of BREA Aquatics claimed the silver in 1:52.72. Lincoln's teammate from Palo Alto Stanford, Alex Liang, nabbed the bronze in 1:53.32, just ahead of the Brentwood Seawolves' Daniel Comforti (1:53.61).
The women's 400 IM belonged to BREA Aquatics' Kenisha Liu, fresh off a night of double wins on day one, in 4:50.65. Liu touched out Aquazot Swim Club's Katie Glavinovich, who made gains on the freestyle leg, but ultimately fell just short in 4:50.70. Finally, the bronze medal went to Mckenna Meyer, swimming unattached, in 4:53.07.
Meanwhile, the men's 400 IM brought another tight finish, this one between La Mirada Armada's 16-year-old Kevin Vargas and Palo Alto Stanford's Michael Lincoln. Lincoln initially led after the 100 butterfly, but Vargas surpassed him in the backstroke and breaststroke legs. Lincoln made another surge in the final 100, gaining steadily on Vargas and posting a gutsy 58.67 split. Vargas held onto his gold and stopped the clock in 4:27.11. Lincoln finished close behind, in 4:27.91, while Daniel Marella of De Anza Cupertino Aquatics garnered the bronze with his 4:34.91.
The women's 100 backstroke produced a packed field. While top seed Emily Triu of BREA Aquatics led the race most of the race, ultimately it was Alexandra Crisera of Beach Cities Swimming who hit the wall first, in 1:03.28. Triu's close touch landed her as runner-up, in 1:03.52. Behind Triu, Colleen Humel of San Jose State Spartans proved the next top finisher, in 1:04.10.
The men's race proved slightly less competitive. Christopher Staka from Aptos Cabrillo Swim Club led the whole way and cemented his lead during the second fifty, when he pulled away from the pack. After Staka's winning 55.19, top seed Bryce Mefford from Sierra Marlins Swim Team convincingly took the silver, in 55.92. Behind Mefford, the next top finisher was Palo Alto Stanford's Joseph Molinari, in 57.62.
The women's 400 freestyle relay was a fight to the finish. The winning team proved to be that of unattached Palo Alto Stanford swimmers: Jennifer Campbell, Gabrielle Anderson, Brooke Schaffer, and Isabelle Henig,  who finished just over two tenths ahead of BREA Aquatics' team. Although BREA gained on the final leg, with anchor Kenisha Liu swimming a blazing 56.25, the winning team maintained its slim lead. Behind BREA Aquatics, Palo Alto Stanford's other relay team took the bronze with a 3:52.79.
On the men's side, an aggressive sub-50 anchor leg by Liam O'Haimhirgin (49.15) set up the Sierra Marlins' team of Terry Johnson, Ethan Dillard, Bryce Mefford and O'Haimhirgin for victory and a solid 3:24.43. Palo Alto Stanford Aquatics took second just behind the winners in 3:25.40, and De Anza Cupertino Aquatics nabbed third in 3:30.32.
Live results are available at the link on the sidebar as well as on Meet Mobile under "2017 CA-NV Speedo Championships."