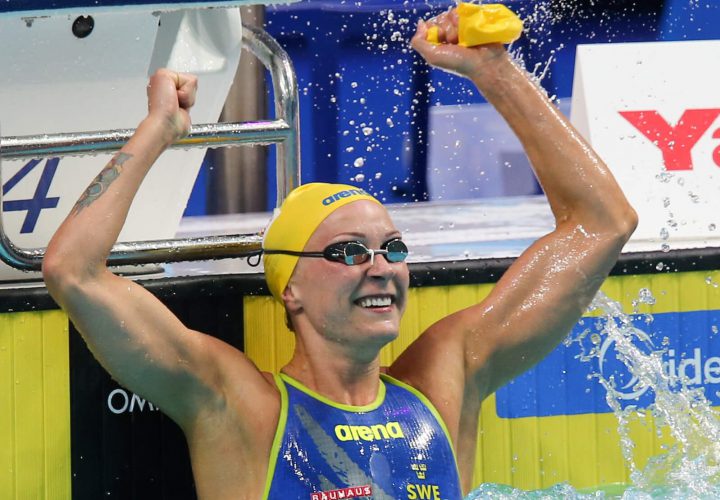 During the FINA World Championships last month in Budapest, 11 swimming world records were taken down, in addition to numerous American records. And since then, several short course world records have also gone down during the first three stops of the FINA World Cup.
The Swimming World Record Book is officially up-to-date with all World and American records for both short course and long course.
Sarah Sjostrom has been the biggest world record-breaker over the past month, setting new global standards in two long course events and three in short course (although one of her SCM world records has since been broken). Other long course record-setters include Adam Peaty, Lilly King and Kylie Masse.
Check out all individual long course records below.
| EVENT | TEAM | NATION | TIME | DATE | LOCATION |
| --- | --- | --- | --- | --- | --- |
| 400 FR | Australia | AUS | 3:30.65 | 06-Aug-16 | Rio de Janeiro, Brazil |
| | Emma McKeon | | 53.41 | | |
| | Brittany Elmslie | | 53.12 | | |
| | Bronte Campbell | | 52.15 | | |
| | Cate Campbell | | 51.97 | | |
| Textile Best | Same | | | | |
| 800 FR | China | CHN | 7:42.08 | 30-Jul-09 | Rome, Italy |
| | Yang Yu | | 1:55.47 | | |
| | Zhu Qian Wei | | 1:55.79 | | |
| | Liu Jing | | 1:56.09 | | |
| | Pang Jiaying | | 1:54.73 | | |
| Textile Best | United States | USA | 7:42.92 | 01-Aug-12 | London, England |
| 400 MR | United States | | 3:51.55 | 30-Jul-17 | Budapest, Hungary |
| | Kathleen Baker | | 58.54 | | |
| | Lilly King | | 1:04.48 | | |
| | Kelsi Worrell | | 56.30 | | |
| | Simone Manuel | | 52.23 | | |
| Textile Best | Same | | | | |
| EVENT | SWIMMER | NATION | TIME | DATE | LOCATION |
| --- | --- | --- | --- | --- | --- |
| 50 Free | Cesar Cielo | BRA | 20.91 | 18-Dec-09 | Sao Paulo, Brazil |
| Splits | 20.91 | | | | |
| Textile Best | Caeleb Dressel | USA | 21.15 | 29-Jul-17 | Budapest, Hungary |
| 100 Free | Cesar Cielo | BRA | 46.91 | 30-Jul-09 | Rome, Italy |
| Splits | 22.17, 46.91 (24.74) | | | | |
| Textile Best | Cameron McEvoy | AUS | 47.04 | 4/11/2016 | Adelaide, Australia |
| 200 Free | Paul Biedermann | GER | 1:42.00 | 28-Jul-09 | Rome, Italy |
| Splits | 24.23, 50.12 (25.89), 1:16.30 (26.18), 1:42.00 (25.70) | | | | |
| Textile Best | Yannick Agnel | FRA | 1:43.14 | 30-Jul-12 | London, England |
| 400 Free | Paul Biedermann | GER | 3:40.07 | 26-Jul-09 | Rome, Italy |
| Splits | 26.29, 54.42 (28.13), 1:22.43 (28.01), 1:51.02 (28.59), 2:18.78 (27.76), 2:47.17 (28.39), 3:14.30 (27.13), 3:40.07 (25.77) | | | | |
| Textile Best | Ian Thorpe | AUS | 3:40.08 | 30-Jul-02 | Manchester, England |
| 800 Free | Zhang Lin | CHN | 7:32.12 | 29-Jul-09 | Rome, Italy |
| Splits | 26.94, 55.20 (28.26), 1:24.04 (28.84), 1:52.55 (28.51), 2:21.16 (28.61), 2:49.87 (28.71), 3:18.58 (28.71), 3:46.79 (28.21), 4:15.02 (28.23), 4:43.28 (28.26), 5:11.79 (28.51), 5:40.36 (28.57), 6:09.26 (28.90), 6:38.03 (28.77), 7:06.13 (28.10), 7:32.12 (25.99) | | | | |
| Textile Best | Sun Yang | CHN | 7:38.57 | 27-Jul-11 | Shanghai, China |
| 1500 Free | Sun Yang | CHN | 14:31.02 | 4-Aug-12 | London, England |
| Splits | 27.09, 55.80 (28.71), 1:25.26 (29.46), 1:54.31 (29.05), 2:23.66 (29.35), 2:52.63 (28.97), 3:22.16 (29.53), 3:51.50 (29.34), 4:20.73 (29.23), 4:49.62 (28.89), 5:18.88 (29.26), 5:48.15 (29.27), 6:17.40 (29.25), 6:46.74 (29.34), 7:16.15 (29.41), 7:45.45 (29.30), 8:14.94 (29.49), 8:44.32 (29.38), 9:13.78 (29.46), 9:43.10 (29.32), 10:12.52 (29.42), 10:41.73 (29.21), 11:11.27 (29.54), 11:40.64 (29.37), 12:09.81 (29.17), 12:39.00 (29.19), 13:08.39 (29.39), 13:37.53 (29.14), 14:05.34 (27.81), 14:31.02 (25.68) | | | | |
| Textile Best | Same | | | | |
| 50 Back | Liam Tancock | GBR | 24.04 | 2-Aug-09 | Rome, Italy |
| Splits | 24.04 | | | | |
| Textile Best | Camille Lacourt | FRA | 24.07 | 21-Aug-10 | Budapest, Hungary |
| 100 Back | Ryan Murphy | USA | 51.85 | 13-Aug-16 | Rio de Janeiro, Brazil |
| Splits | 25.13, 51.85 (26.72) | | | | |
| 200 Back | Aaron Peirsol | USA | 1:51.92 | 31-Jul-09 | Rome, Italy |
| Splits | 26.52, 54.90 (28.38), 1:23.30 (28.40), 1:51.92 (28.62) | | | | |
| Textile Best | Ryan Lochte | USA | 1:52.96 | 29-Jul-11 | Shanghai, China |
| 50 Breast | Adam Peaty | GBR | 25.95sf | 25-Jul-17 | Budapest, Hungary |
| Splits | 25.95 | | | | |
| Textile Best | Same | | | | |
| 100 Breast | Adam Peaty | GBR | 57.55 | 06-Aug-16 | Rio de Janeiro, Brazil |
| Splits | 26.69, 57.55 (30.86) | | | | |
| Textile Best | Same | | | | |
| 200 Breast | Ippei Watanabe | JPN | 2:06.67 | 29-Jan-17 | Tokyo, Japan |
| Splits | 28.95, 1:01.33 (32.38), 1:34.02 (32.69), 2:06.67 (32.65) | | | | |
| Textile Best | Same | | | | |
| 50 Fly | Rafael Munoz | ESP | 22.43 | 5-Apr-09 | Malaga, Spain |
| Splits | 22.43 | | | | |
| Textile Best | Andrey Govorov | UKR | 22.73sf | 16-May-16 | London, England |
| 100 Fly | Michael Phelps | USA | 49.82 | 1-Aug-09 | Rome, Italy |
| Splits | 23.36, 49.82 (26.46) | | | | |
| Textile Best | Caeleb Dressel | USA | 49.86 | 29-Jul-17 | Budapest, Hungary |
| 200 Fly | Michael Phelps | USA | 1:51.51 | 29-Jul-09 | Rome, Italy |
| Splits | 24.76, 52.88 (28.12), 1:21.93 (29.05), 1:51.51 (29.58) | | | | |
| Textile Best | Michael Phelps | USA | 1:52.09 | 28-Mar-07 | Melbourne, Australia |
| 200 IM | Ryan Lochte | USA | 1:54.00 | 28-Jul-11 | Shanghai, China |
| Splits | 24.89, 53.48 (28.59), 1:26.51 (33.03), 1:54.00 (27.49) | | | | |
| Textile Best | Same | | | | |
| 400 IM | Michael Phelps | USA | 4.03.84 | 10-Aug-08 | Beijing, China |
| Splits | 25.73, 54.92 (29.19), 1:26.29 (31.37), 1:56.49 (30.20), 2:31.26 (34.77), 3:07.05 (35.79), 3:35.99 (28.94), 4:03.84 (27.85) | | | | |
| Textile Best | Ryan Lochte | USA | 4:05.18 | 7/28/2012 | London, England |