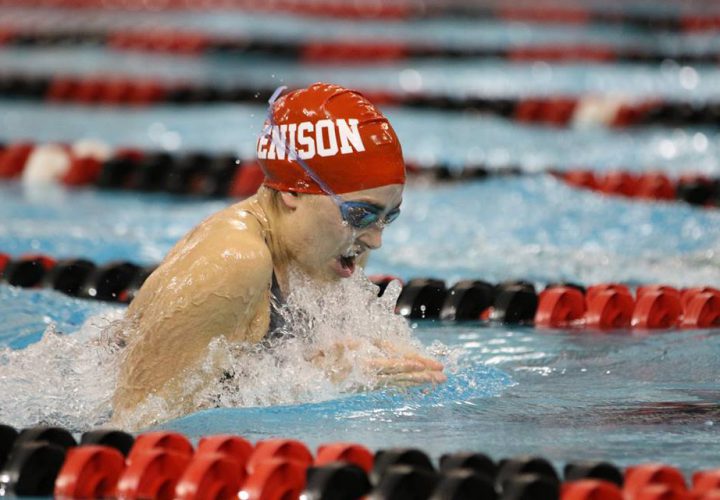 Photo Courtesy: Allen Rich
Off-Season Training: A Building Block for Success
Times in swimming have obviously become faster over the last 58 years, but some immutable truths remain.
In February, Gregg Parini, coach at NCAA Division III Denison University, guided his men to their 10th straight NCAC conference title, while the women finished second. In March at NCAAs, the men won their fourth national title, and the women placed fourth–the 28th time in Parini's 31 years in Granville, Ohio that the two squads have finished in the top five at the D-III national meet.
One key ingredient has been the consistency of training.
"That training all goes back to their goals," Parini says. "Their willingness to prepare must be in line with their aspirations for success–i.e., practice in such a way as to ensure success in meeting their goals. It's entirely up to them."
To learn more about Denison's off-season training, check out the May 2018 issue of Swimming World Magazine, available now!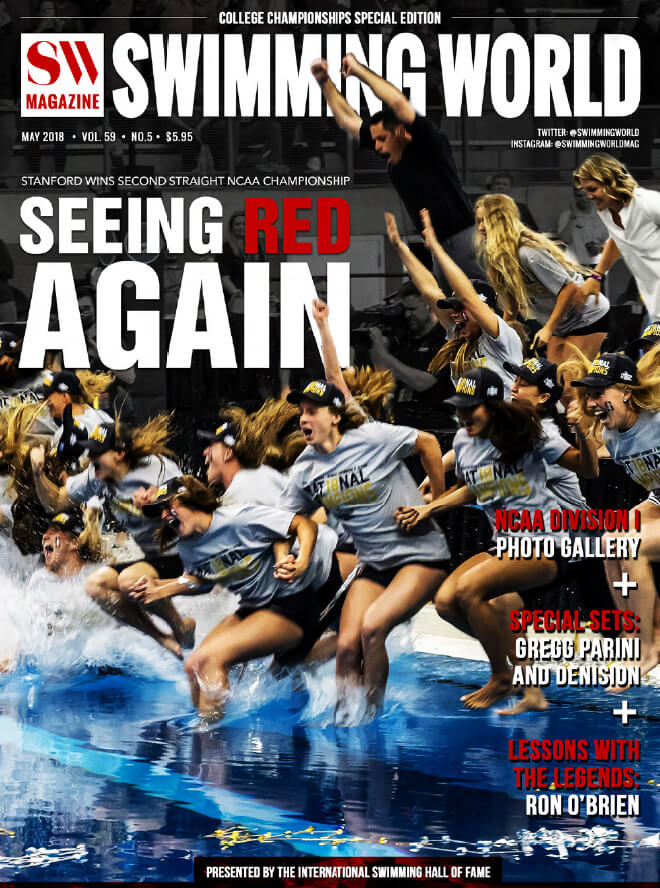 [College Championship Issue Photo by Peter H. Bick]
New! 1-Year Digital Only Subscription for just $29.95 Order Now!
FEATURES
016 JUST ENOUGH
by Dan D'Addona, David Rieder and Annie Grevers
With one event remaining, Texas, Cal and Indiana all had a chance to win the men's NCAA Division I Championships. But it was the Longhorns who held on to capture their fourth straight team title in what turned out to be the closest finish in 16 years.
MEN'S NCAA DIVISION I MINI-FEATURES:
019 CAELEB DRESSEL: SO MUCH MORE
021 MEN'S 200 FREE: A PORTENT OF THINGS TO COME
022 NC STATE: ON THE RISE
023 HOOSIER BREASTSTROKE: LETTING LOOZE
025 MEN'S NCAA DIVISION I PHOTO GALLERY
photos by Peter H. Bick
026 THE STANFORD SUPREMACY
by Dan D'Addona, David Rieder and Annie Grevers
Stanford's women's swimming team established its "identity" a year ago by dominating the women's NCAA Division I Swimming and Diving Championships and winning its first team title in 19 years. This year's action-packed sequel was even more thrilling!
WOMEN'S NCAA DIVISION I MINI-FEATURES:
029 TEXAS A&M: BUILDING ON THE BULTMAN LEGACY
030 ELLA EASTIN: CONFIDENT AND FOCUSED
031 MICHIGAN, LOUISVILLE, TEXAS: EXCEEDING EXPECTATIONS
033 WOMEN'S NCAA DIVISION I PHOTO GALLERY
photos by Peter H. Bick
035 STREAKS ALIVE…MOSTLY
by Chandler Brandes and Andy Ross
Queens, Emory and Indian River continued their winning streaks at their respective college national championships, but Denison, Savannah College of Art and Design and Keiser are ready to start (or restart) some streaks of their own.
COACHING
010 LESSONS WITH THE LEGENDS: RON O'BRIEN
by Michael J. Stott
014 THE RELATIVE ORIENTATION OF BODY PARTS: HIGH ELBOW OR DEEP CATCH?
by Rod Havriluk
Swimmers can achieve precise control of body movements—such as "high elbow" and "deep catch"—with strict focus on cues, providing the cues have specific information about the relative position and motion of body parts.
040 OFF-SEASON TRAINING: A BUILDING BLOCK FOR FUTURE SUCCESS
by Michael J. Stott
042 Q&A WITH COACH ANDY BOYCE
by Michael J. Stott
043 HOW THEY TRAIN SAM POSTMUS
by Michael J. Stott
TRAINING
039 DRYSIDE TRAINING: WET-LAND TRAINING
by J.R. Rosania
JUNIOR SWIMMER
045 UP & COMERS: MENA BOARDMAN
by Taylor Brien
COLUMNS & SPECIAL SECTIONS
008 A VOICE FOR THE SPORT
013 BEYOND THE YARDS
041 THE OFFICIAL WORD
046 GUTTER TALK
048 PARTING SHOT