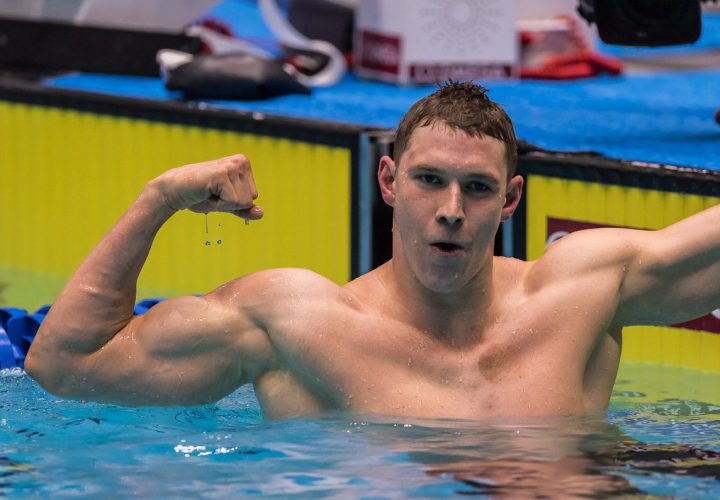 Photo Courtesy: Peter H. Bick
NCAA Division I Photo Gallery:
Swimming World's chief photographer Peter H. Bick was on hand throughout the men's and women's NCAA Division I Swimming and Diving Championships capturing all of the action and excitement.
To see more of Bick's photos download a copy of the May 2017 issue, available now!
Flip Through A Selection of Bick's Photos:
This slideshow requires JavaScript.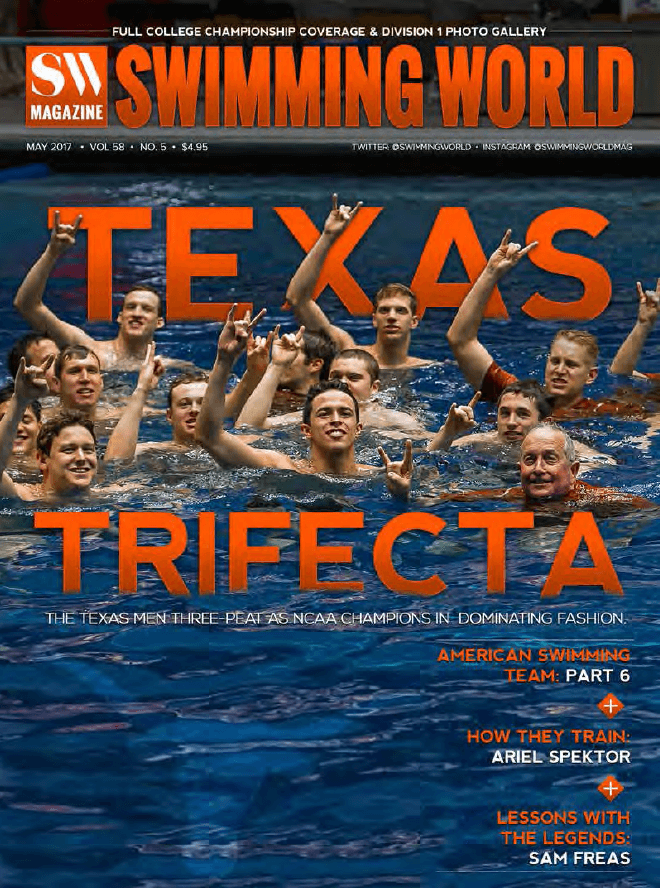 [PHOTO BY PETER H. BICK]
Not a subscriber?  Subscribe With This Special 3-Year Offer! Swimming World Magazine gives you unlimited access to all online content on SwimmingWorldMagazine.com and access to all of the back issues of Swimming World Magazine dating back to 1960!  Visit the Swimming World Magazine Vault.  
Take a video tour of the current issue of Swimming World Magazine…
FEATURES
010 NCAA DIVISION I PHOTO GALLERY
by Peter H. Bick
018 STANFORD'S JUST BEGINNING
by Dan D'Addona, David Rieder and Annie Grevers
It took Stanford 19 years to return as NCAA Division I swimming and diving champions, but it looks like the Cardinal is ready to stay at the top for a few more years to come.
026 TOTALLY TEXAS
by Dan D'Addona, David Rieder and Annie Grevers
Coach Eddie Reese's Longhorns simply did what they've been doing so well for the last three years: dominate the men's NCAA Division I Swimming and Diving Championships.
035 BRING OUT THE BROOMS!
by James Sica, Diana Pimer, Chandler Brandes and Taylor Brien
That's what the swimming and diving teams from Queens, Emory, Olivet Nazarene and Indian River did last March as they swept the women's and men's team titles at their respective NCAA-II, NCAA-III, NAIA and NJCAA Championships.
046 AMERICAN SWIMMING TEAM (Part VI): FUTURE—THE TOP OF THE TEAM
by Chuck Warner
If the American Swimming Team is going to maintain its superior position in the future, it must continue to look for ways to improve.
COACHING
038 LESSONS WITH THE LEGENDS: SAM FREAS
by Michael J. Stott
041 STARTS AND BREAKOUTS
by Michael J. Stott
This is the first of a multi-part series on "trained behaviors" in swimming. When applied to starts and breakouts, some of the nation's best practitioners have developed methods of their own to produce successful outcomes that span seasons of competition and even careers.
044 SWIMMING TECHNIQUE MISCONCEPTIONS: BREASTSTROKE HAND RECOVERY
by Rod Havriluk
The above-surface hand recovery in breaststroke is very common and used by many elite swimmers. It is a misconception, however, that the above-surface recovery is more effective or faster than a below surface recovery.
048 SPECIAL SETS: TENNESSEE MID-SEASON SETS
by Matt Kredich with Michael J. Stott
053 Q&A WITH COACH JON SAKOVICH
by Michael J. Stott
054 HOW THEY TRAIN ARIEL SPEKTOR
by Michael J. Stott
TRAINING
052 DRYSIDE TRAINING: GOT BODY POSITION?
by J.R. Rosania
JUNIOR SWIMMER
050 GOLDMINDS: SEEING IS BELIEVING
by Wayne Goldsmith
To be the swimmer you want to be, you must see the swimmer you want to see.
056 UP & COMERS
by Taylor Brien
COLUMNS
008 A VOICE FOR THE SPORT
057 GUTTER TALK
058 PARTING SHOT
ON THE COVER
The University of Texas men won this year's NCAA Division I Swimming and Diving Championships by more than 200 points. The victory was their third three-peat, having won the team titles in 1988-91 (a four-peat), 2000-02 and now 2015-17. It was also Coach Eddie Reese's record 13th men's NCAA D1 national championships since taking on the job at Texas in 1978. (See feature, page 26).
[PHOTO BY PETER H. BICK]