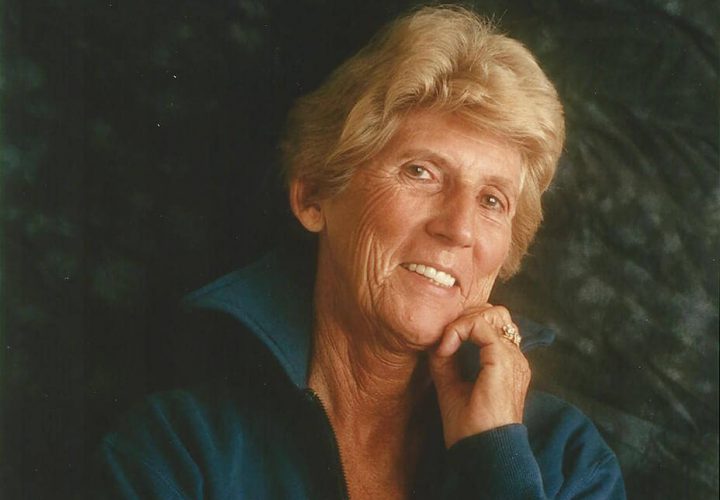 Photo Courtesy: Penny Taylor
Lessons with the Legends: Penny Taylor
Swimming World continues a series in which top coaches share some of the secrets of their success. The January issue of Swimming World Magazine highlights the many accomplishments of Coach Penny Taylor.
Taylor, known early on for her athletic abilities, found her calling in swimming as a coach and later as an administrator. She worked tirelessly to create swim teams in communities and became a dominating, but respected presence on pool decks both nationally and internationally.
In 1999, she received the prestigious United States Swimming Award presented annually to one person for their contribution to USA Swimming. She is a member of the Purdue Intercollegiate Athletic Hall of Fame. A charter member of the American Swimming Coaches Association, she was the first woman to be elected to ASCA's board of directors.
Read more about Taylor and her many accomplishments in the January 2017 issue of Swimming World, available now!
Not a subscriber? Swimming World Magazine gives you unlimited access to all online content on SwimmingWorldMagazine.com and access to all of the back issues of Swimming World Magazine dating back to 1960! To Access everything in the Swimming World Magazine Vault, Subscribe With This Special 3-Year Offer!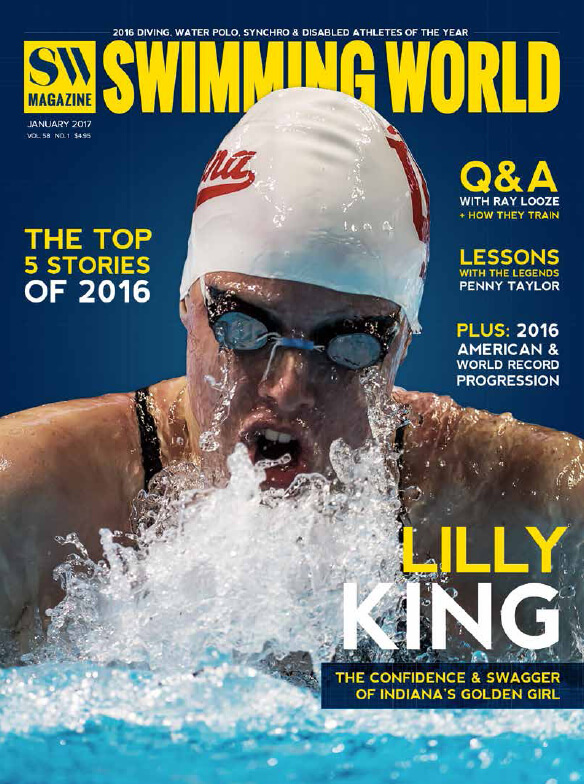 Take a video tour of the current issue of Swimming World Magazine…
FEATURES
014 AMERICAN SWIMMING TEAM: PAST (Part II)
by Chuck Warner
In this second of a six-part series on the American Swimming Team, Swimming World takes a look at the Montreal Olympics, the 1980 U.S.-led Olympic boycott, the birth of professional swimming, the benefits of college swimming and the transition from AAU Swimming to U.S. Swimming and, eventually, to USA Swimming.
016 TOP 5 STORIES OF 2016
by David Rieder
018 2016 ATHLETES OF THE YEAR: DIVING, WATER POLO, SYNCHRO & DISABLED SWIMMING
by Taylor Brien
020 PEACEFUL COEXISTENCE
by David Rieder
How can high school and club coaches work together for both teams to produce the best results?

023 SAVE OUR SPORT
by Dan D'Addona
USA Swimming and the College Swimming Coaches Association of America are continuing their efforts to save college swimming from radical change, keeping elite swimmers on scholarship and in college pools.
026 CONFIDENCE IS KING
by Annie Grevers
Olympic gold medalist Lilly King has always had an unshakable sense of self-belief. And her coach at Indiana University, Ray Looze, will also tell you she's extremely coachable. Put that confidence and desire to improve— not to mention her blazing speed—and it's easy to see why she's currently the world's best women's 100 meter breaststroker.
032 2016 WORLD & AMERICAN RECORD PROGRESSION
by Taylor Brien
034 NUTRITION: AROUND THE TABLE WITH JORDAN WILIMOVSKY
by Annie Grevers and Tasija Korosas
How can a guy who trains for a six-mile race possibly stay replenished? Pull up a chair at Jordan Wilimovsky's training table to see how a world champion chows down.
COACHING
010 LESSONS WITH THE LEGENDS: PENNY TAYLOR
by Michael J. Stott
012 SWIMMING TECHNIQUE MISCONCEPTIONS: REAL LIFE
by Rod Havriluk
The swimming culture is often quick to adopt the real-life technique elements used by the fastest swimmers. There are, however, many technique elements supported by mechanical principles and research that have not been adopted or are completely ignored. Will swimmer success continue to be the validation standard for a technique element or will science someday be sufficient?
036 RESISTANCE SWIM TRAINING (Part I)
by Michael J. Stott
This is the first of a two-part series on resistance training and how coaches are using it to make their athletes stronger and faster in the water.
042 Q&A WITH COACH RAY LOOZE
by Michael J. Stott
043 HOW THEY TRAIN LILLY KING & BLAKE PIERONI
by Michael J. Stott
TRAINING
025 DRYSIDE TRAINING: HAPPY NEW YEAR: READY, SET, GO!
by J.R. Rosania
JUNIOR SWIMMER
029 GOLDMINDS: SWIMMING 101 (Part I)
by Wayne Goldsmith
Happy New Year! Ready to make some New Year's resolutions? Here are 101 things you can do that will make you a better swimmer!
045 UP & COMERS
by Taylor Brien
COLUMNS
008 A VOICE FOR THE SPORT
046 GUTTER TALK
048 PARTING SHOT