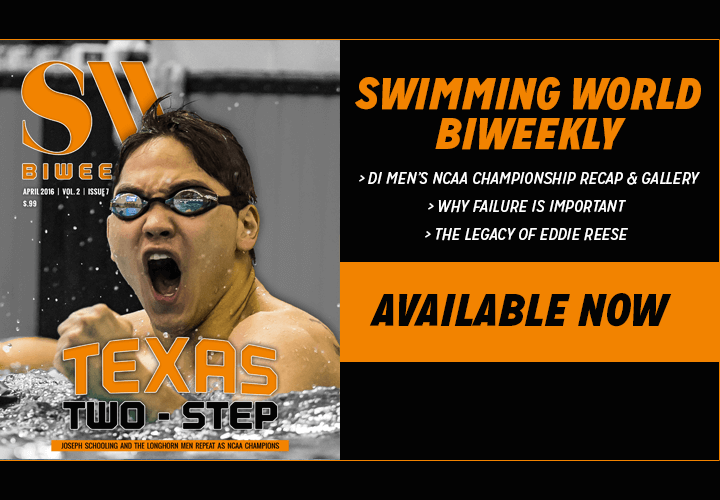 The first issue of Swimming World Biweekly for the month of April is available for download now! Check out the online issue to read the full finals recaps for the 2016 NCAA Division I Men's Championships, along with photo spreads and most read stories! Current subscribers can visit My Account to download the issue now! Non-Subscribers can download for .99 Cents by Clicking Here
BEST OFFER – Use Subscription Coupon Code: Rio2016 and save 25% on a 1 year subscription upgrade to Swimming World Magazine for yourself or a friend and get the following:
A monthly print copy of Swimming World Magazine in the mail for 1 year!
Free download of the next 12 issues and the past 12 issues of Swimming World Magazine!
Free download of next 24 issues and the past 24 issues of Swimming World Biweekly!
Free download of next 4 issues and the past 4 issues of Swimming Technique Magazine!
Swimming World Biweekly: April 7, 2016 Issue
FEATURES
006 – men's ncaa division I championship FINALS recap
by Jason Marsteller
The full recap from Atlanta as the Texas Longhorns repeat as champions.
012- Men's NCAA Division I photo gallery
Photos by Peter H. Bick
018- Bolles Nation
Commentary by Casey Barrett
The three greatest swimmers in the NCAA – Ryan Murphy, Joseph Schooling, and Caeleb Dressel – all hail from the same place: Bolles. The single finest place on earth to develop champions in the pool…
020- The Integration & Quantum Influence of Eddie Reese
by Chuck Warner
Eddie Reese's 12th NCAA Men's Swimming title justifies comparisons to John Wooden as among the very best there has ever been in the history of the NCAA.
022- When Your Younger Sibling Starts Getting Faster
By Tori Caudill, Swimming World College Intern
Nothing can be more frustrating to an older sibling than watching their younger counterparts being better at something than they are. Due to the competitive nature and individual achievement in a sport like swimming, this can be especially infuriating.
023- FINA Acknowledges Chinese Swimmers Positive Doping Tests
by Jason Marsteller
FINA responded to a recent flurry of media activity surrounding positive doping tests by Chinese swimmers with a statement stating that it is aware that everything is happening, but will not comment on the situation.
026- Why Failure is Important
by Andy Ross
If you read this article, you probably will do so because you think the title is absurd. 'Why would failure be important? Failure is never something you want to prepare yourself for!'
028- historic surprises at u.s. olympic trials: Gabe Woodward
by Chuck Warner
After Gabe Woodward graduated from USC in 2001, it seemed that his swimming career was over. For nearly two years, he didn't race or train. But his strong faith
brought him back to the sport in 2003… that's when his dream of making the 2004 U.S. Olympic team began to unfold.
032- 39 Thoughts All Swimmers Have During the 200 Butterfly
By Sophia Chiang, Swimming World College Intern
We're pretty sure everyone is terrified of the 200 butterfly. Well, except for Michael Phelps, maybe. But let's just make it clear that Phelps is absolutely the exception and not the rule. Even if you're a 200 flyer and you swim the event at every single meet…
034- John Hargis Named Head Coach at Pittsburgh
by Jason Marsteller
John Hargis, a 1996 Olympic Gold Medalist and 12-time All-America swimmer, has been named the University of Pittsburgh's new head swimming and diving coach.
035- Sun Yang to Miss Chinese Nationals, Still Has FINA A Cuts From Last Year
by Jason Marsteller
The Chinese Swimming Association has announced that Sun Yang will be sitting out the 2016 Chinese National Championships this year as he continues to protect his right foot injury.
036- 8 Reasons Why NCAAs Should Make You Really Excited for this Summer
By Chandler Brandes, Swimming World College Intern
The swimming world was buzzing the past few weekends as the top collegiate swimmers competed at the NCAA Championships. And they swam really, really fast. Whether you were racing, in the stands, watching the live stream, or just following results online, it's safe to say you were left speechless.