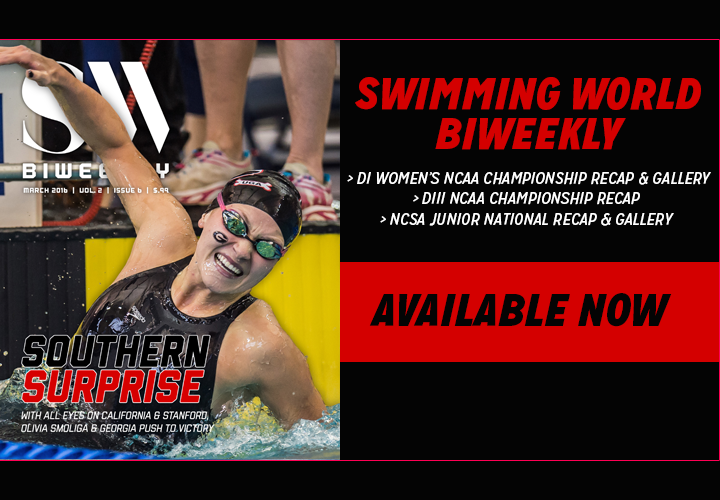 Photo Courtesy: Swimming World
The second issue of Swimming World Biweekly for the month of March is available for download now! Check out the online issue to read the full finals recaps for the 2016 NCAA Division I Women's Championships and the 2016 NCSA Juniors Natoinal Championships, along with photo spreads for both events! Current subscribers can visit their account to download the issue now! Non-Subscribers can download for .99 Cents by Clicking Here
BEST OFFER – Use Subscription Coupon Code: Rio2016 and save 25% on a 1 year subscription upgrade to Swimming World Magazine for yourself or a friend and get the following:
A monthly print copy of Swimming World Magazine in the mail for 1 year!
Free download of the next 12 issues and the past 12 issues of Swimming World Magazine!
Free download of next 24 issues and the past 24 issues of Swimming World Biweekly!
Free download of next 4 issues and the past 4 issues of Swimming Technique Magazine!  
FEATURES
006 WOMEN'S NCAA DIVISION I CHAMPIONSHIP FINALS RECAP
by Jason Marsteller
The full recap from Atlanta as the ladies from Georgia dazzle the home crowd.
012 JACK BAUERLE, LILLY KING HONORED BY CSCAA
by Jason Marsteller
The College Swimming Coaches Association of America (CSCAA) announced award recipients from the 2016 NCAA Division I Women's Swimming and Diving Championships.
013 NCAA DI CHAMPIONSHIP PHOTO GALLERY
photos by Peter H. Bick, Annie Grevers & Reagan Lunn
018 NCAA DIVISION III CHAMPIONSHIP FINALS RECAP
by Jason Marsteller & Chandler Brandes
The full recap from Greensboro as the Dennison men and the Emroy ladies take home the trophies.
026 YULIYA EFIMOVA FAILS DOPING TEST FOR MELDONIUM; RUSSIE CONFIRMS TEMPORARY SUSPENSION
by Jason Marsteller
Russia's Yuliya Efimova has been caught up I nthe rampant amount of positive tests for meldonium that have recently taken place among Russian sports star since the drug moved to the prohibited list this year.
028 HISTORIC SURPRISES AT U.S. OLYMPIC TRIALS: JEFF FARRELL
by Annie Grevers
In 1960, sportswriters had dubbed Jeff Farrell "the fastest swimmer in the world." However, less than a week before the U.S. Olympic Trials, he underwent an emergency appendectomy.
032 GILES SMITH MOVES TO 4TH IN WORLD IN 100 FLY AT FEDERAL WAY SECTIONALS
by Jason Marsteller
Phoenix's Giles Smith crushed the Olympic Trials cut in the men's 100-meter-fly. His 52.10 shot him to fourth in the world behind only Laszlo Cseh (51.40), Michael Phelps (51.94) and Zhuhao Li (51.97).
034 NCSA JUNIOR NATIONALS FINALS RECAP
by Taylor Brien
The full recap from Orlando as the athletes at the 2016 NCSA Junior Nationals tore up the pool.
040 NCSA JUNIOR NATIONALS PHOTO GALLERY
photos by Taylor Brien
049 SWIM CAMP DIRECTORY