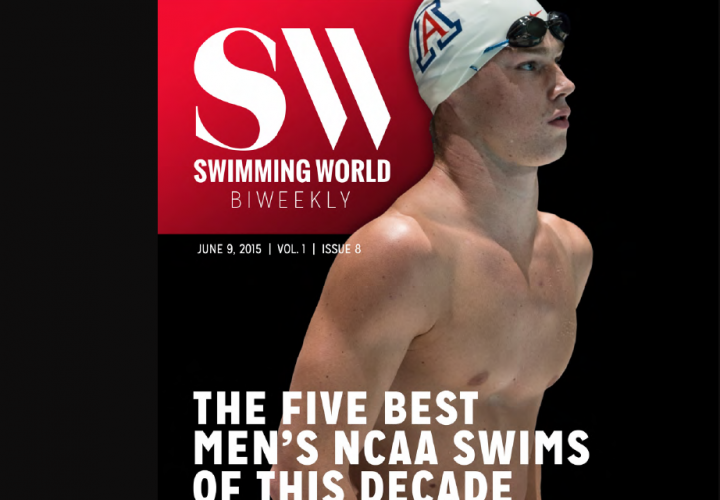 Swimming World Biweekly Magazine is now available for readers to download for FREE to enjoy all the great stories from featured on SwimmingWorld.com over the past two weeks. Plus Special Insert Featuring the Aquatic Directory

FEATURES
5 THINGS TO KEEP IN MIND WHILE BEING RECRUITED

By Nikki Cannon

The time leading up to when college coaches can officially contact you is a moment filled of joy and excitement, but one that can be plagued with anxiety and fear as well.

 

JESSICA LONG, PARALYMPIC GOLD MEDALIST, TRANSFERS FROM NBAC

By Jason Marsteller

Jessica Long, a 12-time Paralympic gold medalist, is nowtraining at Loyola University in Baltimore, Md instead of moving to Tempe, AZ with Coach Bob Bowman.

 

AUSTRALIAN DISTANCE SWIMMING ACE KATIE GOLDMAN RETIRES

Commonwealth Games, World and Pan Pacific Championship representative Katie Goldman has officially announced her retirement from the sport of swimming.

 

COURT FINDS NAOYA TOMITA GUILTY OF CAMERA THEFT

By Jeff Commings

Naoya Tomita has been found guilty of stealing a professional photographer's camera at last fall's Asian Games, but will avoid jail time by paying a fine.

 

GARY HURRING LOOKING TO REBOOT NEW ZEALAND SWIMMING

By Dave Crampton

Swimming New Zealand's new national talent identification and development coach, Gary Hurring, now has a dual focus.

 

SWIMMING AND CROSSFIT: AN ENDURING CONTROVERSY

By Seren Jones

CrossFit is known as one of the most controversial activities in the sporting industry, and the debate continues about whether it's right for swimmers.

 

MECKLENBURG COUNTY AQUATIC CENTER CLOSING FOR RENOVATION

By James Sica

The Mecklenburg County Aquatic Center will be closing its doors for effectively for an entire year. The pool will be closed while it undergoes an $8.6 million renovation.

 

THE 5 BEST MEN'S NCAA SWIMS OF THE 2010'S (SO FAR)

By Andy Ross

The decade is about half-over and it is time to do some reflecting. Seemingly untouchable records from the rubber suit days have fallen sooner than anyone thought.

 

RUTA MEILUTYTE UNCORKS WORLD BEST BREASTSTROKES IN CANET

By Jason Marsteller

Lithuania's Ruta Meilutyte cranked out a world best in the women's 50 & 100-meter breast in Canet.

 

JOSEPH SCHOOLING CRACKS 33 YEAR OLD SINGAPORE RECORD

By Jason Marsteller

Singapore's Joseph Schooling continued his run of success at the 2015 Southeast Asian Games by dropping an historic 33-yearold national record in the men's 50-meter free.

 

JACK BAUERLE SPEAKS OUT REGARDING SUSPENSION AND RETURN TO COACHING

By James Sica

University of Georgia Head Coach Jack Bauerle spoke out earlier this week regarding the NCAA investigation and following suspension that kept him off of the pool deck for much of 2014.

 

PURSLEY'S PEP TALKS

By Dennis Pursley

Pursley Pep Talks are a collection of coaching perspectives written by Alabama head swimming coach Dennis Pursley. This is the 27th installment of a series that will be rolled out throughout the coming months.

 

DUNCAN SHERRARD JOINS UNC COACHING STAFF

Duncan Sherrard, former head swimming coach at Florida Southern College, has joined head coach Rich DeSelm's staff as an assistant coach at the University of North Carolina.

 

BOWMAN'S ARIZONA STATE STAFF TAKES SHAPE

By Jeff Commings

Two more high profile hires in Tempe, AZ signal that Bob Bowman isn't messing around at ASU.

Swimming World announced back in 2014 that it was going to offer 12 monthly print issues of Swimming World Magazine and 24 online bi-weekly issues in 2015.

Every two weeks Swimming World will be bringing you all the top stories that flew by on the internet while you were making laps in the pool or driving to work. No need to plug in 24/7. Swimming World Magazine will bring you all the news you missed through its Swimming World Biweekly Magazine.

You can still get your copy of the June 2015 PRINT Issue of Swimming World Magazine now!