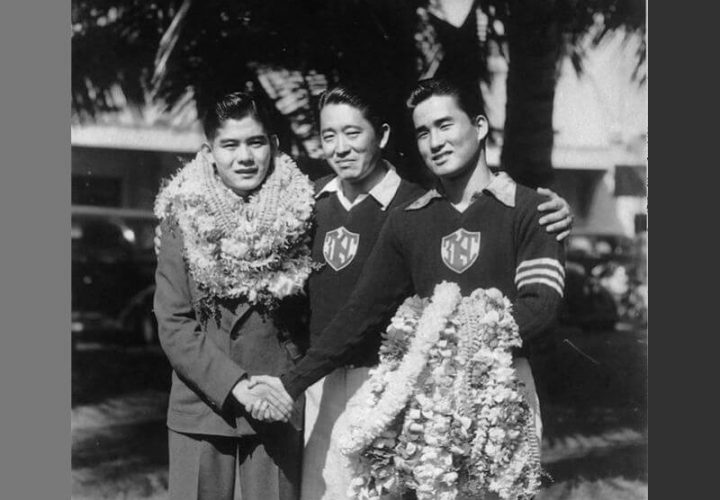 Pictured (L-R): Keo Nakama, Coach Soichi Sakamoto, Takashi "Halo" Hirose
Photo Courtesy: ISHOF
The International Swimming Hall of Fame (ISHOF) announced today that Takashi "Halo" Hirose will become one of seventeen (17) honorees to enter the International Swimming Hall of Fame as the Class of 2017. Hirose is the fifth individual to be named for ceremonies to be held August 25-27, in Fort Lauderdale. Previously, swimmer Wu Chuanyu (CHN), diver Zhang Xiuwei (CHN), long distance swimmer Walter Poenisch (USA) and photojournalist Heinz Kluetmeier have been announced. Hirose will enter the Hall of Fame in the Pioneer category. The Pioneer category was created to honor great achievements that have been overlooked by the fog of time or special circumstances that interfered with their careers, such as accidents, war or politics.
"It's about time," says Richard "Sonny" Tanabe, a member of the 1956 US Olympic team and past president of the Hawaiian Swimming Hall of Fame. "Halo made a tremendous contribution not only to Hawaiian swimming, but international Swimming as well."
"A fitting and deserving tribute," says Olympic gold medalist Steve Clark. "In his day, 'Halo" was one of the fastest swimmers in the world, and thanks to Julie Checkoway, author of the best selling book, 'The Three Year Swim Club: The Untold Story of Maui's Sugar Ditch Kids and Their Quest for Olympic Glory', and now this…. his amazing story is being remembered."
Like many poor, Japanese-Americans kids whose parents worked as laborers on Hawaiian island of Maui's Pu'unene's sugar plantation, he began by swimming in irrigation ditches for fun, before joining Soichi Sakamoto's famed "Three Year Swim Club" in 1937. It was Sakamoto's dream to have some of his swimmers represent the United States, in the home of their ancestors, at the Olympic Games in Tokyo, in 1940.
One year after joining the club, at the age 15, Hirose placed second in the 200-meter freestyle, just inches behind future Hall of Famer and 1936 Olympic Champion Adolph Kiefer, and fourth in the 100 free at the US National AAU meet. His performance earned him a spot on a US team that toured Europe and he was a member of the United States' 400-meter freestyle relay team that set a world record in Germany. Halo thus became the first AJA (American Japanese Asian) to represent the USA in international competition.
In 1939 he was selected for the US team that toured South America. He was a shoe-in for the 1940 Olympic team, but his and Sakamoto's dreams were dashed by cancellation of the Games. It was a small consolation that he, along with his Maui teammates Keo Nakama and Fujiko Katsutani were selected for the USA's Olympic Swimming Teams that never got to compete in 1940.
After winning the US National 100m title in 1941 came Pearl Harbor and once Japanese Americans were permitted, he volunteered to fight in Europe as a member of the 442nd "Nisei" Regimental Combat Team. On the battlefield he gained almost as many honors as he had in swimming events in Hawaii, the USA, South America, Germany, Austria and Hungary. A member of a machine gun platoon through some of the heaviest fighting in France and Italy, Hirose received five battle stars, the combat infantry badge and a Presidential Unit Citation. In November of 1944, he contracted "trench foot" during deployment in France and was paralyzed from the hips down. It was feared that he might lose his feet.
Although he recovered the use of his legs after six months in rehabilitation, he would feel the effects of "trench foot" for the remainder of his life. After the war, Hirose followed his Maui teammate, Keo Nakama to the Ohio State University where he became a three-time All-American for the Buckeyes. Although he was an NCAA champion in the 100 free and helped Ohio State win Big Ten, NCAA and AAU team titles, Hirose was denied his opportunity to swim in the Olympic Games in 1940 and 1944, and his war injuries no doubt affected his chances to make the US team in 1948.
The story of Halo and the The Three-Year Swim Club has been optioned for possible film development. Along with Keo Nakama, Bill Smith, Jose Balmores, James Tanaka, Charlie Oda, Fujiko Katsutani and others who trained under Sakamoto, and used swimming to "get away from the plantations," Halo Hirose brought national and international acclaim to Hawai'i swimming. Takeshi "Halo" Hirose passed away at the age of 79, on August 24, 2002. He is survived by his daughter, Sono Hirose Hulbert, who will receive his award in August.
About ISHOF
The International Hall of Fame, established in 1965, is a not-for- profit educational organization located in Fort Lauderdale, Florida. Its mission is to promote the benefits and importance of swimming as a key to fitness, good health, quality of life, and the water safety of all adults and children.  It accomplishes this through operation of the International Swimming Hall of Fame, a dynamic shrine dedicated to preserving the history of swimming, the memory and recognition of the famous swimmers, divers, water polo players, synchronized swimmers and people involved in life saving activities and education whose lives and accomplishments inspire, educate, and provide role models for people around the world. For more information contact Bruce Wigo at 954-462- 6536 ext. 201, or by email bwigo@ishof.org
Press release courtesy of ISHOF.