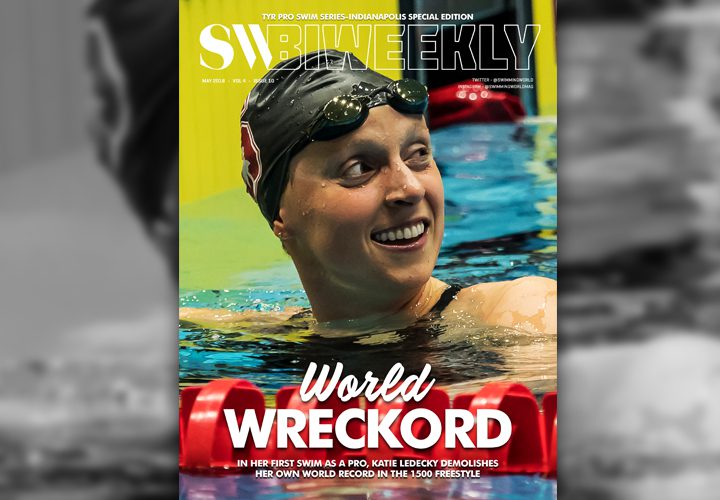 The latest issue of Swimming World Biweekly is now available for download in the Swimming World Vault!  Non-Subscribers can click here to download For FREE – (Limited Time Offer)
Read about two-time Olympian Katie Ledecky and her most recent world record, which she posted in her debut weekend as a professional swimmer. This issue also includes full recaps and an exclusive photo gallery for the 2018 TYR Pro Swim Series stop in Indianapolis, plus full recaps from the 2018 Atlanta Swim Classic.
Additional features include Missy Franklin's return to swimming, an afternoon with Jack Bauerle, and the return of Katie Ledecky's record-breaking swagger.
All of this is available for FREE for a limited time if you download NOW!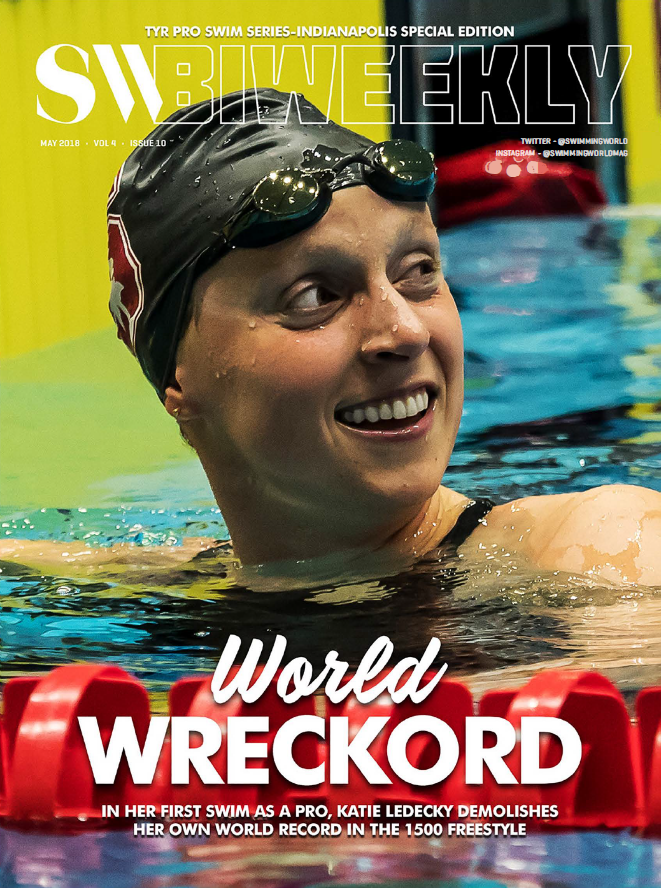 PHOTO COURTESY: PETER H. BICK
New! 1-Year Digital Only Subscription for just $29.95 Order Now!
FEATURES INSIDE THIS ISSUE OF SWIMMING WORLD BIWEEKLY
010 2018 TYR PRO SWIM SERIES- INDIANAPOLIS PHOTO GALLERY
by Peter H. Bick
022 KATIE LEDECKY'S WORLD RECORD KICK-STARTS TYR PRO SWIM SERIES AT INDIANAPOLIS
by Andy Ross & David Rieder
In her first race as a professional swimmer, Katie Ledecky clocked 15:20.48 to break the 1500 meter freestyle world record that she had set at the 2015 World Championships in 044 Kazan. It came in the very first event at the TYR Pro Swim Series-Indianapolis, May 16-19, which was filled with plenty of impressive performances from swimming's elite.
030 KATIE LEDECKY HAS HER RECORD-BREAKING SWAGGER BACK
by David Rieder
Before the TYR Pro Swim Series-Indianapolis in May, Katie Ledecky had been, by her standards, in a record-breaking drought. But at a mid-May non-championship meet, Ledecky set a world record in the 1500 and turned in several dominating performances that were faster than her World-title winning times from 2017. She was in vintage form, and she 046 had everyone talking about records again.
032 RYAN LOCHTE, CAELEB DRESSEL AND MORE DAZZLE AT ATLANTA SWIM CLASSIC
by Taylor Brien
2018 Atlanta Swim Classic Full Finals Recap: all the action from McAuley Aquatic Center in Atlanta, Ga.
038 U.S. PARALYMPICS ANNOUNCES 20-MEMBER TEAM FOR 2018 PAN PACIFIC PARA SWIMMING CHAMPIONSHIPS
U.S. Paralympics selected 20 athletes–15 women and five men, including 14 Paralympians–who will represent the United States at the 2018 Pan Pacific Para Swimming Championships to be held in Carins, Australia, Aug 9-13.
040 FOUR DARK-HORSE THREATS FOR 2018 U.S. NATIONALS
by Eamonn Keenan
Four breakout performers from this year's NCAA DI Championships could be in the mix for making their rst major international team when they compete at this summer's Phillips 66 U.S. National Championships—Ian Finnerty, Erika Brown, Austin Katz and Beata Nelson.
044 AN AFTERNOON WITH JACK BAUERLE AND THE GEORGIA BULLDOGS
by David Rieder
Swimming World spent an afternoon at a Georgia swimming workout with head coach Jack Bauerle, 66—the longest-serving Georgia coach in any sport, active or retired. Bauerle, who will begin his 40th NCAA season in Athens, Ga., was named the women's swim coach in 1979, and he added responsibilities as the men's coach in 1983.
046 MISSY FRANKLIN IS COMING BACK— THEN WHAT?
by David Rieder
Since January, when Missy Franklin revealed that she had moved to Athens, Ga., to train and to nish her undergraduate degree at the University of Georgia, she has kept mostly quiet. Whatever the future holds, her return will be swimming's gain. With an autograph for a fan or a quick conversation with someone on deck, Franklin has a knack for li ing others up.
048 2018 ISHOF INDUCTION AND PARAGON AWARDS CEREMONY PHOTO GALLERY
by Jarret Streiner