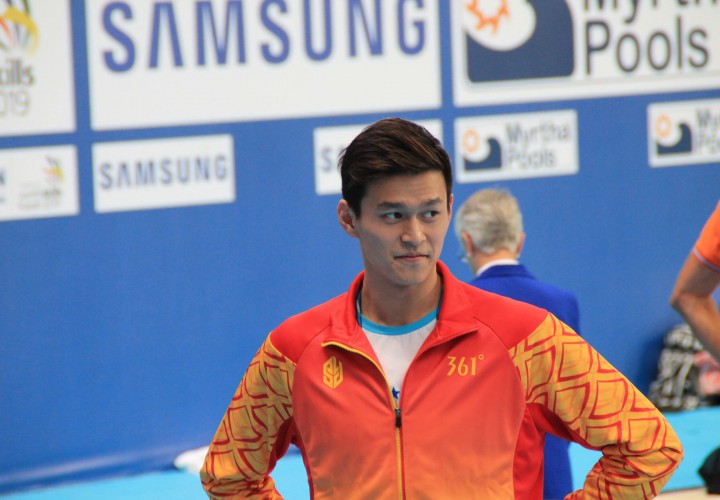 Photo Courtesy: Maria Dobysheva
Sun Yang's return to competition after withdrawing from the 1500 free at the world championships last month was just one of the highlights of the first day of competition at the Chinese nationals in Huangshan. Wang Lizhuo became the first man under 18 years old to break 1:00 in the 100 breast to set a national mark and a world junior record.
Sun posted a 15:12.89 in the mile with virtually no competition. The world record holder's best time in 2015 was 14:55.11 from the 1500 free prelims at worlds. He was in line to defend his world title in Kazan, but pulled out at the last minute, citing an issue with his heart that he experienced during warmup.
"My coach did not suggest me to take part in this national meet according to my physical condition," Sun said after the race. "But I just hope to show up (for) the fans who came from (across) the country. No matter how slow I swam, I just want to swim in the lane and say 'thank you' to my supporters."
Wang, just 17 years old, did not qualify for China's team at the world championships, but made up for it with a 59.79 in the 100 breast in Huangshan. That beats the world junior record of 1:00.12 by Anton Chupkov of Russia at the recent junior world championships, and the national record of 1:00.15 swum by Li Xiang earlier this year at the spring nationals. With the swim, Wang moves up from 29th in the world rankings to a tie for 15th by Serbian Caba Siladi.
Zeng Menhui could only muster a 54.41 at the world championships in the women's 100 free, but won the national title with a 53.92. She came within one hundredth of a second of supplanting Shen Duo as the fastest Chinese woman in the event this year, and sits in a tie for 17th in the world with Canada's Taylor Ruck.
Another promising swim came from Yang Zhixian in the men's 200 IM with a winning time of 2:00.67. That's a little off the 1:59.50 he swam last April at nationals, which put him 30th in the world. Wang Shun still stands as the top Chinese man in the event with a 1:56.81, which won him the bronze medal at the world championships.