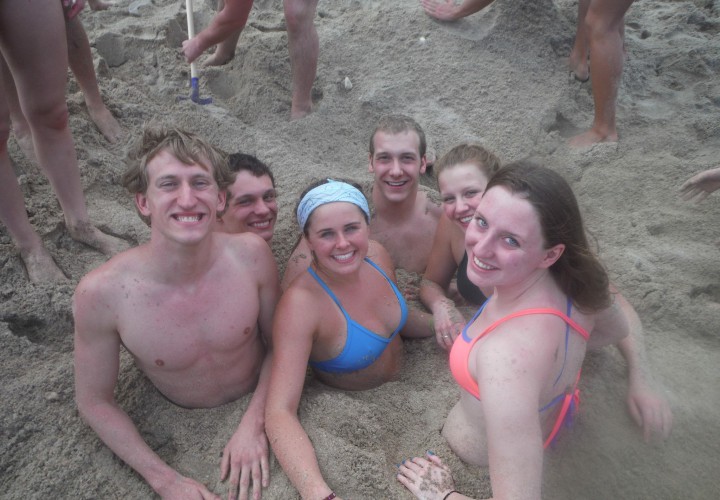 By Wilson Josephson, Allie Clark, Swimming World College Interns
Snow is falling, students are leaving their dorms for the holidays, and all of Minnesota is steeling itself for a time (just around the corner!) when it will be too cold to bother going outside. In other words: 'tis the season for training trips. St. Olaf Swimming, like many other teams in the Minnesota Intercollegiate Athletic Conference, will soon travel down south to escape the cold.
The Oles will arrive in Florida in just a few days. While there, they'll observe many training trip traditions, from those that will seem broadly familiar – like eating too much seafood or crashing into each other during an outdoor backstroke set – to some that are more distinct. St. Olaf's training trip includes New Years Day relays, which include fun, non-traditional swim races and some relays involving food. The Oles also devote one night of their training trip to class dinners, allowing the classes within the team time to reconnect and enjoy time together away from the pool.
Traditions such as these are all critical to the team's sense of camaraderie. But fun as these traditions are, the Oles also observe a more somber tradition. Each year, the upperclassmen are sure to involve their freshmen in an ancient St. Olaf tradition.
Aware of the weighty legacy of their proud college, the Oles never fail to treat one ritual with almost-undue solemnity. St Olaf's swimmers observe the very serious annual tradition of burying their freshmen in the beach.
Several large holes are dug on the beach and the freshmen are, with appropriate pomp and circumstance, buried in them. It's important to note that each buried freshmen participates entirely of their own accord, and that everyone's heads are kept fully out of the sand. Each burial is light-hearted, and after the freshmen have had their fun, usually others will join in.
Soon enough, most of the Olaf swim team can be found buried on the beach.
Winter training trips always represent key bonding time for teammates. St Olaf is no different; rituals like the freshmen burials help the team bond in ways they never could on campus. During these trips, teams confront their greatest challenges in the pool and build their best memories out of it. Teams return to campus stronger than ever, both physically and emotionally, making them ready to compete at their highest level during the most crucial part of the season.
Wilson Josephson and Allie Clark are teammates at Carleton College.  Josephson is a junior butterfly specialist, while Clark is a sophomore who fills in multiple roles on the team.