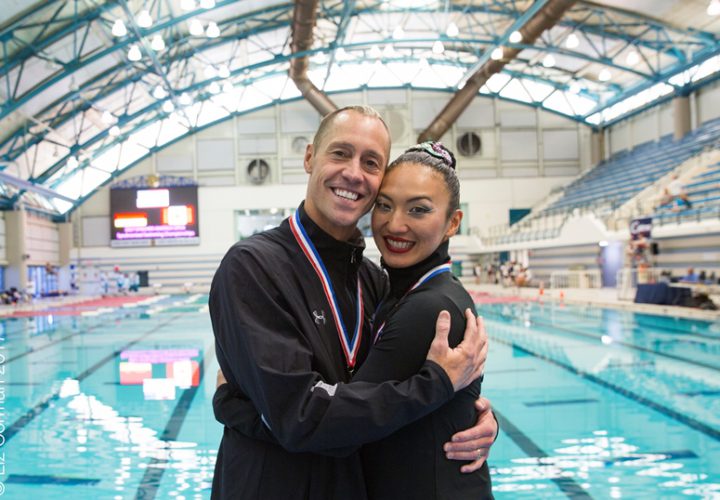 Bill May and Kanako Kitao Spendlove pose after winning gold at the 2017 Synchro America Open. Photo Courtesy: Liz Corman
By Dax Lowery, Swimming World Contributor.
Let's say you're an athlete who claims to LOVE your sport. You work hard, you put in the time and you have the talent to earn the hardware.
But do you have the talent to compete at the Olympics?
Have you worked hard enough to win a medal at a World Championships – 13 years after earning Olympic silver?
Did you make the sport your full-time job?
Do you use your very limited free time to produce material for you and your fellow competitors?
Meet Kanako Kitao Spendlove.
Since her introduction to synchronized swimming at the age of 4, the Kyoto, Japan, native has been one with the sport. She joined a synchro club at 9, made her first junior national team five quick years later and earned a silver medal in the team event at the Athens Olympic Games in 2004.
She competed at her second World Championships a year later (two more silver medals to go with gold and silver won in 2003) and thought, What's next?
"I had completed my dream to go to the Olympic Games.  The Olympic silver medal gave us feeling of 'mission completed,'" she said. "I love synchro so much, and I wanted learn and look for more possibilities to continue with synchro outside of competing."
So she decided to go to the U.S. to learn more about the artistic side of synchro and to eventually join Cirque du Soleil's "O" water show.
"Working in Las Vegas is the perfect place to follow my dreams," she said. "There are many chances to learn different skills and many opportunities to show new skills in a performance."
Plus, she was reunited with swimmers she used to compete against and idolized growing up, top synchro athletes hailing from at least 10 different countries. "Now we swim together every night on a beautiful stage!" she said.
It was at the "O" show that she met Bill May again. They were first introduced at the 1996 America Cup when both were part of their respective countries' junior national teams for the first time.
May, a trailblazer for men in synchro, was looking for a partner to compete with in mixed duet at the 2017 FINA World Championships in Budapest, Hungary. He had come out of retirement two years earlier to make his debut at the 2015 championships, where he won gold and silver medals with Olympians Christina Jones and Kristina Lum Underwood.
"My coach, Chris Carver, and I were looking for someone who would match me as well as be artistic and truly represent the ideas of a mixed duet, showcasing a feminine and masculine side of synchronized swimming, as well as being very athletic," May said. "Kanako had everything, including an unsurpassed passion and dedication to hard work."
May and Spendlove, who earned her U.S. citizenship in 2015, started training together and won gold in their first competition as a mixed duet at the 2016 UANA Pan American Championship.
This summer, Spendlove, 35, returned to the FINA World Championships for the first time since 2005, when she represented her home country. She and May, 38, won two bronze medals for the U.S.
"We were very happy to have the opportunity to compete at Worlds and look forward to continue to compete at other competitions," May said. "We still have so much to learn from each other in that we have the advantage of taking two countries, Japan and the U.S., and learn from the training we've had in both styles."
Added Spendlove: "We perform as we believe what mixed duet should be. We focused on performing as if it was a show, and we are happy with our performance."
May knows what it takes to be a champion, and he marvels in what a typical day looks like for his swimming partner: training four to five hours at the start of the day; multiple trips to daycare for her son, Zachary; performing at Cirque du Soleil five nights a week; and additional training for mixed duet.
"Many people don't know how difficult it is for Kanako to train," May said. "The schedule really shows the Superwoman that she is, and how much she believes in the future of the mixed duet event."
So that limited free time Kanako enjoys? That's when she indulges in one of her favorite hobbies: sewing.
"I design and sew costumes for synchro, figure skating, gymnastics, circus acts and more," she said. "I have made synchro costumes for American, Canadian, Japanese and Swiss swimmers. I made a costume that Bill swam in for his solo event at the 2015 World Trophy, and my husband and I made his raven wings."
More than three decades after first being introduced to synchronized swimming, Spendlove is still going strong in the sport she loves.
"My family, friends, work, passion, energy –everything around me I have because of synchro. I appreciate synchro very much and the people who support me," she said.
"Synchro is my life."