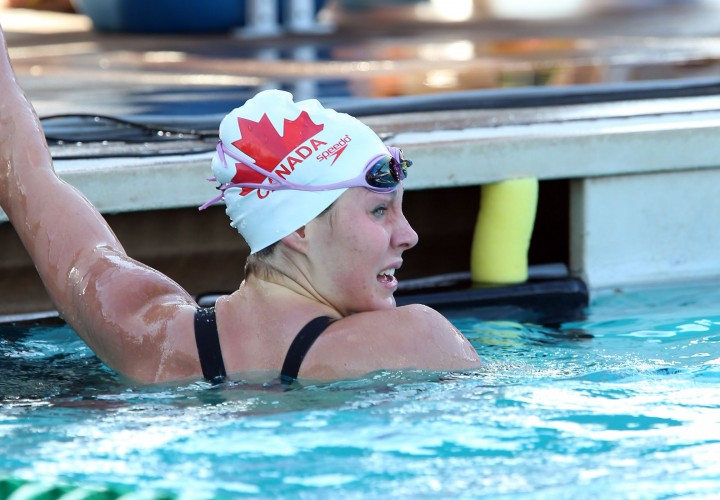 Photo Courtesy: Swimming Canada/Scott Grant
By Kelly Lennon, Swimming World College Intern
Though I label myself as a distance swimmer, over the years I've dabbled in the 200 free. Freshman year of college, I swam the 200 free at only one dual meet and three tapered meets. The freshman record for the 200 free was a 1:51.57 and something that I always kept in the back of my mind, but never saw myself legitimately achieving. I was nearly three seconds off and couldn't imagine dropping that much time in only a year. When championships rolled around, I swam the 200 free as my third event and shaved some time off, but was still an entire second off the mark.
The opportunity to swim the 200 came again shortly after America East at the ECAC Championship. On the second day of the meet, I swam the 200 three times. The first came during at trials, where I posted a 1:53. Not even close. I pulled myself together for finals, told myself I was going to go a best time, and came out with a 1:51.7. SO close but also SO far.
At this point, I still hadn't really considered the record as plausible, but now it was in my sights and I wanted it more than anything. My coach looked at me and told me I was going to lead off the 800 free relay, giving me one more chance at this record before my freshman year of swimming came to an end. I was freaking out, of course, but I knew that I could do it. I had the frustration of missing it and the motivation to prove to myself that I could do it behind me propelling me through the water.
My whole team knew what was at stake and they stood right at the end of my lane, screaming the whole time. I gave that race everything I had. I kicked (a rarity for me) until my muscles screamed for mercy, I pulled as much water as my arms would allow and I put my whole heart into it, all to hit the wall and look up to a 1:51.58. A single hundredth of a second separated me from the record. And in that moment, all I could do was laugh.
Was I upset? Sure, who wouldn't be? Later on when I talked to many of my friends from home who reminded me oh so gently, ".01?! That must SUCK," I would look back and agree. However, the only thing that missing this record did was motivate me to set my goals even higher the next time around. While I'll never be able to get the freshman record again, I can reach for the varsity records.
We've all experienced a .01 moment, and while these moments mentally can set us back and make us doubt our ability, the best way to come back from them is to let them motivate us.
Take a step back, look at your race. What could you have done differently? What could you have done better? What did you do well? After reflecting on your race, it's crucial to tell yourself that not achieving your goals doesn't mean you're a failure, it simply means there's room for improvement. Even when you do achieve your goals, there's room for improvement.
Don't punish yourself for what you did not do, rather remind yourself of what you CAN do. As cliché as it is, never give up. You are capable of achieving great things, and can if you let yourself believe that.  As a great coach once told me, we don't do these things because they are easy, we do them because they are hard.