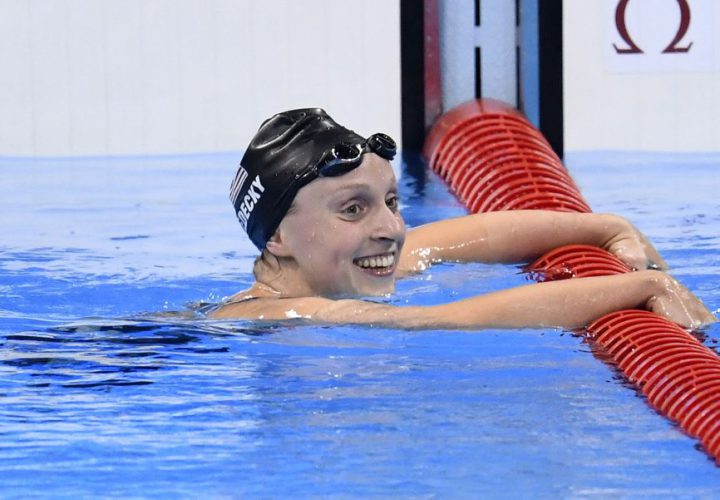 Photo Courtesy: Robert Hanashiro-USA TODAY Sports
Editorial Coverage provided by

By David Rieder.
No, Katie Ledecky was not at her all-time best on the first night of the FINA World Championships. In the 400 free final—which, of course, Ledecky won by more than three seconds—she swam her second-best time ever, a little less than two seconds off her own world record from the 2016 Olympics.
Unlike her predecessor as the world's best-known active swimmer, Michael Phelps, Ledecky is not the perfectionist that scowls after any swim that isn't her best. She insisted that there was nothing disappointing about her 400 free, particularly after she was part of an American one-two finish with teammate Leah Smith.
Minutes after she received her medal for the 400 free, Ledecky swam the third leg of the U.S. women's 400 free relay. She pulled the American team ahead of Sweden and into the lead—which Simone Manuel would not relinquish—but for this swim, Ledecky said, "I would have liked to be faster."
Understandable, since her 53.83 split was more than a second slower than she split when anchoring the Americans to an Olympic silver medal the year before. Still, that medal marked her 11th career World title, matching Missy Franklin for most all-time among Americans.
She only swam once on day two, cruising into the 1500 free finals with a top-seeded time of 15:47.54, 21 seconds off her own world record but still 18 seconds ahead of anyone else in the field.
"I feel like I'm clicking," Ledecky said afterwards.
It would not be unusual for Ledecky to hit her stride after the first day of a meet. Two years ago at the Worlds in Kazan, she was a bit off her best time in the 400 free the first day but promptly went off the next morning in the heats of the 1500 free.
"I was going to chill in the morning, and then I accidentally broke the world record," Ledecky recalled nonchalantly. "Today I just tried to overexaggerate the chilling part, and it went well."
When she returns to the pool for the 1500 final Tuesday night, she surely won't be beat. The mile will also mark her best shot all week to lower one of her three already-impressive world records. She did not have the opportunity to lower her mile record during that banner Olympic performance last year in Rio.
In Budapest, Ledecky could certainly still get down to that record time, 15:25.48, but even if she doesn't, no one will stay close to her. No other swimmer has been under 16:00 all year, and the No. 2-ranked athlete, Smith, scratched the event.
But as for the 200 free, that could be dicey, and not only because Ledecky will have to swim the semi-finals shortly after her 1500 final. If she cannot ratchet up her speed in the shorter distances from what she has shown so far, she could be vulnerable.
The woman chasing her this time won't be Sarah Sjostrom, who finished just three tenths behind in a classic clash at the Olympics. Sjostrom opted out of the 200 free this year to focus on the 50 and 100-meter distances of free and fly. The only possible threat to Ledecky is the woman who won bronze in Rio: Australia's Emma McKeon.
Yes, McKeon upsetting Ledecky would be stunning, but look at her results so far from Budapest: a 56.23 in the semis of the 100 fly, good for the No. 2 seed going into finals (behind Sjostrom). She moved up from 14th all-time in the event to fifth.
And then, as part of Australia's 400 free relay, McKeon anchored in a career-best split of 52.29. So far, she's having the best meet of her career, and she only finished about one second behind Ledecky in the 200 free final in Rio (1:53.73 to 1:54.92).
It would take a monumental effort, the race of her life, for McKeon to beat Ledecky, but the possibility can't be discounted. Even at her best, the 200 free has been the event where Ledecky is most vulnerable, and she will again need to be right around her best effort to hang on to that gold medal.
But even if the unthinkable does happen and Ledecky does come up short in the 200 free, that's the worst-case scenario for her week. It would take a disaster for her to not end up with at least six medals and five golds, including the 800 free and as a part of the U.S. women's 800 free relay.
She might not end up as the star of the week—Sjostrom has the inside track right now with her world record-smashing effort in the women's 100 free, and she's all but certain to win her first gold of the meet in the 100 fly final, with the rest of the sprints still to come. But it's far too early to call Sjostrom over Ledecky—wait to see who winds up with more individual golds or more world records.
But one thing that cannot be disputed is the simple greatness of Katie Ledecky. Consider: it's come to the point where fans and analysts take for granted that she will win a race like the 400 free by a massive margin, so much so that a three-second win seems decidedly meh.
So even if she ends up not breaking records and dominating quite as much as usual, Ledecky certainly remains the world's best swimmer, and her place in history is already well secure.