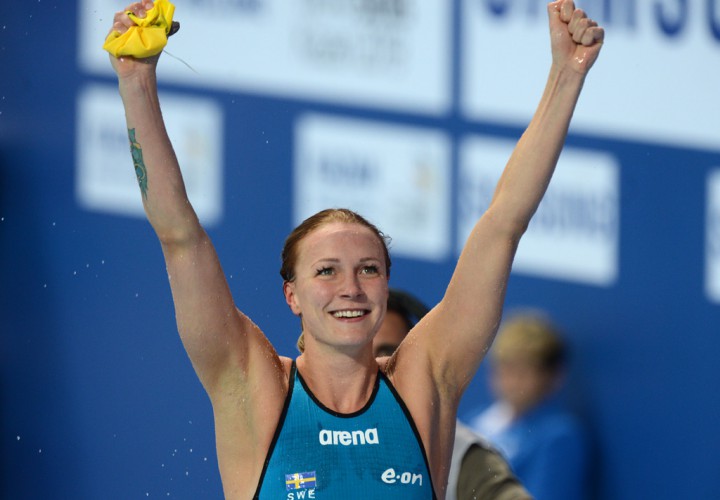 Photo Courtesy: R-Sport / MIA Rossiya Segodnya
The 20th annual Luxembourg Euro Meet got underway this weekend with some of Europe's speediest swimmers in attendance.
This meet serves as a solid benchmark for the Europeans after winter training and before the Commonwealth Games or their respective national championship in the spring season.
The action in Luxembourg kicked off last night with the finals of the 400m IM, 1500m freestyle for the men and the 800m freestyle for the women where Great Britain's Hannah Miley and Germany's Sarah Koehlr touched first in the 400m IM and 800m freestyle, respectively for the women. For the men, Jacob Heidtmann and Lazlo Cseh battled it out in the 400m IM with Heidtmann ultimately touching first in 4:19.18. In the men's 1500m freestyle Florian Wellbrock took the win with a 15:18.82.
Other notable wins came from Sweden's Sarah Sjostrom who earned two golds in Luxembourg. Sjostrom's 25.07 50m butterfly was good enough for a gold there while she posted a swift 24.24 in the 50m freestyle to earn first there.
Another sprint star in action was Great Britain's  Ben Proud who won the 50m freestyle in a meet record time of 21.89 after setting the meet record in the 50m butterfly with a time of 23.03.  Fellow countryman James Guy won the 200m freestyle in a solid 1:47.97.
Great Britain continue to roll throughout the finals session with world record holder Adam Peaty's 26.94 meet record in the 50m breaststroke. Peaty's time was well off his world record of 25.95, though he was still about a second and a half ahead of anyone else in the field.
Germany's Marco Koch's turned in a sub 2:10 200m breaststroke for the win in the event. Koch's time was 2:09.49.
Short course meters world record holder Kliment Kolesnikov out of Russia nabbed the men's 100m backstroke in a solid time of 54.31.
The action in Luxembourg continues tomorrow at 10 A.M. EST.