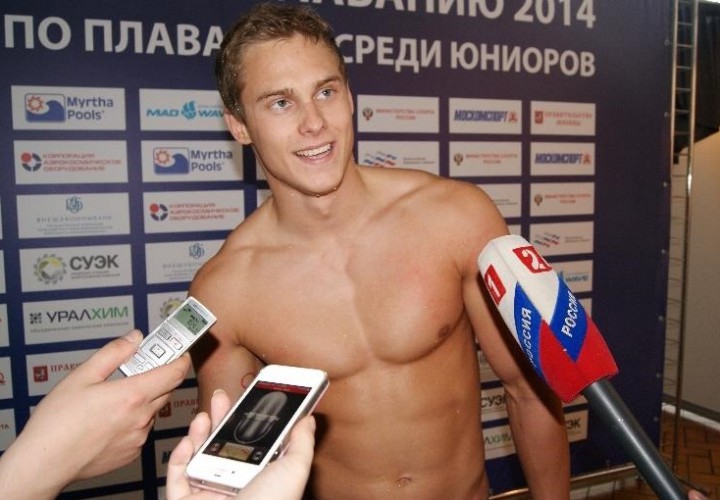 MOSCOW, Russia, May 16. IT was a banner night for the Sizzling Siberian Vlad Morozov as he tracked down his third title of Russian Nationals with a 50-meter back Russian record.
Morozov crushed his Russian record in the men's 50-meter back with a sterling time of 24.52. That swim smoked his previous mark of 24.80 from last year in Kazan, and shot him up the charts to second in the SwimVortex world rankings behind only Camille Lacourt (24.37). Sergei Fesikov took second in 24.88 to move to 10th in the world with Nikita Ulyanov finishing third in 24.89 for 11th in the rankings.
After an amazing year last year, Morozov has been somewhat quiet this year, but no longer as he's putting up sensational times across all the sprints here in Moscow this week. He's already won the 100 free and 50 breast, and just tracked down his third sprint crown of the week.
Veronika Popova clearly is hitting on all cylinders this week in Moscow. After setting the Russian record during semis yesterday of the women's 200-meter free with a 1:56.39, she joined the 1:55 club during the finale tonight with a blistering effort of 1:55.93. That performance cut half-a-second off her record, and moved her to fourth in the world behind only Sarah Sjostrom (1:55.04), Emma McKeon (1:55.68) and Federica Pellegrini (1:55.69). The European Championships are going to be particularly nasty this year in the 200 free with now three of the top four hailing from the region.
Victoria Andreyeva put up a 1:58.55 for second in the 200 free as Popova proved to be swimming nearly by herself. Arina Openysheva also cleared 2:00 with a third-place effort of 1:59.73.
Rosalia Nasretdinova, the young Russian record holder with a 25.00 from Monte Carlo last summer, downed her women's 50-meter freestyle record with a sterling 24.95 tonight. The swim also likely stands as a World Junior Record, but those designations are still well out of sync with the actual fastest times by juniors all-time. Overall, Nasretdinova moved to 15th in the world rankings with her spritn. Elizabeth Bazarova placed second in 25.14 with Ekaterina Kudinovo taking third in 25.78.
Andrei Shabasov blitzed the field in the men's 200-meter back to win the first title of the night as he popped a 1:56.97. That puts him ninth in the SwimVortex world rankings, notably still behind the top Russian in the world as Arkady Vyatchanin holds eighth in the rankings with a 1:56.95 from the Orlando stop of the Arena Grand Prix. Vyatchanin and Russia had a huge falling-out a year ago with Vyatchanin now trying to defect to the United States. Evgeny Rylov placed second in 1:58.85, while Grigori Tarasevich finished third in 1:59.59.
Svetlana Chimrova missed her Russian record by the slimmest of margins with a 58.23 to win the women's 100-meter fly. That effort pushed her to 11th in the world rankings, but just missed her record 58.22 from a year ago in Moscow. Anna Polyakova finished second in 59.68, while Anastasia Lyazeva snared third in 59.71.
Yevgeny Kulikov captured the men's 800-meter freestyle timed finals title with an 8:01.95, while Alexander Fedorov placed second in 8:02.14. Ernest Maksumov wound up third in 8:09.55.
St. Petersburg's Andrei Shabasov, Veronika Popova, Andrei Nikolayev and Daria Ustinova threw down a 3:48.74 in the mixed 400 medley relay to beat the Russian record of 3:48.89 set by the Russian Junior Team in Dubai last summer.
Daria Ustinova, just 15 years old and looking to assume the crown as the top backstroker in Russia after a pair of strong swims in the 50 and 200 already, posted a 1:00.35 to lead semis in the women's 100-meter back tonight. She went a bit faster already with a 12th-ranked 1:00.21 as a relay leadoff earlier this week. Anastasia Klyarovskaya finished second tonight in 1:01.88 with Christina Vershinin touching third in semis with a 1:02.05.
Vyacheslav Prudnikov posted a swift 52.17 to top the men's 100-meter fly semis, moving to ninth in the world rankings in the process. Evgeny Koptelov posted a second-seeded time of 52.33 to tie for 13th in the world, while Nikita Konovalov finished third in 52.59.
In the third semifinal of a loaded evening of finals qualifying, Ranohon Haman of Uzbekistan clocked a 2:15.98 to lead the women's 200-meter IM. Victoria Andreyeva placed second in 2:16.22 with Yana Martynova taking third in 2:16.37. Alexander Krasnych followed with a 1:47.70 in the men's 200-meter free semis, while Artem Lobozov qualified second in 1:47.92. Nikita Lobintsev finished third overall in 1:48.04.
Danila Izotov, a potential favorite in the finale after qualifying sixth in prelims with a 1:50.48, wound up scratching the night after experiencing shoulder pain following prelims this morning.
In what has become the overpowering storyline in Moscow so far each and every time the women's breaststrokers take to the pool, the Russians are definitely searching far and wide for someone to replace the now benched Yuliya Efimova. Efimova drew a 16-month retroactive ban that has her on the sidelines until March 2015 following a positive doping test. Tonight, Vitalina Simonova touched out Anna Belusova, 1:08.90 to 1:08.98, in the women's 100-meter breast, which is far off the times Efimova typically would be putting up in the 1:05-1:07 range.
Andrei Nikolayev put up a 1:01.16 to lead the way in the men's 100-meter breaststroke semis, while Anton Lobanov finished second in 1:01.34. Grigory Falko snared third with a 1:01.39.