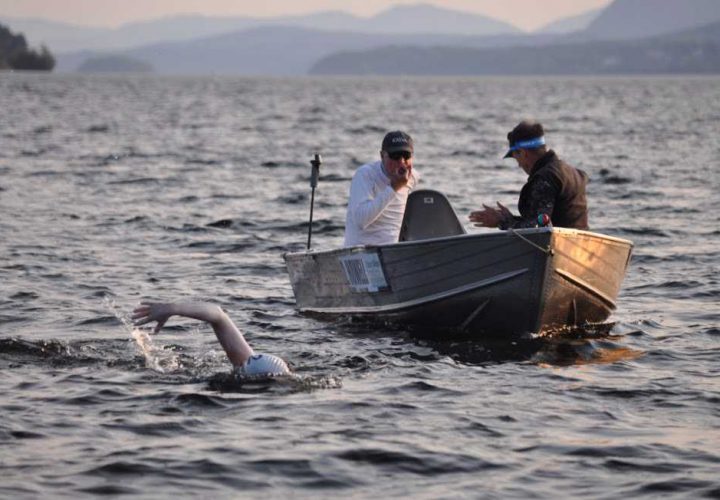 Photo Courtesy: Kingdom Games
Seven brave, ultra marathon swimmers took on cold water, cold air, a windstorm in the night, and more as part of the Seventh Annual In Search of Memphre, a 25 mile, international swim, between Newport, Vermont and Magog, Quebec. They departed in two waves from the EastSide Marina and Prouty Beach, in Newport, at 12:16 am and 1:29 am on September 11, 2017. They were supported by 24 crew, kayakers, boat pilots, and beach crew,
Cindy Werhane, 48, of Portland, OR cleared the water in Magog with a time of 13 hours and 17 minutes. She was supported by Sandy Sadowitz on Kayak and Chris Brooks and Sydne Didier in the boat. 13-year;old, Vera Rivard, jumped in and buddy swam with Cindy after they reached Georgeville,
John Batchelder, 36, of Littleton, CO, became the first to cross Lake Memphremagog swimming butterfly the entire distance, which he did in 17 hours and 9 minutes. He was supported by Mark Whitt of Lewiston, NY and Lynn Acton of Denver, CO.
Kate Howell, 34, of San Francisco, finished with a time of 17 hours and 47 minutes. She was supported by Michel Gagne and Gerry Fassett both of Levis, QC
Four others completed various distances before they exited. Shannon Keegan, 42, of Talent, OR, made it past Ile Ronde, about 8.5 miles. She was supported by her husband, Noah Keegan and Elaine Kornbau Howley, of Waltham, MA
Emily Evans, 40, of Flagstaff, AZ made it through 9 miles and the worst of the night before she exited at Skinner Island. She was supported by Don Houghton of Craftsbury, VT and Gary Golden of Burlington, VT
Cindy Walsh, 54, of San Diego, CA, swam 15 miles to Georgeville before she got out. She was supported by Kellie Latimer, of Franklin, MA and Rick Born of Jamaica Plain, MA
Annette Wooddell, 52, of Brandywine, MD made it 21 miles before breathing issues forced her out, within eyesight of Magog. She was supported by her husband, Jeff Wooddell and Bill Shipp of Mitchelville, MD.
Piloting and Crewing the three patrol boats were Donald Sorterup of Bristol, RI, Jerry Zeankowski of Montpelier, VT, Sandra Frimerman Bergquist and David Bergquist of Excelsior, MN, Caroline Boucher of Levis, QC and Phil White, of Derby, VT. On the beach in support at both ends of the lake were Kristian Pearson of Derby, VT, Peter and Geneve Channel of Stanstead, QC and Jean Luc, of Magog, QC
Shuttle Services back to the start were provided by Jay Peak. Pastries for mid-swim enjoyment by crew were provided by the Magasin General Georgeville. Aluminum escort boats with caged propellers were provided by the Memphremagog Triathlon Club. Mechanical services were provided by Magog Marine, Newport Marine Services and Rick's Auto Repairs.
This is the seventh year of In Search of Memphre. The mission of the swim is to search of our swimmer friendly lake creature, Memphre and to promote a more open border with our Canadian friends. The seven swimmers dedicated this year's Search to the almost 1 million Dreamers who are facing the fear of forced transportation to a country they have never known.
The swim is organized by Kingdom Games, which now organizes 30 days of running, biking, swimming and skating events in the Northeast Kingdom of Vermont and the Eastern Townships of Quebec and hosted by The EastSide Restaurant in Newport, Vermont.
The above press release courtesy of Kingdom Games