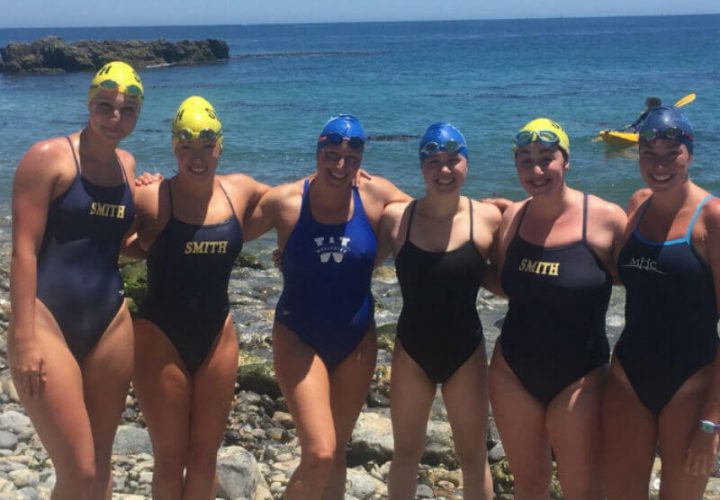 Photo Courtesy: Kim Bergman
A relay team of six members recently completed the first all-female relay double crossing of the Catalina Channel.
The group dove in late in the evening of Friday, June 16th, 2017 off the Palos Verdes Peninsula as they began their 40.38 mile journey into history.
Each member swam for one hour before exchanging with the next swimmer. Abby Bergman (Smith '18) led the charge for the group as the first swimmer in the water. Teammates Rebecca Nevitt (Wellesley '88), Eliza Cummings (Smith '17), Cathleen Pruden (Mt. Holyoke '16), Gabriela Kovacikova (Wellesley '14), and Charlotte Samuels (Smith '20) followed suit in one hour exchanges.
Cummings was the athlete to touch land on Catalina Island, marking the halfway point of their swim at 8:16:16. The group then made their way back towards the mainland, finishing the swim in 18 hours and four minutes.
In addition to being an all-female relay group, the six women were supported by an all-female kayak crew comprised of Jax Cole, Alicia Bartley, Heather Barber, and Melissa King.
The relay team was comprised of students and alumni of the iconic Seven Sisters College Association. The Seven Sister, a loose association of seven liberal arts colleges in the Northeastern United States, are Barnard College, Bryn Mawr College, Mount Holyoke College, Radcliffe College, Smith College, Vassar College, and Wellesley College.
Prior to the swim, the team announced that their mission was to "embrace and celebrate women coming together to demonstrate their passion, commitment, and drive to accomplish extraordinary things."
Full mission statement:
As Seven Sister College students and graduates, we all believe in the power of women supporting women to achieve greatness. The six of us on this relay represent women of different ages, interests and geographical location, bound by a fierce love for challenge and passion for excellence that we developed at our respective colleges. We are embarking on this relay to be an example of empowerment; the empowerment found when women take on an incredible challenge as a team and work together, and empowerment via paying it forward and being a role model for those who want to dream big and fulfill their own goals.