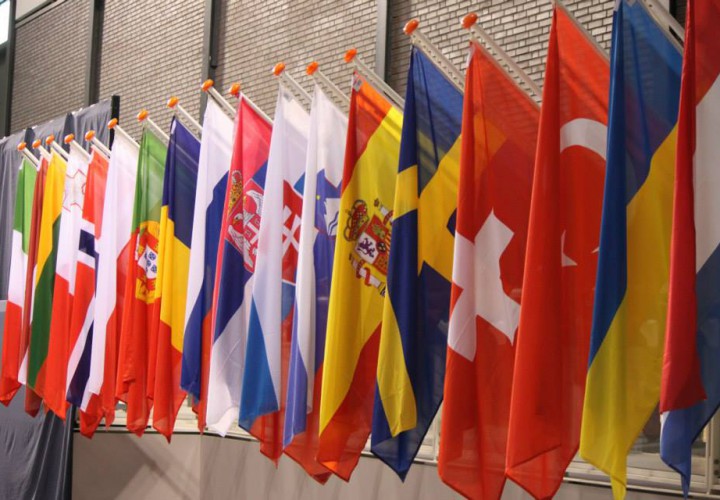 EINDHOVEN, The Netherlands, August 4. SPAIN's Sarai Gascon stole the show on the first morning of the 2014 IPC Swimming European Championships in Eindhoven, the Netherlands, on Monday (4 August) equalling an eight-year-old world record and smashing her own European record.
In a morning which included 10 finals and heats, swimmers from Spain, Germany, Greta Britain and Ukraine won two medals apiece and a further two European records were broken.
Finals
Spain had a morning to remember with Gascon and Theresa Perales both winning gold in back-to-back races.
Gascon (29.04) was victorious in the women's 50m freestyle S9, equalling the eight-year-old record of South African Natalie Du Toit, and adding to her 2013 world title. The 21-year-old finished ahead of Great Britain's Amy Marren (30.00) who took silver fractionally ahead of Russia's Natalia Mamlina (30.00) in bronze.
First blood in the compelling rivalry between six-time Paralympic champion Perales (1:20.32) and Norway's seven-time world gold medallist Sarah Louise Rung (1:22.82) went to the Spanish defending champion in the women's 100m freestyle S5. Israel's Inbal Pezaro (1:23.66) finished in bronze.
"It was better than I expected coming back after illness," said an emotional Perales who missed the majority of the 2013 season. "I am very happy to be here and I have to enjoy today because of the medal but also because I am here again in the competition."
Four-time Paralympic champion Ellie Simmonds (5:28.31) led the way for Great Britain winning her third consecutive 400m freestyle S6 European title but was not happy with her performance.
"I'm really happy to get gold, it was a rubbish swim. I'm not happy with the time," said the 19-year-old who held off a stern challenge in the first half of the race from Ukraine's eventual silver medallist Yelyzaveta Mereshko (5:35.08). Iceland's Thelma Bjornsdottir (6:03.67) completed the podium.
Inspired by her teammate, Susannah Rodgers (5:22.74) claimed Great Britain's second gold in the women's 400m freestyle S7. Russia's Oxana Guseva (5:40.87) and Italy's Arianna Talamona (5:45.29) finished in silver and bronze respectively.
"It was one of those ones where you don't know what is going to happen. I had a race plan and I'm pleased with how it went. It was a good time. We are going in the right direction," said Rodgers who will compete in the 50m freestyle on Tuesday (5 August).
Germany's Sebastian Ivanow (5:39.20) took the first gold of the day in the men's 400m freestyle S6. Israel's Yoav Valinsky (5:43.07) fought hard to keep up with the German but could not quite keep up in the last 100m and had to settle for silver.
Sweden's Karl Forsman (6:14.91) took the bronze.
Elena Krawzow doubled Germany's gold medal tally soon after with a blistering swim in the women's 100m breaststroke SB13. The 20-year-old (1:19.55) took more than 0.5 seconds off her own European record to touch home ahead of Spain's Deborah Font (1:23.90).
Ukraine's Maryana Stabrovska (1:24.29) was third.
Ukraine, who topped the medals table at the 2013 World Championships, won their first gold medal in the men's 100m freestyle S1 thanks to Hennadii Boiko. He beat Israel's world record holder Itzhak Mamistvalov (2:30.96) and teammate Kol Anton (2:41.96).
In the very next race, 13-time world champion Dmytro Vynohradets (1:46.11) added to that tally in the men's 100m freestyle S3. He eased to victory over Spain's Miguel Martinez (1:52.96) and Greece's Ioannis Kostakis (1:59.44).
Elsewhere, Maja Reichard (1:28.74) claimed Sweden's first gold in the women's 100m breaststroke SB11 ahead of Ukrainian Yana Berezhhna (1:31.66). Estonia's Elisabeth Egel (1:35.40) impressed in bronze.
"It's really nice, I am so happy. My swim wasn't as good as I had hoped but to win a European Championships is good and I am satisfied," said Reichard.
Cyprus' Karolina Pelendritou (1:16.63) took gold in the women's 100m breaststroke SB12. Finishing just outside her own world record, Pelendritou was joined on the podium by Germany's Emely Telle (1:20.82) and Spain's Carla Casals (1:23.12).
Heats
Dutch swimmers performed well for the host country on the opening morning of heats.
Summer Mortimer (28.30) set a new European record in the women's 50m freestyle S10 on her first outing since switching nationality from Canada, whilst teammate Chantal Molenkamp (28.91) was second fastest.
Marlou van der Kulk (1:08.07) qualified fastest in the women's 100m backstroke S14 to set-up a mouth-watering final with Russia's Valeriia Shabalina (1:08.54).
Michael Schoenmaker (1:29.95) also made an impressive debut qualifying fastest in the men's 100m freestyle S4.
Italy's Trimi Arjola (1:42.22) was fastest in the women's 100m freestyle S1-4 heats as was Russia's Dimitry Grigorev (24.95) in the men's 50m freestyle S10.
Less than one second separated the fastest qualifiers in the men's 50m freestyle S9: Spain's Jose Mari (26.33), Hungary's Toth Tamas (26.39) and Russia's Alexander Skaliukh (26.74).
Great Britain's Stephanie Slater (1:19.63) beat Russia's Olesya Vladykina (1:22.04) to the wall in the women's 100m backstroke S8 heat, and her teammate Andrew Mullen (1:18.42) was fastest in the men's 100m freestyle S5 heats.
In the men's 100m breaststroke SB12, Belarusian world record holder Uladzimir Izotau (1:06.90) heads into the finals in pole position, followed by Oleksii Fedyna (1:08.00).
The 2014 IPC Swimming European Championships continue until 10 August and feature around 380 of the world's best swimmers from 37 countries.
The above article is a press release submitted to Swimming World. To reach our audience, contact us at newsmaster@swimmingworldmagazine.com.